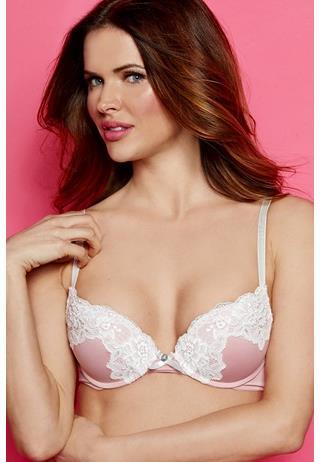 The bra is a far more powerful fashion accessory than many give it credit for. Though it is only an undergarment, an ill-fitting or frumpy bra can make a big difference in the look of a woman's outfit and overall shape. Strap configurations, padding, and even the colour of one's bra can completely detract from a finished outward ensemble. As a result, it is crucial to select the right bra for the right outfit. Designer bras have become a popular purchase for just this reason. Although most people do not go around showing off their designer undergarments to the free world, having a well-fitting, great looking set of undergarments can boost a woman's self esteem and greatly improve the overall appearance of an outfit. Bras from any of these brands can make all the difference.
1. The Wonderbra
The Canadian-born Wonderbra was one of the earliest examples of a designer bra. Although it did not really grow in popularity until the mid 1990s, it first appeared on the market in the early 1930s. Though many bras have come and gone in trying to capture the comfort, style, and oomph of the Wonderbra, it remains one of the most well-known brands in the category. Meant to hold everything in place just right, while adding a bit of extra padding that Mother Nature may have left out, the Wonderbra became a fast hit, quickly rocketing into a household name. It was one of the first push-up bras, and in a 2008 U.K. survey of nearly 3,000 women, it was declared the single greatest fashion innovation in history.
2. Fifi by Agent Provocateur
Coveted by celebrities like Christina Aguilera, Agent Provocateur lingerie is a top pick for a bra that delivers a nice feel and sexy look. The French-inspired Fifi bra is a favourite amongst Australian women. The lightly-padded bra features gentile chantilly lace and ribbons, and the underwire offers the perfect amount of boost for attractive, bountiful cleavage. This is only one of multiple fashionable, comfortable, and super-sexy bras from Agent Provocateur.
3. Stella McCartney Smooth Supernatural
Daughter of Sir Paul McCartney, London-born Stella McCartney has developed quite a reputation for fabulous designer clothing. Her line of undergarments, including hot designer bras, has become a favourite amongst socialites and everyday folk alike. The Smooth Supernatural bra by Stella McCartney features uniquely-shaped, lightly-padded cups that are perfect for accentuating a plunging neckline. Compared to many other designer bras, the cost of the Supernatural is very affordable, offering comfort and fashion to a number of Australian women.
4. Bella Boutique Bra Collection
Internet-based Bella Boutique lingerie has received honourable mention in a number of top-shelf print magazines, including Nouveau, Philosophy, and Glamour. The company as a whole is committed to offering lingerie capable of providing a full sensory experience. Bras fit well while looking fabulous. Lines include a special bridal set, bandeau, strapless, padded, and more. The boutique offers a variety of bras, from many top-quality designers like Rebecca Ansah, Tatu Couture, and Naked Princess.
5. The Full-Coverage Allura from Soma Intimates
The full-coverage Allura bra from Soma Intimates is a top-selling brassiere amongst designer lingerie brands. Seamless, full, and shape-enhancing, it is hard for anyone to go wrong with this style. From the small-busted to the bodacious, women seem to find a good rhythm with this attractive option. Though still capable of providing plenty of support, the Allura does not feature all the clunky fabric and unattractive lines of other full-coverage options. This and numerous other features have helped to set it apart from the crowd.
Getting the Right Size Bras
No matter how awesome the bra, it can still look frumpy and distorted if it is not the right size. Many women walk around with bras that do not truly fit. To be sure that a bra fits, obtain a flexible tailor's measure, and find the perfect size prior to making a selection.
The chart below indicates the common underbust measurements, in centimetres, for a given Australian clothing size. This chart only indicates averages, and it is important to know exactly what one's underbust measurement is, as it may fall outside of these norms.
| | |
| --- | --- |
| Size | Underbust Measurement (cm) |
| 10 | 67 to 72 |
| 12 | 72 to 77 |
| 14 | 77 to 82 |
| 16 | 82 to 87 |
| 18 | 87 to 92 |
Women who take the time to get bras in the right sizes are sure to experience fantastic changes. The look, feel, and comfort of a good-fitting bra is phenomenal. An ill-fitting bra can make a person look heavier than she actually is, and it also can contribute to backache and strain.
Cup Size in Bras
Part of finding the right size bra involves determining the correct cup size. Getting the measurements right can transform a designer bra from something functional and comfortable to something that is beautiful, a dynamite accessory. A woman's cup size is determined by taking a measurement across the fullest part of the breast. This measurement, when paired with one's size and one's underbust measurement, provides the complete bra size. The chart below lists the cup sizes in centimetres.
| | | | | | |
| --- | --- | --- | --- | --- | --- |
| CUP A | CUP B | CUP C | CUP D | CUP DD | CUP E |
| | 84 to 86 | 86 to 88 | 88 to 90 | 90 to 92 | 92 to 94 |
| 87 to 89 | 89 to 91 | 91 to 93 | 93 to 95 | 95 to 97 | 97 to 99 |
| 92 to 94 | 94 to 96 | 96 to 98 | 98 to 100 | 100 to 102 | 102 to 104 |
| 97 to 99 | 99 to 101 | 101 to 103 | 103 to 105 | 105 to 107 | 107 to 109 |
| 102 to 104 | 104 to 106 | 106 to 108 | 108 to 110 | 110 to 112 | 112 to 114 |
The consumer must use both of the above charts to find the right size of bra. The cup and bra size, when combined with one's dress size, can serve as the guide to finding the right bra to wear with an outfit.
Buying Designer Bras on eBay
Finding designer bras on eBay is a simple matter of typing in related terms within the search bar and then combing through the resulting listings. For example, one could seek out "Stella McCartney bra" or "Wonderbra" to obtain multiple listings from sellers all over the world. Once those listings appear, use refinement options to effectively reduce them, making your search even more effortless.
After careful review of an item listing, you may still find that you have questions about a product. Getting answers is as easy as contacting the seller. You can do this by clicking on the seller's username, arriving at the user profile, and sending a private message. While on an eBay seller ' s profile, you can see what other items the seller offers, read reviews from previous clients, and leave feedback yourself after making a purchase.
Conclusion
It is incredible how a good-fitting designer bra can positively contribute to a woman's self esteem. Dozens of studies show that women act with greater confidence and smile more frequently when wearing undergarments that improve their appearance. Multiple top-shelf designers have lingerie lines made precisely to accommodate the different body types exuded by Australian women. However, a great bra involves more than a pretty colour and a bit of lace. The right size bra can make outfits look better and the woman wearing the bra look thinner. A good fit draws away from any less-than-perfect features and accentuates the positive. Top-of-the-line designers have spent painstaking hours to create the right look, fit, and feel to produce designer bras that women everywhere have come to appreciate.
Designer Bra|Stella McCartney|Wonderbra|Bra|Bella Boutique