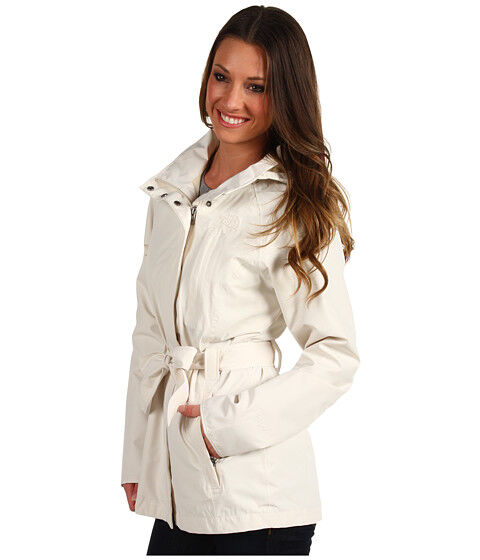 A coat or a jacket is a must-have item for chilly autumns and winters. As it is one of the most important items in one's wardrobe, it is often difficult to choose a coat or a jacket that goes with most of the existing pieces of clothing in a woman's wardrobe. In addition to this, as a coat or jacket is the first thing one sees on another person, looking good should not be left to chance. There are several details to take into account when choosing a coat, but the truth is no woman can do with just a single coat or jacket in her wardrobe. By learning more about the top types of coats that should not be missing from a woman's closet, women can make sure they make an informed choice when shopping.
Top Coat 1: Classic Trench
A trench coat is a wardrobe staple. The editors of ELLE Magazine consider it a true classic that goes effortlessly with virtually anything. While this is an iconic style, buyers can choose from various models according to their personal preferences. Trench coats with a military style are a modern twist to this classic for example. Women can wear trenches simply with a pair of jeans and a T-shirt, or they can opt for a more elegant outfit by combining a trench with a jumper dress. As for shoes, trenches go with a lot of styles, from fashion trainers to ankle boots.
Top Coat 2: Blazer
Blazers are yet another staple for a woman's wardrobe and they come in a wide variety of models. Women can choose to dress a blazer up or down, and fashion magazines are full of ideas of how to style a blazer. Womens Health Magazine suggests, for example, a very casual look with a black blazer over a fitted hoodie, combined with boyfriend jeans. The possibilities are actually endless and many women choose to have several blazers in their wardrobe. Blazers are perfect options for formal wear as well, as they work perfectly with business skirts and trousers. They are also a good choice for special events such as a night at the theatre and even a wedding.
Top Coat 3: Leather Jacket
Leather jackets have become a must have for women of all ages. Wearing a leather jacket is perhaps the easiest way to create a rock-glam look. Harper's Bazaar named them 'perfect timeless transitional pieces'. Leather jackets come in countless styles and all possible colours. Women can wear them with jeans, dresses, and skirts. They work well with heels and boots, but look great with fashion trainers as well. A good piece of advice is to invest in a high-quality leather jacket whenever possible instead of going for faux-leather. Buyers can find good deals on such jackets on websites such as eBay. Women can choose leather jackets in several lengths, ranging from short to long coats.
Top Coat 4: Raincoat
Raincoats are a great way to keep the body dry from rain while looking elegant at the same time. They are often made from breathable materials and come in various colours and designs. They work well with Hunter boots and women can choose to coordinate the colour of their raincoat with that of the boots. Even though raincoats are readily available in many high-street stores, buyers can follow the advice given by ELLE Magazine and opt for a designer raincoat. This can be a true investment, as it may protect the wearer from rain for the years to come and allow her to look stylish no matter the weather.
Top Coat 5: Parka
Parkas are versatile coats that are a good option for day to day wear. They come in a wide variety of styles, and women can choose from lightweight parkas for summer or thicker ones for autumn and winter. Fashion magazines have reported numerous celebrities embracing the parka trend. ELLE Magazine considers the parka a staple in anyone's wardrobe and even states that it is a suitable choice for evening wear. Even though parkas come in a wide variety of colours, khaki is the classic choice. Parkas are available in various lengths, with or without hoods, and with varying numbers of pockets. This type of coat is easy to pair with jeans, skirts, and dresses.
Choosing a Coat or Jacket in the Correct Size
A coat can make or break an outfit and for this reason it is essential to buy it in the correct size. Jackets and coats that are too small or too large are not flattering and on top of this they may be uncomfortable as well. The chart below can help women choose a new coat or jacket in a size that suits them perfectly.
| | | | | | | |
| --- | --- | --- | --- | --- | --- | --- |
| AU Size | Bust (in) | Bust (cm) | Waist (in) | Waist (cm) | Hips (in) | Hips (cm) |
| 6 | 31 | 78.50 | 23.75 | 60.50 | 33.75 | 86 |
| 8 | 32 | 81 | 24.75 | 63 | 34.75 | 88.50 |
| 10 | 34 | 86 | 26.75 | 68 | 36.75 | 93.50 |
| 12 | 36 | 91 | 28.75 | 73 | 38.75 | 98.50 |
| 14 | 38 | 96 | 30.75 | 78 | 40.75 | 103.50 |
| 16 | 40 | 101 | 32.75 | 83 | 42.75 | 108.50 |
| 18 | 43 | 108.50 | 35.75 | 90.50 | 45.75 | 116 |
Buyers should take accurate measurements with a measuring tape and compare them with those in this chart or in the chart provided by the seller. This is especially important for those who choose to shop for coats and jackets online. Besides choosing a coat in the correct size, women should also pay attention to their body type when shopping for clothing and make sure they choose a style that flatters them.
How to Find a Woman's Coat or Jacket on eBay
eBay offers an impressive selection of coats and jackets. You need to take into account a large number of factors prior to purchasing a coat or a jacket, including colour, cut, material, quality, and price. From parkas to leather jackets, you can find anything you need on eBay. Check the eBay Deals section for great offers, which may include coats and jackets.
Performing a Search on eBay
Start your search by typing the relevant keywords into the search bar of the website. If you are looking for a leather jacket, for example, type these terms and them browse through the several pages of results you get. If you think this takes too much time, narrow the results down by colour, size, price, and more. By taking advantage of the search system of the website, you can find the perfect coat or jacket in a matter of minutes.
Checking Out the Seller's Feedback
When shopping for coats on eBay, remember to check the vendor's feedback before purchasing an item. Try to buy from a seller with positive reviews from other buyers. If you have any questions about the item, you should not hesitate to ask them, as most sellers are more than happy to help you out.
Conclusion
Deciding what kind of coat or jacket would suit a certain body morphology is often a tricky matter, but the good news is that one need not own a single coat for autumn or winter. The top coats and jackets described above are essential pieces that should not miss from any woman's wardrobe. Taking into account the fact that high-quality coats and jackets can be quite expensive, buyers should make sure they get good value for their money and only buy something that is flattering for their silhouette. By choosing to shop for coats or jackets on eBay, buyers can choose from hundreds of styles available from various sellers around the world. Regardless of the kind of coat one is after, chances are it is available on eBay.
Women' Coat|Parka|Leather Jacket|Raincoat|Trench Coat