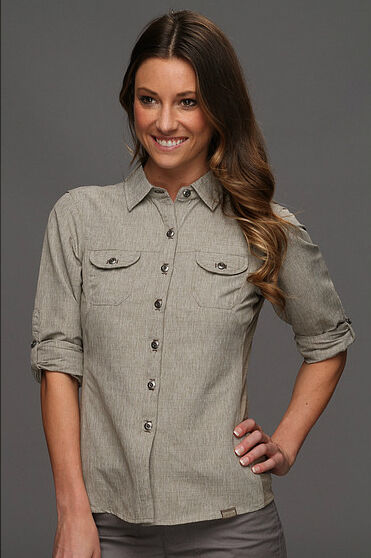 When developing their wardrobes, women can be strategic by including a number of shirt styles that are versatile and flattering to most women's body types. Because women lead varied and active lives, the shirt selections in their wardrobes must be able to match the demands of certain occasions. Shirts can be multipurpose, and when paired with trousers, skirts, or blazers, can aid women in creating a wide variety of distinct fashion ensembles. Local department stores and women's clothing shops offer buyers a limited selection of shirt styles. Conversely, retail websites like eBay carry a vast assortment of shirts in different sizes, colours, and fabrics. Before shopping for shirts, women should identify which essential shirts they need to create a complete wardrobe successfully.
1. Plain White T-Shirt
Glamour Magazine recommends that women purchase the plain white T-shirt because of its classic style and adaptability. When paired with shorts, the plain white T-shirt projects a breezy, casual appearance. However, when worn with skirts or under blazers, the white T-shirt transforms into a neutral canvas that highlights the styles and fabrics of other parts of a fashion ensemble.
Although choosing a white T-shirt seems like a simple process, T-shirts can include style and construction elements that set them apart from other white T-shirt purchasing options. Because of this, buyers should carefully consider which features they prefer before buying a white T-shirt.
White T-Shirt Style Options
The most iconic style of white T-shirt is the crew neck style made famous by 1950s Hollywood stars like Marlon Brando and James Dean. A crew-style neckline is rounded and features no standing collar. Modern white T-shirts can feature other types of necklines, however, which women should evaluate for style benefits before shopping. Scoop necklines are rounded like a crew neckline but fall further below the collarbone than the crew neck, which hugs the base of the neck closely. White T-shirts with scoop necklines may be a popular choice for women purchasing shirts to wear in hot weather or at casual events where it is appropriate to show more decolletage. White T-shirts that feature V-necks are also available and prized for their ability to elongate a woman's neck and draw attention to her face.
White T-Shirt Construction Options
The construction elements of white T-shirts can vary widely. Some white T-shirts contain only cotton, which is generally comfortable but can take a long time to dry if it experiences any moisture. Cotton-blend T-shirts feature cotton and synthetic materials, like Spandex or Lycra, which add to the T-shirt's stretch and ability to wick moisture away from a wearer's skin. Although T-shirt construction is generally a single layer of fabric, some finer T-shirts include a thin underliner that provides wearers with a polished look.
2. Black T-Shirt
In addition to including the plain white T-shirt in a woman's wardrobe, Marie Claire Magazine advises buyers to purchase a number of black T-shirts as well. Black T-shirts are as versatile as their white counterparts and increase a woman's ability to mix-and-match separates in her wardrobe. Like white T-shirts, black T-shirts feature different necklines and construction options which buyers should consider when choosing their shirts.
3. Fitted Camisole
To have enough coverage when wearing sheer or loose tops, Glamour Magazine suggests that women add some camisoles to their wardrobes. Camisoles are stretchy tops with strap sleeves that hug the body tightly. Which colour camisole is most appropriate depends on the appearance a woman aims to project. Camisoles including fabric colours that closely match a wearer's skin tone provide a neutral backdrop that does not distract from other fashion separates when worn at the same time. Camisoles in white or black also provide an understated look. If buyers prefer high-contrasting dressing options, they can purchase colourful camisoles in primary, fluorescent, or pastel colours.
4. White Dress Shirt
An essential shirt style recommended by Glamour Magazine is the white dress shirt. White dress shirts mimic the tailored white shirts worn by men and help women project a professional appearance. One reason white dress shirts are so popular is their adaptability. These types of shirts are worn alone, over a top, or under a blazer.
White Dress Shirt Features
Designers create white dress shirts with a number of style elements that are beneficial to achieve a certain look. Before investing in a white dress shirt, women should be aware of these features so they can purchase the best white dress shirts for their body types.
| | |
| --- | --- |
| White Dress Shirt Features | Style Benefits |
| Poplin or twill construction | Produces a structured white dress shirt that remains crisp through the day |
| Vertical darts on the bodice | Provide a visible waistline in a white dress shirt's silhouette |
| Horizontal darts on the bodice | Emphasise a woman's curves and bustline |
| Standing collar | Replicates the formal appearance of men's professional attire |
White dress shirts can also contain style elements like front breast pockets or roll-up sleeves, but buyers should be aware that some style elements compromise the adaptability of a dress shirt. For example, front pockets often limit a woman's ability to wear a white dress shirt with certain blazer styles because the pockets are visible even when the blazer is closed. Because of this, women should carefully consider the most appropriate style elements for a white dress shirt based on how they plan to wear it.
5. Polka-Dot Blouse
InStyle Magazine advises women to purchase a classic polka-dot blouse to add some flair to their wardrobes. Since polka-dot materials include dots and backgrounds in a variety of sizes and colours, women can choose how dramatic they want their polka-dot shirts to be. Smaller dots provide a more subtle pattern that matches easily with other ensemble pieces. Additionally, conservative colours like white, black, and navy also work well with many fashion separates and increase a woman's ability to wear a polka-dot shirt in multiple outfits. If women prefer to make a bold style statement, however, they should choose vibrant polka-dot colours like reds, greens, or oranges.
Buying Essential Shirt Styles for a Woman's Wardrobe on eBay
Women can use the large selection of shirts available on eBay to create a wardrobe that can meet the challenges of everyday life. Because eBay's shirt selection is vast, utilising its search function helps buyers locate appropriate shirts quickly. For example, adding "long sleeve red blouse" to eBay's search field prompts the generation of a focused list of purchasing options. If buyers seek low cost shirt options, they can check the availability of garments in eBay Deals ' Women's Clothing category. Since shirts on eBay are new or pre-owned, buyers should read details about a shirt before they make a decision to buy. Buyers should also check important information, like a shirt's size, material, and price, to be certain they choose the correct shirt for their plans.
Conclusion
To develop a wardrobe that gives women the flexibility to create a variety of fashion ensembles, a number of essential shirt styles must be purchased. These shirt styles are popular because they enhance most women's body types as well as extend a woman's choice for composing stylish outfits. White or black T-shirts are comfortable and appropriate on their own in casual dress situations. For more formal occasions, these T-shirts pair well with blazers to establish a professional look. Fitted camisoles allow women to wear clothing pieces that are too sheer on their own. White dress shirts and polka-dot blouses provide women with the choice to dress conservatively or to exhibit some flair. Once women determine which types of essential shirt styles they need, they can visit eBay to purchase shirts to complete a well-rounded wardrobe.
Essential Shirt|Shirt|T-Shirt|Camisole|Blouse