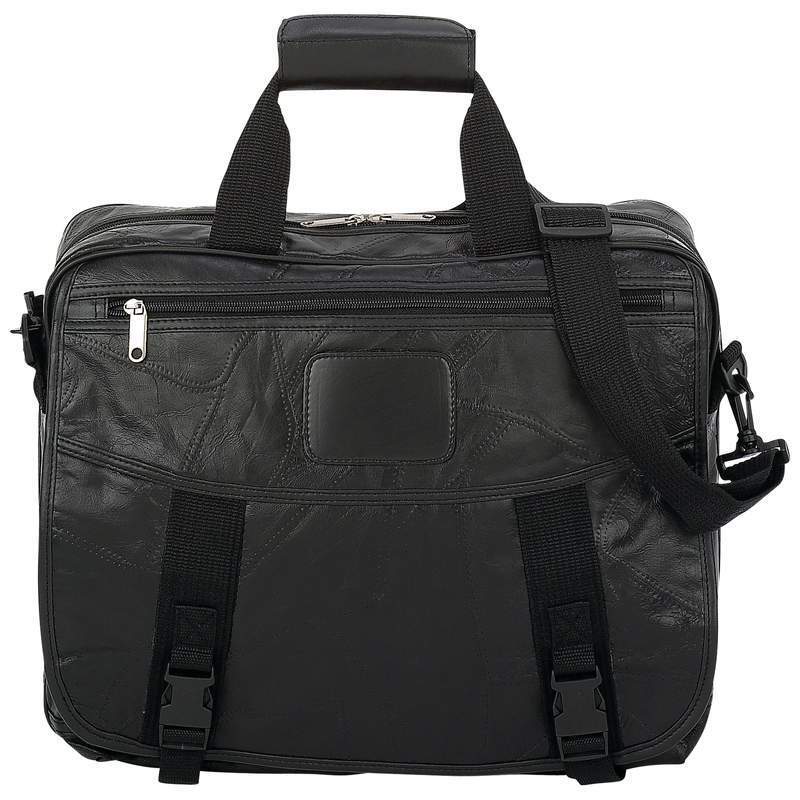 With the increase of personal technological devices such as laptops and tablets, the need for strong and durable bags to carry these items is increasing. The traditional briefcase is being replaced with a practical style bag that offers additional protection for these items.
The size of bag required will be determined by the item it needs to carry. This is particularly true of large laptop bags. The size of the laptop greatly affects the type and size of bag required. This guide aims to showcase 5 of the top large laptop bags.
The Different Styles of Laptop Bags
Before exploring the different laptop brands available on the market, it is important to know the different styles available. These include:
| | |
| --- | --- |
| Type of Bag | Functionality |
| Laptop Sleeve | A laptop sleeve is designed to hold a laptop only. These are designed to protect the laptop whilst it is in transit. It is a small bag with one compartment that allows the laptop to slip in. Sometimes a laptop sleeve will have carry handles or a strap to carry the bag across the shoulder. It is possible to purchase a laptop sleeve without handles. |
| Backpack Laptop Bag | The backpack laptop bag is designed to be carried on the back. It is not dissimilar in style to a 'normal' backpack, however it has additional padding and casing for laptop protection. This is an excellent option for people who ride to work or students who need to carry text books. The backpack laptop bag distributes weight evenly between both shoulders making it a medically safe and easy bag to carry. |
| Rolling Laptop Bag | A rolling laptop bag has wheels that enable the owner to pull it along rather than carry it across the shoulder or back. It is similar to a rolling suitcase, but with specific design features to safely protect a laptop. |
| Messenger Style Laptop Bag | The messenger style laptop bag is designed to carry the laptop slung across one shoulder. It is a soft case that will house the laptop and other accessories like a laptop charger. This style is a larger version of the laptop sleeve but slightly larger with additional space. |
Top 5 Large Laptop Bags
1. Crumpler Laptop Bags
Crumpler produce excellent large laptop bags. One such bag is the 'pinnacal of horror'. Despite the confronting name, the 'pinnacle of horror' is an excellent example of a quality large laptop bag manufactured by crumpler. The bag itself is made out of strong nylon material, has easy access via a Velcro and zip fastening and reinforced stitching on stress points. The bags design allows it to expand when it is required to carry more items.
2. Ice Red AVA Urban Laptop Backpack
The AVA backpack is a stylish designed vertical laptop bag. It comes with a compartment for the laptop and numerous pockets and compartments for additional accessories or items. The straps can also be taken off to be carried by handles if desired. The bag is made out of durable rip-stop nylon.
3. Rickshaw Commuter Bag
The Rickshaw Commuter laptop bag is built not only to last, but also to suit each individual user. It is possible to customize the bag with a removable laptop sleeve, built in drink bottle compartments and numerous accessory compartments. The bag is waterproof and uses zips, magnets, Velcro and clips to keep enclosures fastened.
4. Nuo Eco-Friendly Vertical Laptop Messenger Bag
The Nuo Eco-Friendly vertical laptop messenger bag offers re-enforced cotton canvas and 360 degree padding for the laptop and additional shoulder straps. The bag offers accessory pouches for all manner of objects including I.D cards and smart phones.
5. Timbuk2 messenger laptop bag
The Timbuk2 laptop messenger bag is the ultimate customised bag. Buyers can construct their bag during purchase, choosing compartments, pockets and the aesthetic of the bag. The bag is made out of strong and durable materials and is waterproof.
Buying Considerations
There are many different considerations that require attention when it comes to purchasing a laptop bag. These include:
The Size of the Laptop. There are many different size laptop bags including a 15 inch laptop bag, Take the time to measure the laptop. Most companies will work to a standard size chart, however it is best to enter into the market with correct measurements.
How many accessories or additional items will it be required to carry? This will affect the style and number of compartments and pockets of the bag.
Aesthetic. Laptop bags come in a wide range of styles and colours.
Warranty. Always check the warranty of the laptop bag. There may be an option to increase this for an additional sum of money.
Security. Does the laptop bag come with a lock?
How to Buy a Laptop Bag on eBay
It is understandable that most consumers first point of call when shopping online is eBay. A simple and effective site, the range of products for both electronic devices and accessories including large laptop bags is impressive.
To find the desired item, simply follow the search prompts clearly marked on every page of the site. Once a search is completed, eBay will compile a list of all available products for browsing. When looking at items be sure to address the seller and check comments from other buyers regarding their history. Always take time to vet the product for suitability by reading the description provided by the seller and cross reference with the photograph.
Conclusion
Laptops are fragile items that require care when transporting. The best way to ensure this is by using a laptop bag made specifically for this purpose. This doesn't necessarily mean an additional bag to cart around, it is possible to purchase a large bag that can house all items requiring transportation.
With eBay's extensive range of products, it is possible to purchase the best large laptop bag for your needs from the comfort of your own home.