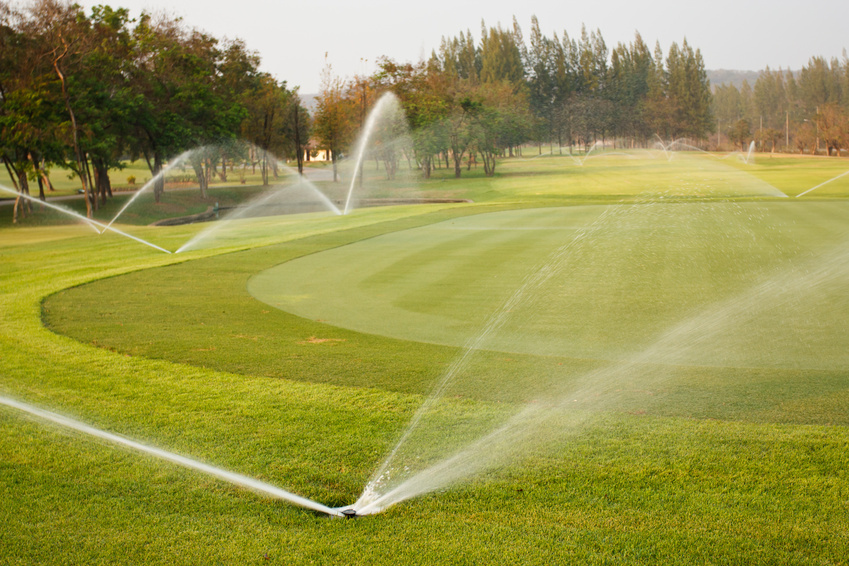 Beautiful green lawns are rarely the product of chance. Usually, they are the result of financial investment and significant effort on the part of homeowners or lawn care experts. In arid climates that suffer long periods of insufficient rainfall, achieving the perfect lawn is particularly difficult. Homeowners in such climates often invest in a lawn irrigation system that can supply moisture to their grass as needed.
Lawn irrigation systems come in a variety of styles and are made up of components such as water lines or hoses, sprinklers, controllers, and timers. Buyers should find a broad range of options online via retailers such as eBay. First, however, they should do some research to find out about the top lawn irrigations systems of 2013 according to consumers and reviewers.
1. Gardena 34000 Comfort Aqua Zoom Oscillating Sprinkler
The Gardena 34000 Comfort Aqua Zoom Oscillating Sprinkler is one of the top lawn irrigation systems available in 2013. It sprays water over an area slightly larger than 250 square metres, which is broader than the coverage of many comparable models on the market.
Reviews
The Hammacher Schlemmer Institute put many of the best lawn sprinklers on the market through a series of rigorous tests. The results placed the Gardena 34000 Comfort Aqua Zoom Oscillating Sprinkler at the top. Consumers also rate it highly, since it is effective and easy to use. They also appreciate the timer feature, which helps with water conservation.
Features
This irrigation system features an adjustable spray length, which ranges from 3 metres to 19 metres. Users can set the range to the length that works best for their lawn. When users are through with the system, they can turn it off and remove the plug, allowing excess water to flow out.
2. Rain Bird 1800 Series Lawn Sprinkler Systems
The Rain Bird 1800 Series consists of commercial-grade irrigation systems for the home. All systems are created with top-of-the-line spray heads, nozzles, controllers, and timers. The chart below shows the different lines within the 1800 series of pop-up spray heads and lists the sizes available for each one.
| | |
| --- | --- |
| Spray Heads | Available Sizes |
| 1800 Series SAM-PRS | 10.16 cm, 15.24 cm, 30.48 cm |
| 1800 Series SAM | 10.16 cm, 15.24 cm, 30.48 cm |
| 1800 Series | 5.08 cm, 7.62 cm, 10.16 cm, 15.24 cm, 30.48 cm |
| 1800 Series PRS | 10.16 cm, 15.24 cm, 30.48 cm |
When combined with the appropriate nozzle from the R-VAN series, the 1800 Series SAM-PRS Spray Head (30.48 cm) provides reliable moisture for various types of lawns. Rain Bird designs all its systems to work well in spite of changes in water pressure, elevation, and other external factors. They also incorporate waste prevention features to reduce water loss in the event of damage to the system.
Pressure Regulators
The Rain Bird lawn irrigation systems or sprinkler systems include patented pressure regulators, which designers have integrated into the stem of the unit. This regulator ensures consistent 30 PSI or 2.1 bar water pressure. Owners can implement the systems for sloped lawns and hilly backyards without fear of the terrain affecting the function of the irrigation system.
3. Melnor 4200M Turbo Oscillating Sprinklers
Another top lawn irrigation system that continues to be popular in 2013 is the Melnor 4200M Turbo Oscillating Sprinkler with patented flow control. Consumers give it high marks for its adjustability and its efficient function. They are also happy with the lack of leakage, the even water coverage, and the waste prevention measures incorporated into the system.
Features
The Melnor 4200M Turbo Oscillating Sprinkler includes rust-proofing for longevity and durability. It also has special rubber nozzles, designed for precision. With the stable aluminium base, the irrigation system rests firmly on the lawn, even when subjected to harsh weather. For the 4200M Turbo Oscillating Sprinkler model, the Melnor research and design teams created a smooth-flowing design that lessens the risk of clogs. Powered by a turbo-drive motor, the entire sprinkler system covers about 360 square metres of lawn.
4. Rain Train Travelling Sprinkler
The Rain Train Travelling Sprinkler fits into the category of walking sprinklers. Walking sprinklers automatically follow a particular route that the homeowners lay out in advance. The sprinklers supply broad coverage to the lawn, making them particularly useful for gently curved or straight areas of turf.
Set-Up
Users find it easy to set up the Rain Train Travelling Sprinkler. They can regulate it to perform its duties at a set time every day or week. The unit runs along a pre-set track, watering everything within a 60-metre range. In total, it covers 1,254 square metres of lawn by the end of its circuit.
Top Features
Consumers praise the Rain Train Travelling Sprinkler's deep, even coverage of the turf. They also like the cast-iron enclosure, which is rust-proof to ensure maximum durability. Even the yellow paint on the unit is a chip-proof powder coat, designed to last.
Homeowners also like the Rain Train Travelling Sprinkler's three-speed transmission and automatic switch-off. Once the circuit is complete, the unit turns off instantly to conserve water. Owners can adjust the arms of the sprinkler to ensure maximum coverage of the right lawn areas. Although the Rain Train Travelling Sprinkler does not work on steep slopes, it can handle gradually sloping lawns and yards. When users lay out the track for the sprinkler, they should avoid any sharp curves or sudden turns, since these configurations can derail the unit.
5. Noodlehead N111C Flexible Lawn and Garden Sprinkler
The Noodlehead N111C Flexible Lawn and Garden Sprinkler is a popular irrigation system for 2013 homeowners. It supplies plenty of water for the front lawn, backyard, garden, flowerbed, and other spaces. Consumers enjoy the movable noodles, which allow them to target specific areas of the lawn for regular watering.
With some oscillating sprinklers and pop-up irrigation systems, the water coverage may occasionally overlap with footpaths, driveways, drains, windows, and other surfaces besides the grass. This wastes water and may cause inadvertent water damage before owners realise it. With the Noodlehead irrigation system, owners can point some of the hose-like heads away from areas that do not require watering. Instead, they can aim those heads at any dry or brown spots on the lawn.
As an added bonus, the Noodlehead is a lot of fun for children to play in, so it is a great investment for families. It covers over one square metre of space, which compared to other systems is not significant. However, for buyers with small lawns, this amount of coverage may be ideal to eliminate water waste.
Buying Lawn Irrigation Systems on eBay
Supply and demand may affect the number and brand of irrigation systems available on eBay. When you conduct your search for 'lawn irrigation systems', be sure to save it. The save a search feature on eBay gives eBay permission to email you each time a sellers posts an item matching your query. When you receive the email, you can go online to check out the new listing. Remember to check eBay Stores and eBay Deals for additional products.
You may see listings that include a Top-Rated Seller seal. This seal signifies that a seller has very high feedback ratings from customers and is likely to provide a good, reliable product. If possible, buy your lawn irrigation systems and other products from Top-rated Sellers or sellers who supply free shipping.
Conclusion
Plenty of moisture is essential to a green, well-groomed lawn. Rather than standing outdoors with a watering can or a hose every day, homeowners with large lawns may want to invest in a lawn irrigation system. Before they do so, they should investigate the cost involved. They must consider not only the initial cost of the system itself, but also the cost of the water and electricity they expend by using the system. In addition, they should think about the possibility of periodic maintenance and repairs to the system. All these considerations can help buyers determine what type of lawn irrigation system they can afford. If budget is not an issue, homeowners can focus on the type of grass they have and its moisture needs and select the best irrigation system on the market.
Lawn Irrigation System|Lawn Sprinkler|Oscillating Sprinkler|Walking Sprinkler|Rain Bird 1800 System