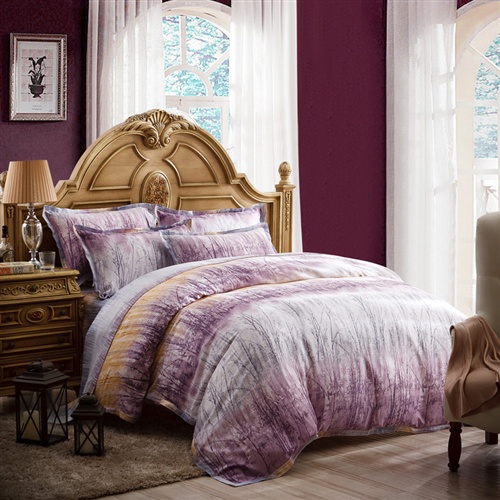 Luxury bedding is an amenity that's becoming more and more popular in private homes. Although there are no specific guidelines that define luxury bedding, it is most often characterised by its high quality materials, soft feel, and stylish appearance. There are many kinds of bedding but typically the quality options have certain specifications such as a high thread count. The thread count is the number of yarns that are woven together in one square inch. A higher thread count means that the fabric is more durable, and in some cases, much softer than others with a low thread count.
Unlike, standard bedding options, luxury sheets and comforters go beyond just keeping the person warm. They help promote a good night's sleep by delivering the maximum amount of comfort possible. Many well-known brands make luxury bedding and it is no longer exclusive to high class hotels and resorts.
Bedding Sizes
Before shopping for a luxury bedding set or a bed, shoppers need to decide what size they want or already have. The following chart lists the standard international mattress sizes.
| | | | | |
| --- | --- | --- | --- | --- |
| Bed Size | Mattress Size US (in) | Mattress Size UK (cm) | Mattress Size Europe (in) | Mattress Size Australia (cm) |
| | 39" x 75" | 90 x 190 | 36" x 75" | 92 x 187 |
| Single Extra Long | | | | 92 x 203 |
| King Single | | | | 106 x 203 |
| Double or Full | 54" x 75" | 135 x 190 | 54" x 75" | 137 x 187 |
| Queen | 60" x 80" | | 60" x 78" | 153 x 203 |
| King | 76" x 80" | 150 x 200 | | 183 x 203 |
| Super King | | 180 x 200 | 72" x 78" | |
Most bedding companies label their sets according to the mattress size, so shoppers don't really need to know the dimensions of the blankets unless there are looking for an oversized comforter
Types of Luxury Bedding
Upgrading to luxury bedding can improve a person's sleep by making them more comfortable as well as maintain a more even temperature throughout the night. The biggest difference between the available bedding sets is the kind of materials and the style. Luxury bedding typically is made with wool, satin, Egyptian cotton, and silk. There are also a multitude of designs available for people to choose from. Since the bed is the largest piece of furniture in the bedroom, it is also the centrepiece. Updating the bedding is a great way to give the entire room a new look.
Wool Luxury Bedding
Most people think of wool as being a course, itchy sort of material that is warm, but far from comfortable. However, merino wool and cashmere bedding is actually quite soft, lightweight, and still warm. Since they are thinner and the material breathes, they can still be used during the warmer months, but they are also up to the task of keeping people warm when it's cold in the room.
Satin Luxury Bedding
Satin bedding is popular because it looks and feels similar to genuine silk, without the high cost. Satin appears to have a shiny finish on it and is very slick to the touch. It's easy to move around and slide on satin sheets because it doesn't cling to a person's clothes. Satin also has a tendency to stay cool, so it is a great choice for the warmer climates.
Luxury Egyptian and Pima Cotton Bedding
Egyptian cotton, also called Pima cotton, has the longest thread fibres out of all the types of cotton. The longer threads make the fabric soft, supple, and durable. Egyptian cotton does have a slight sheen to it, making it easy to move around in and stay cool.
Silk Luxury Bedding
Silk is made in China from silkworm cocoons. It is very thin but insulates well and adjusts with the climate. During the winter it is warm, and during the summer it is cool. For those with allergies, silk is an excellent choice and, despite the fact that some silks are hard to wash, there are now silk blends available that can be put into a machine washer.
Top 5 Luxury Bedding Options
Many manufacturers make luxury bedding sets or individual pieces and there are certain brands and products that tend to be the most popular among shoppers. Looking at the top products gives shoppers a place to start in their search for bedding.
1. Kathy Ireland's City Decor Luxury Bedding
According to bloggers, the Kathy Ireland brand designs and makes exquisite bedding products. Though it's name may not describe it well, the City Decor bedding set by Kathy Ireland can add a subtle charm to a bedroom. It is a mixture of charcoal and off-white colours with a stylish leaf design on it. It comes in a complete set with all of the sheets, comforter, pillow cases, and shams.
2. Kathy Ireland's Blue Coral Dreams
Another highly recommended luxury bedding set by Kathy Ireland is the Blue Coral Dreams ensemble. It features a white background with a blue, floral pattern it. The print is large, but welcoming. The set comes with a comforter, bedskirt, 2 pillow shams, 2 euro shams, 2 square pillows, and 1 bolster pillow.
3. Frette Luxury Bedding
Frette is a prestigious Italian company that is well known for supplying luxury hotels and resorts around the world with high class bedding products. Their designs are simple, yet elegant. Their Bicalore bed set is white with a single, coloured border that goes around each of the bedding pieces. Many of their designs are similar to this and use one solid colour that is accented in a small way by another colour or pattern.
4. Bellino Fine Linens
Like the Frette, Bellino Fine Linens is also Italian and they too specialise in simplicity. Most of their bedding, such as the ones in their Classic Collection have very subtle patterns such as light stripes, embroidery around the edges, or a soft floral pattern. All of the bedding from Bellino is made out of 100 per cent Egyptian cotton and strict guidelines for quality control are followed during the manufacturing process. Thread counts range from 300 to 500 and they employ talented designers to continually come up with new and unique bedding options.
5. Deborah Sharpe Linens
The Deborah Sharpe Linens company is based in the United States and offers shoppers the ability to buy entire sets, or just individual pieces. Their designs vary from delicate embroidery to bold and sophisticated patterns. The Bombay bedding in particular is decorated with large Middle Eastern inspired patterns and the set includes an accent pillow with an elephant on it.
How to Shop for Luxury Bedding on eBay
To find a large selection of luxury bedding from multiple manufactures, visit eBay and use their search bar to see what's available. You can do this by entering something such as "Frette bedding" to see what comes up. You can also be more general and search for "luxury bedding" to explore more options. Be sure to double check the bedding sizes because some seller on eBay offer multiple choices and you have to select the one you want. In addition, some sellers have several colour options that you have to select from. Make sure you indicate the one you want when you order. If you like to bargain shop, check out the eBay Deals page to see what special offers they have on bedding for the day.
Conclusion
Luxury bedding can completely change a person's sleeping experience by making it more comfortable, enjoyable, and temperature regulated. A new bedding set can also give a room's decor a facelift by adding style and colour. Since selecting a set is based entirely on personal preference, anyone can easily do it. All they need to know is what sort of material they want, what size they need, and then shoppers have find a style that matches their tastes as well as their existing or new decor. Shopping from one of the top brands is certainly one way to start out, but there are certainly more companies to buy luxury bedding from if none of the popular ones have anything that lights a spark of interest.
luxury bedding|silk bedding|satin bedding|wool bedding|Egyptian cotton bedding