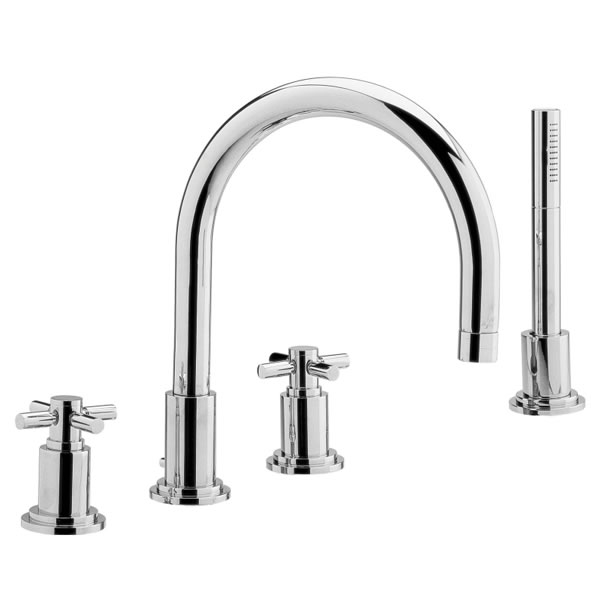 From kitchen and bathroom sinks to bathtubs, showers, and more, taps and mixers help us control the water flow we use to clean our homes, items within the home, or ourselves. When shopping for modern taps and mixers, shoppers could easily lose sight of what type of faucet they want when faced with the wide selection available. By comparing the taps and mixers available, shoppers can narrow down their search. They can also limit the number of items they have to consider by determining which room they want to purchase a mixer or tap for, as well as the materials of the tap or mixer and the exact type of faucet they want to buy. Shoppers can find the modern taps and mixers they seek on eBay and at local home improvement shops.
1. Dorf Ingressi Mixer Faucet
A stylishly designed mixer faucet, the Dorf Ingressi Mixer Faucet delivers savings on a water bill without cramping the style of a room or affecting the faucet's performance. With a lustrous chrome finish, the Dorf Ingressi lightens up any room, and at 7.5 litres a minute it also fills the role of kitchen faucet with no problems. Outfitted with the latest ceramic disc cartridge, this innovative design keeps a kitchen or bathroom looking modern for years to come. Backed by Australian design, the Dorf Ingressi provides just one example of their innovative and elegant line.
2. Kohler Forte Centerset Bathroom Faucet
The Kohler Forte Centerset Bathroom Faucet offers excellent performance and versatility in a bathroom faucet. Simple to install and easy to clean, the faucet complements both contemporary and classic themes. Outfitted with ceramic disc valves, one of the newest innovations in faucet design, the Kohler Forte Centerset puts out over 8 litres per minute. Flexible connectors also make installation a snap. The faucet additionally has a Vibrant Finish, protecting the sculpted handles and faucet head from scratches, tarnishing, and corrosion for the lifetime of the faucet.
3. KWC Ono Highflex Mixer Faucet
The KWC Ono Highflex Mixer Faucet sits atop the faucet world. This much sought after faucet has a 360-degree swivel spout made of hermetically sealed laminar. The Ono Highflex also uses the latest ceramic disc control cartridge to keep the water flow where the user wants it. The stainless steel lower body of the faucet and faucet head means this product should last for years to come. The flow rate of 8 liters a minute means the mixer also functions as more than just an expensive faucet.
4. Price Pfister Unison Bathroom Faucet
The Price Pfister Unison Bathroom Faucet provides a robustly constructed faucet on a strong base, making it durable and the perfect centre point to a modern or traditional bathroom setting, especially for those who have a colonial design in mind. Outfitted with the latest ceramic disc valves, this innovation provides for a leak-free experience in a variety of finishes. Made of brushed nickel, the faucet offers a high arched spout for additional clearance. The Price Pfister Unison additionally puts out roughly 5.5 litres per minute of water flow.
5. Grohe Eurosmart Cosmopolitan Mixer Faucet
The Grohe Eurosmart Cosmopolitan Mixer Faucet features EcoJoy technology and reflects a commitment to the environment. These new faucets have integrated water-saving technologies built in, restricting flow rates and reducing water use without sacrificing either the performance or design of the faucet. These designs help save up to 30 percent more water over other faucet types. The Grohe SilkMove ceramic cartridge controls water flow. Homeowners can install these chrome-finished faucets in their homes to add a luxurious look to their rooms, as well as save on their water bills.
Common Types of Faucets
When choosing a tap or mixer, shoppers have some basic choices when it comes to kitchen and bathroom faucets. The table below provides more information on the various types of faucets available, ranging from ball faucets to compression faucets.
Faucet Type

Type

Description

Mixer

One of the most common washerless faucets

Identified by a single handle which moves around on a ball shaped cap

Mixes the temperature depending on the ball's position

Mixer

The latest development in modern faucets

Mixes hot and cold water in a mixing chamber

Rate of water flow controlled by ceramic discs at the bottom of the chamber

Tap (Double)

Mixer (Single)

Has both a single and double handle configuration

Control water flow and temperature through the use of a cartridge that operates in an up/down fashion

Looks like a compression faucet, though a cartridge faucet turns off without added pressure required

Tap

One of the earliest faucet types

Cost less than other faucet types

Work through the use of a compression stem which requires users to tighten down to turn off water
Before installing a faucet, homeowners should make sure they have all the proper tools to accomplish the task. This includes any wrenches to loosen the hose from the water supply to the handles. Homeowners should likewise make sure to turn off the water supply before removal and installation.
Tap and Mixer Materials
In addition to faucet types, homeowners also have to consider the faucet material. The following table gives additional details on the different faucet materials available, including glass, metal, and ceramic.
Material Type

Description

Durable and meant to last

Most often chromed, though some unchromed varieties exist

Most common faucet material

Cost less than other faucet material types

Not as durable as other faucet types

Easily replaced

Enjoyed for their beauty and elegance

If care not taken, can break while installing

Usually a combination of metal and glass

Most made of brass simulated to look like bamboo

Used primarily in a bathroom setting

Some other material types include chrome and oil rubbed bronze

A combination of chrome and porcelain

Offer a variety of intricate designs

Lightweight and durable
When deciding on the tap or mixer material preferred, shoppers should consider their overall room theme and design. This helps keep rooms tied together so that taps and mixers do not look out of place.
How to Buy Taps and Mixers on eBay
Shoppers can find plumbing products on eBay, including taps and mixers, by going to any eBay page and typing keywords into the search bar. Use terms like 'taps and mixers' or 'bath mixer', for example, to begin. When searching for products, make sure to look through each listing for important information, including cost, shipping instructions, size, material, and colour. Shoppers can even browse eBay Shops for high-quality product options.
To contact a seller directly with any other questions, click the ask a question link on the seller's listing page. Lastly, before making a purchase, check the seller's feedback rating. This rating gives shoppers great insight on the seller's past performance with other shoppers. Once a shopper has enough information, they may then proceed with their purchase.
Conclusion
Taps and mixers allow users to adjust water temperature to the right level. Whether in the shower, the kitchen, or a home bar, homeowners can adjust the water flow and temperature to meet their specific needs. When buying a tap or mixer, shoppers should know the type they want, in order to make product selection easier. Choices include a single-faucet handle, which is the case with a lot of the mixer types of faucets, or a double-handled faucet, which is typical of tap-type faucets. Tap or mixer type also plays a large role when it comes to selecting plumbing components that match the theme of a specific room. When buying modern taps and mixers, shoppers can find a large selection of products available online at eBay.
tap faucet|mixer faucet|kitchen faucet|bathroom faucet|single faucet handle