One of the most popular and cost-effective ways to get from point A to point B relatively quickly and without expending too much energy is a motorized scooter. Scooters are popular because they use little or no petrol, generally are less expensive to buy and own than cars, are easy to park and maneuver through congested areas, and are fun to operate. Scooters also give people with limited physical mobility the freedom to get around safely and comfortably as opposed to being stuck in their homes.
Anyone shopping for scooters (also sometimes called mopeds or motorised bikes) will soon learn there are myriad options from which to choose and that scooters range in price from AU $150 to more than AU $15,000. Battery-operated scooters tend to be less expensive than petrol-powered scooters. Read on to learn about the top 5 most popular motorized scooters on the market.
1
Blaster Brush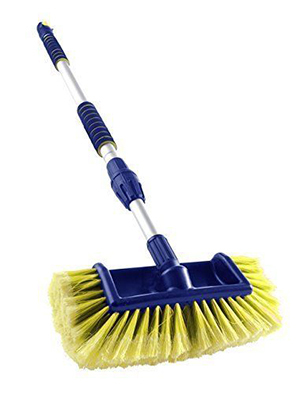 For those small jobs at home, nothing beats the quality and affordability of the Blaster Brush. Made to blast away dirt with the combination of a water stream and an attached brush, this light-duty power cleaner uses less water due to its small size. While it's not tough enough to stand up to serious stains, paint or established mold colonies, the Blaster Brush has what it takes to get smaller jobs taken care of without much effort.
---
2
Karcher 1.107
Karcher is known for making high-rated pressure cleaners that can handle heavy-duty jobs on small and large scales. The mid-priced cleaner comes with a bottle of oil to keep it running for hours, and four nozzles make for an even spread of powerful spray. As an oil-powered pressure cleaner, keeping this Karcher cleaner working for the long term depends upon routine maintenance including oil changes. Quiet operation makes this option ideal for people who plan to use the pressure cleaner in a residential setting.
---
3
Spitwater 8-100C
When longevity is at the top of the list of priorities, this Spitwater pressure cleaner delivers. Lasting more than a decade when properly maintained, this powerful tool can handle tough grit, paint and mold. As an electric model, maintenance concerns tend to be easier to handle, and the cold water feature of the Spitwater cleaner makes it easy to use. Variable pressure control means that users can determine how much pressure is needed to get to tough stains, while the detergent control keeps the release of cleaners at the right level.
---
4
Aussie Pumps Scud Slow Speed Blaster
Slow speed blasters made by Aussie Pumps are able to handle tough jobs while minimising their impact on the environment. Working with speeds of approximately 11 litres per minute, the Aussie Pumps pressure cleaner can make quick work of small homes, getting dirt and grime off of eaves, siding, and car parks. Running on petrol, these pressure cleaners are designed to be fuel-efficient to last longer without requiring a refill.
---
5
Bar 2550B-H
Adept at getting rid of mold residue that is unsightly and unhealthy for property owners to be near, this Bar pressure cleaner uses a Honda GC 160 to deliver the power needed to get everything from fences to concrete walkways looking like new. Four nozzles are included with the cleaner to allow users to get the targeted spray that they need, and a reasonable list price makes the Bar 2550B-H an ideal solution for residential users who occasionally need to blast away dirt and grime to keep the exterior of their homes looking beautiful.
---
Pressure cleaners deliver a high-pressure, powerful spray that takes off even the toughest stains and dirt from surfaces including wood fences, concrete walkways and vinyl siding. The five pressure cleaners listed above have received high marks for features like ease of use, included accessories and longevity. These cleaners and more can be easily found online.