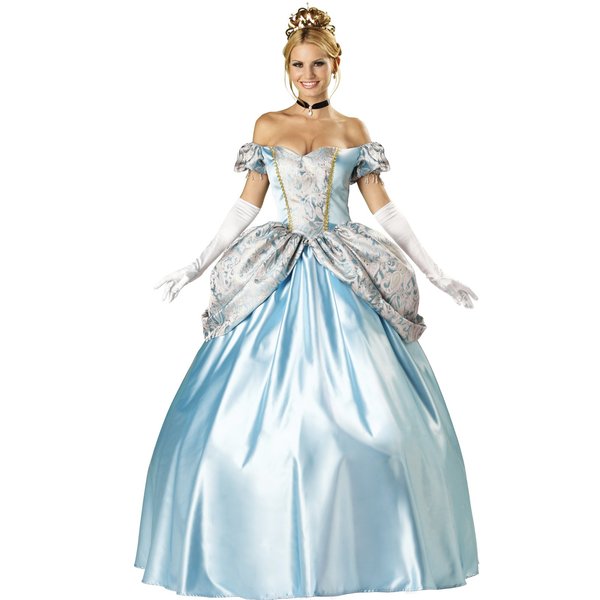 Princess costumes are not just for little girls anymore, and haven't been for a while. With strong, independent female heroines such as Leia from "Star Wars", Eowyn from "Lord of the Rings", and Xena from "Xena: Warrior Princess", women of all ages can enjoy dressing up as women who are good role models and simply good characters that should be remembered. Besides fictional princess-inspired costumes, there are costumes that have been inspired by real-life princesses, like Marie Antoinette and Cleopatra. What kind of princess the user wants to dress up as depends on her personality; whether she feels more at home at a Renaissance Faire, at ComicCon, or at a historical reenactment. After deciding what costume the consumer wants to wear, she can look at eBay to find the right dress at the right price, or just find deals on fashion items to assemble a one-of-a-kind costume.
1. Disney Princesses
The costume that nearly all little girls covet, the Disney princess is an icon that has earned itself a long-lasting place in merchandise, including in costumes. Girls and women alike can choose to dress up as the princess whose costume she likes the most, or she can choose a princess that is most like her.
"Classic" Disney Princesses
The first classic Disney princess was introduced in 1937, and despite a thirty-year gap between two of the classic princesses, Disney has consistently introduced new princesses in enjoyable, well-made movies. Many of these princesses have been adapted from famous fairy tales, often Grimm's tales. Princess costumes available include Snow White, Aurora, and Mulan.
Cinderella
Many of the qualities found in Snow White were also present in Cinderella: she was hardworking, patient, kind, forgiving, and tolerant. Cinderella's classic blue dress that she wears to the ball is accessorised with long blue gloves, a black choker ribbon, and a blue headband atop a styled blonde head.
Ariel
Ariel was the first princess to stand out from the others with a more rebellious, confident, and outgoing personality. Users can find a costume that includes a skirt that looks like her green tail and fins, plus a purple shell bra and a red wig.
Belle
The first bookish princess, Belle is a good role model for smart girls and women everywhere. Her beautiful ball gown is floor-length and gold in colour, with her brown hair in a half-updo. Women can accessorise with a rose or a copy of the magic mirror she used in the film.
Jasmine
Royal but not proud of it, Jasmine's classic blue pants-and-midriff-top ensemble helps her to look the part of the Sultan's daughter. Her gold necklace, blue jeweled headband, and luscious, long black hair add to her exotic appearance.
Pocahontas
The first Native American princess, Pocahontas has a simple outfit with a light-brown fringed dress and her mother's precious blue necklace. Women can complete the look with long black hair, little or no makeup, and a red temporary tattoo on the right arm. A stuffed raccoon or hummingbird can represent her forest friends, Meeko and Flit.
Modern Disney Princesses
"Modern" here means within the past ten years (though not every princess in every Disney movie is represented here). In those ten years, only one princess was taken from an old fairy tale; Tiana and Merida are original creations.
Tiana
The first African American princess, Tiana works hard and follows her dreams. Her princess attire reflects her time as a frog, and is long, green, and layered like so many pond lilies, with a sparkling green and gold crown atop her dark, styled-up hair.
Rapunzel
Naive but eager and friendly, Rapunzel wears a simple pink dress and keeps her ridiculously long, blonde hair loose and flowing. Rapunzel often keeps her pet chameleon, Pascal, close, and her frying pan even closer.
Merida
Headstrong and determined to write her own fate, the Scottish princess takes a leaf out of Rapunzel's book and lets her red, curly hair run wild, and keeps her dress, a green gown, simple. Her bow and arrow, however, let you know to take her seriously.
2. Historical Princesses
Writers of history have emphasized several notable princesses, and knowledgeable users can recognize these princesses just by their attire. From Egypt to France, girls and women can represent princesses from different cultures, countries, and time periods.
Cleopatra
Though she did become Pharaoh, Cleopatra was originally a princess. Consumers can get her look across by wearing a floor-or-knee-length white sleeveless dress, and accessorising it with a gold and beaded belt, headdress, shoulder shawl, and gold bracelets. Add a black wig, some traditional black eyeliner, and sandals, and a complete Cleopatra ensemble is ready.
Marie Antoinette
Known for her expensive tastes and fondness for gambling and dancing, a Marie Antoinette costume is sure to be fancy and fun to wear. A typical Marie costume can feature French lace and bows on a floor-length dress, with the classic white, curly wig. Accessories include pearls and other jewelry, a fan, stockings, kitten-heeled shoes, and feather headdresses. Makeup, including the then-stylish beauty marks, should not be forgotten.
3. Medieval/Renaissance Princesses
From simple to fanciful, medieval costumes inspired by princesses from fairy tales and legends can be easy to put together and fun to wear. A typical medieval princess costume can come in one piece, meaning that the wearer merely has to slip a dress over her head. If she wants to buy separate pieces, then a gown, optional bodice, and other accessories such as crown or tiara, jewellery, and kitten-heeled, velvet shoes are needed.
4. Sci-Fi Princess
One of the most famous sci-fi princess is from the legendary "Star Wars" movies, Princess Leia, with her classic oversized-side-buns hairdo, simple white dress, and deadly gun. The infamous gold bikini outfit is also a popular costume choice for women. From the movie "John Carter", there's the formidable and beautiful Dejah Thoris; her outfit can be fairly simple, with a long sleeveless white dress, with sexy slits up the leg and out of the waist. Gold necklaces, bracelets, arm cuffs, and a crown can be added for extra flair. Finally, from the cult classic "Flash Gordon" is the princess Aura, who wears a resplendent gold affair not unlike Leia's gold bikini, though this costume includes a gold headdress and metal shoulder pads.
5. Fantasy Princesses
From "The Lord of the Rings" trilogy come Arwen and Eowyn, two beautiful, strong women who wear lovely gowns similar to medieval dresses. Arwen's famous wedding dress is green with dozens of seed pearls, and accessorised with a silver circlet. Eowyn's attire can be achieved with a simple white sheath with a brown bodice. For a more warrior-centered princess, there's Xena, who dresses in a leather dress with matching boots and her trusty sword. Other fantasy heroines women can dress as include Buttercup from "The Princess Bride" and Wonder Woman, also known as Diana, Princess of the Amazons.
How to Buy a Princess Costume on eBay
To start purchasing a princess-inspired women's costume on eBay, you must first go to the eBay home page. Then, type in keywords that relate to your search into the search engine, for example, "medieval dress". You can narrow down the results that appear by specifying certain categories, such as price, size, brand, and more.
If you are worried about purchasing from an unknown persons on the Internet, then purchase items from "Top-Rated Sellers" on eBay. These sellers earn badges that can be clearly seen on their personal pages and on the pages of the items they are selling. These badges are awarded for receiving consistently excellent feedback from previous buyers, as well as having met a certain selling quota set by eBay. By buying from these "Top-Rated Sellers", you can be sure that you are buying from someone reliable.
Conclusion
Dressing up as a favorite character, or just for the pleasure of wearing a pretty costume, can be a highly enjoyable experience. Dressing as someone from another world or time period allows one to pretend to be someone else for a day, maybe somebody more glamorous, braver, or wiser. Interacting with others who dress up as characters and famous figures can lead to lifelong friendships, especially if one goes to anime conventions or Renaissance Faires, where so many are there purely to enjoy being dressed up as someone else. It can be especially fun to dress as a princess, since these women can embody grace, elegance, beauty, and heart; or, they can represent strength, courage, resourcefulness, and intelligence. Some princesses even have all these qualities.
Princess|costume|Disney|dress|medieval