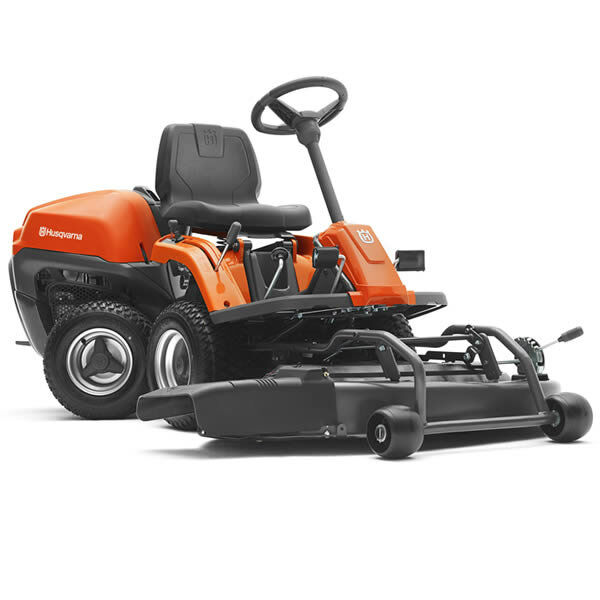 While some buyers may get nervous at the thought of a ride-on mower, others have no such doubts and want nothing less than the very best available mower. These buyers want all the features and all the functionality. They want mowers that can cut the largest lawn in the least amount of time, and the knowledge to get the most out of every mower. However, with all the functionality ride-on mowers have to offer, even the most experienced buyers can find themselves barraged with too much information. Buyers should consider the size of their lawn, whether it is flat or uneven, and if there are many obstacles, as well as the benefits of various features. By starting with the top 5 ride-on mowers of 2013, a buyer can still get all the features they want and need without being overwhelmed.
Basics of Ride-on Mowers
Although many buyers of high-end ride-on mowers are very familiar with them, there are some who may be looking for one of the top 5 mowers for their first mower because the nature of their lawn demands it. The basic ride-on mower was derived from the farm tractor in the middle of the 20th century and has a very similar design. Given its purpose, the defining feature is the mowing deck, which is underneath the mower and extends the full width of the mower and beyond. However, not all mowers follow the tractor's design pattern, although the deck remains common to all. Some models, especially commercial ones, are designed to be able to turn in place, making it possible to mow anywhere the mower fits.
Evaluating the Need for a Ride-on Mower
While each of the top 5 ride-on mowers of 2013 is an excellent product, they are not by any means identical, and so the best mower for one person may not be the best for another. The first thing any buyer should do when evaluating their needs is to take a careful look at the area where they intend to use the mower. Buyers with a large amount of flat lawn may want the widest deck possible in order to ensure they cover as much ground as they can with every cut. Others may want a tight turning circle to navigate obstacles, while yet a third group may have uneven terrain and want very precise control of blade height. Once the buyer knows what they have to deal with, buying the right ride-on mower for their needs becomes that much easier.
Ride-on Mower Features and Benefits
Once a potential buyer knows what they need from a ride-on mower, they can look at the available models and make an informed decision as to which of the top 5 ride-on mowers best fit those needs. The key is balancing each mower's features against those needs and being able to prioritise so that the buyer knows which features matter most to them. Each of these mowers can do a superb job, but for most buyers, one model often stands out above the rest. The following table shows how various features can benefit the user.
| | |
| --- | --- |
| Feature | Benefit |
| Deck width | Greater cutting area per pass |
| Zero-turn design | Improved manoeuvrability |
| Tractor controls | Ease of operation |
| Attachment support | Overall flexibility |
Each of these features adds to the functionality of any design. Which feature matters the most to any buyer depends on how they intend to use it, and the lawn they have to deal with.
Top 5 Ride-on Mowers of 2013
These ride-on mowers have proven to be top products due to their features and functionality. However, buyers should only use this as a starting point as individual needs and preferences differ.
1. Cub Cadet I1050
The Cub Cadet I1050 combines the ease of use of the standard control scheme, including a steering wheel, with a zero turn radius for best in class manoeuvrability, offering the best of both worlds. Buyers can revel in the ability to turn the mower inside its own length without having to learn how to drive all over again. They can also take advantage of the 127-cm cutting deck for cutting large areas, and the conventional design means that this model can take advantage of many attachments. It is powerful, flexible, and easy to clean. Not only does it have its own built in high pressure washing system, but the deck can be removed quickly and easily when required. This is an excellent mower for anyone with a larger lawn.
2. Husqvarna R 422Ts AWD
The Husqvarna R 422Ts AWD takes the reputation the company built with chainsaws and extends it to the next level. This articulated mower uses a front-mounted deck for unparalleled visibility, while its articulated design offers great manoeuvrability. It offers both all-wheel-drive and power steering for complete control and ease of use over any terrain. The addition of servo-assisted tool lift provides the operator with complete control over any tools, and the chassis is designed to fit a wide range of decks depending on the owner's needs. This is not a budget mower, but for those with a large estate, it can be immensely useful. It even has headlights to allow the user to drive home from the far side of their property after dark.
3. Rover Z-Force 48
Eschewing a steering wheel for control levers, the Rover Z-Force 48 brings complete zero-turn flexibility and a 122-cm cutting deck to the field. Dual transmissions provide excellent control in all situations, and the built-in mulcher makes lawn care a snap. It also offers electric power take-off for the blades, keeping control securely in the hands of the user. This mower is both durable and reliable. Riders new to zero-turn mowers may find the control scheme and seating position to be a learning experience, but after trying this mower, they may never go back to a push lawnmower again.
4. Greenfield Deluxe Fastcut Twin Briggs and Stratton 30hp
Designed and built in Australia with the Australian user in mind, the Greenfield Deluxe Fastcut series is a top choice for anyone with large areas of tough grass, rated for up to two hectares. Its 86-cm deck offers wide cuts, and the Greenfield patented differential lock ensures maximum stability when mowing along slopes or in boggy terrain. Steering is light and easy, and as with any Greenfield ride-on, the seating is comfortable enough for hours of mowing. As an Australian product, the Greenfield also offers unmatched user support for those who need it.
5. John Deere Z665 EZtrak
The John Deere Z665 EZtrak brings a massive 152-cm cutting deck onto the field, making it one of the fastest mowers in the industry. This mower relies on commercial-grade pumps and motors to ensure a precise and rapid cut over any size area. The large drive tyres not only provide additional traction but also cover ground quickly and efficiently, making this zero-turn mower a speed winner on all counts. There is a learning curve, as with any zero-turn mower, but the time investment is worth it for any rider and the time savings quickly make up for it.
Buying the Top 5 Ride-on Mowers of 2013 on eBay
One of the best places to buy any lawnmower, whether ride-on or not, is eBay. The site offers a huge variety of mowers and the tools to find the right one quickly and easily. All you have to do is enter your requirements in the search box, which you can find on any page, and watch the results appear before you. For instance, a general search for "ride-on mowers" is a good place to start. Once you have your results, you can use the filters to narrow them down and sort them so that the ones that best fit your needs are at the top. Afterwards, you can check out the seller's profile to see their feedback. Some sellers may offer to bundle mowers with accessories, while others may allow local purchasers to pick them up in person.
Conclusion
Buying a ride-on mower can be an expensive and time-consuming endeavour, and buying one of the top ride-on mowers can be even more so. Buyers should determine the particular needs of their lawn and decide on the features they want in a mower as well as understand the benefits of each. For instance, a zero-turn design may be necessary if a lawn presents various obstacles. The key is to get the mower that best fits the lawn the buyer plans to cut. A simple process of comparing the features can very quickly narrow the list down to the top mower for any single buyer. All it takes is a little knowledge and some shopping on eBay to find the right ride-on mower.
Ride-on Mowers|Lawnmower|Zero-turn Mower|AWD Mower|4WD Mower