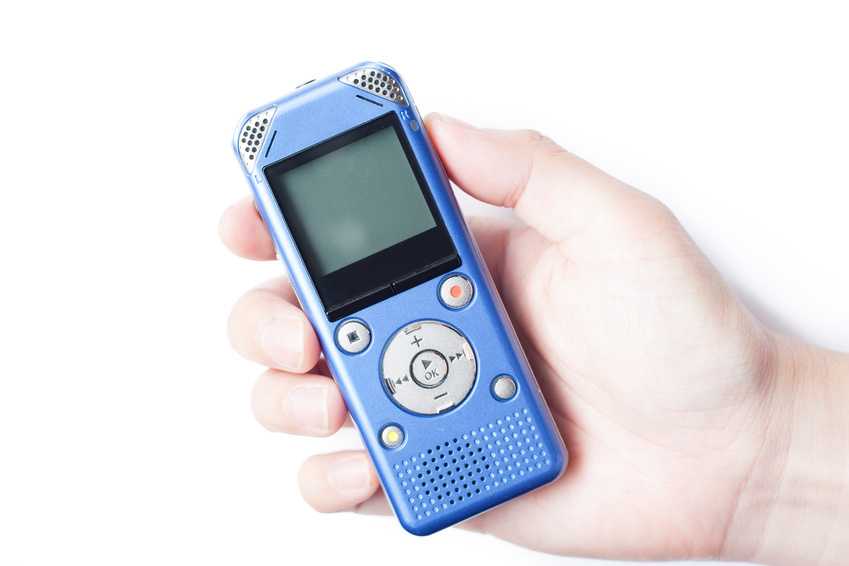 The awkward and bulky tape cassette recorders of yesterday have all but been completely replaced with modern inventions of the digital variety. This means the ability to capture much more information at a greater definition with a compact device that can store the information indefinitely. Some voice recorders even feature options for editing files and creating samples out of certain sound bytes. When buying a voice recorder it is important to consider memory, size, device compatibility, sound quality and editing abilities. Like a portable sound studio, a recorder can serve as a songwriting aid for musicians, an interviewing tool for journalists or even a covert device for investigators needing to capture conversations undetected.
1. Memory Capacity
How much internal memory space a sound file takes up on a voice recorder is determined by how much compression is applied. The more a file is compressed, the less memory it takes up on a device's memory card. Internal memory can be downloaded to another computer using a flash drive and stored there, freeing up more space on the recorder for new information. Memory can also be increased by lowering the sampling rate. This results in a lower resolution recording that takes up less memory, further stretching a device's storage capacity.
2. Size of Recording Device
Most users of digital recorders prefer a lightweight and compact design that provides discretion and comfort. A small device is unobtrusive and can even be made invisible by placing it in a chest pocket. Most voice recorders weigh just between 50 and 110 grams or so. Lighter models favour those who want to record discreetly while heavier styles suit musicians and public speakers who might require more memory storing capabilities.
3. Editing Ability
Transcribing dictations and reviewing lectures can be made easier with a device containing editing features. Keyword recognition software and similar searching functions can allow a user to find a particular phrase or subject within a recording for quick reviewing, while bookmarking abilities can denote a particular segment of a recording. This saves precious time for cramming students and investigators trying to put together a case in a hurry.
4. Sound Quality
The sound quality offered by a voice recorder should be determined by what it is being used for. If broadcast quality or professional grade resolution is needed, a device offering a higher sampling rate of up to 96 kHz is ideal. Recorders being used simply for the playing back of spoken information can suffice to offer just up to 44 kHz. High quality sound can be enhanced by adding a microphone to the recording configuration, which plugs directly into the device and is purchased separately.
5. Device Compatibility
Depending on the use of a device, it is important to determine that it is compatible with the computer operating systems the information will be uploaded to. A high-end voice recorder is usually user friendly for Mac and Windows programs, however it is important to determine the specific features of a device before buying. Comparing the features of one brand with another allows one to avoid buying a device that may not be compatible with their other computers or software.
Determining specific uses of a voice recorder before buying can ensure maximum satisfaction. Simple use for lecture playback versus professional broadcast use must be considered. Individual features like size, memory capacity and compatibility allow a user to fine tune their choice to fit their voice recording needs.