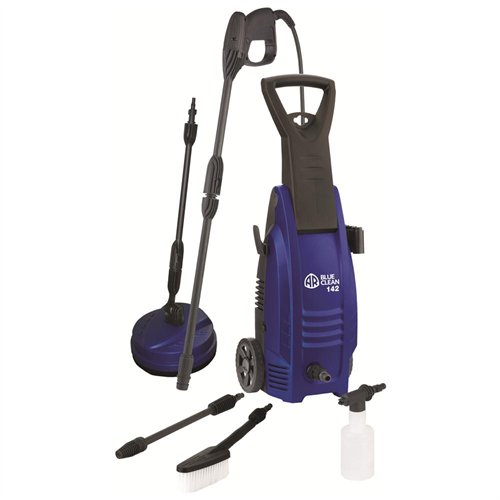 Pressure washers can clean almost anything, from cars and paving stones to the garage door or the side of a house. These high-powered hose devices blast a strong jet of water at dirt and grime, removing it in one quick and easy motion.
This guide will examine pressure washers and explain the top 5 tips on using them. They are how to: start a gas-powered pressure washer, use a variety of nozzles, use pressure washer accessories, follow safety guidelines and conduct regular maintenance.
The guide will also explain how to purchase pressure washers from renowned auction website, eBay.
Pressure Washers
Pressure washers are high-pressure mechanical sprayers that are used to remove loose dirt, dust, grime, mould, mud and paint from a range of surfaces from cars to buildings.
A typical pressure washer is made up of:
· An electric motor or petrol engine (to drive the water pump)
· A high-pressure hose
· A handle with a trigger gun switch
Pressure washers are ideal for cleaning a large variety of objects and surfaces. They're quick and easy to use, and come with additional attachments to make all outdoor cleaning tasks a breeze.
The volume of a pressure washer is either stated in litres or gallons per minute. The pumps pressure, however, can be expressed in either bar, pascals, or pounds per square inch. Generally, pressure washers produce between 750 and 30,000 psi, although higher-powered versions are also available.
Pressure washers can be classified as one of the following groups depending on the fuel or energy they use to operate:
· Gas pressure washer
· Hydraulic high pressure washer
· Ultra high pressure washer
In general, most consumer pressure washers are either petrol or electric-powered. Electric models plug into a normal outlet and use cold water to deliver up to 2,000 psi (140 bar). Petrol models on the other hand are often a lot more powerful and can deliver in excess of 4000 psi. Petrol pressure washers are not suitable for indoor use, as they produce exhaust fumes, which are hazardous in enclosed areas.
Pressure washers are dangerous tools that should be operated with due care and attention. In the interest of health and safety, always read the manufacturer's guidelines and instructions prior to use.
Top 5 Tips on Using a Pressure Washer
Pressure washers are also specialised high-powered tools that must be used correctly, not only in the interest of health and safety; but to ensure that the object or surface is cleaned thoroughly. Here are 5 tips on using a pressure washer:
1. How to Start a Gas-Powered Pressure Washer
Electric pressure washers are easy and straightforward to start. Starting up petrol pressure washers is a little bit more difficult:
· Using a brush, clean off any debris from the inlet filter.
· Connect any accessories (chemical injectors, detergents etc).
· To prime the system and remove any trapped air; run water through the washer for one minute.
· Squeeze the spray wand trigger to encourage water pressure.
· Pull the starter cord to start the engine.
2. Use a Variety of Nozzles
Just like a drill has an array of drill bits and attachments for different tasks, pressure washers can be fitted with a variety of nozzles to suit each particular job. So when the user is cleaning the car they can use one nozzle and then when they're blasting the weeds out of the driveway, they can use a finer nozzle for accuracy and precision.
Some nozzles cause the water jet to come out in a triangular plane and fan-like pattern, and others produce a fine jet of water, which spirals rapidly in a cone-like pattern. On most pressure washers, the nozzles fit directly onto the end of the trigger gun.
3. Use Pressure Washer Accessories
Accessories, such as brushes and cleaning detergents, can be added to pressure washers to aid in the cleaning process.
For the best possible cleaning results, loosen the dirt with water under high pressure using a medium spray setting. Then apply detergent, using a wide nozzle setting (the detergent may need to be left for a minute or two to penetrate thick dirt). Finish by changing the nozzle setting or nozzle to a medium pressure setting, and rinse with normal water.
Never use bleach in pressure washers, otherwise serious damage may be caused to the internal parts.
4. Follow Safety Guidelines
The most essential and valuable tip about using pressure washers is to follow the tool's safety guidelines. Unsafe operation of these devices is not only dangerous and a risk to others; it's also efficient.
Pressure washers deliver extremely high water pressures in large volumes and can cause serious injuries if used incorrectly. To remain safe, whilst using pressure washers, follow these safety guidelines:
· ALWAYS wear safety glasses during operation.
· NEVER point it at other people or pets.
· NEVER put hands in front of the nozzle during operation.
· NEVER use whilst standing on a ladder.
· NEVER spray onto electrical objects or outlets.
· ALWAYS maintain a 10 feet distance when using pressure washers near electricity.
· ALWAYS engage the safety lock on the trigger when the pressure washer isn't being used.
5. Conduct Regular Maintenance
A pressure washer is just like a car in that regular maintenance must be carried out on it in order to ensure that it works efficiently and it lasts as long as it should.
Petrol or gas-powered pressure washers can seize or endure other serious damage if left unused for more than a month. If buyers know they'll be leaving the pressure washer for a long time then they must remove the fuel and store it safely in a jerry can. Alternatively, a fuel preservative can be added to the fuel tank.
Petrol pressure washers can suffer from damaged pumps and hoses during the winter, so it's strongly advisable to put antifreeze in them for their longevity.
To add antifreeze to petrol washers, start the engine and pour antifreeze into a funnel until a steady stream of antifreeze flows into the bucket placed below. Finally, seal the intake and outlet with heavy-duty tape to prevent leaks.
Buying Pressure Washers on eBay
eBay is a fantastic place to buy pressure washers. Regardless of the type, size or method of power (gas, petrol, diesel, electric etc); eBay sells an extensive range of pressure washers to suit everyone and every cleaning job.
The choice of pressure washers online dwarf those that can be found in retail stores and many can be reviewed next to each other, aligned with individual preferences. In this sense, eBay is excellent at providing quick and simple way into searching for pressure washers on the Internet.
For a completely successful purchase, use the following steps:
Search: To begin a search, simply enter 'pressure washers' into the search toolbar. Using the menu on the left-hand side, select 'home & garden'.
New or Used: Pressure washers on eBay can be bought brand new or used. During the search, tick the appropriate box under the heading 'condition' in relation to the type of pressure washer that is desired.
Accessories: If the buyer wishes to purchase an array of accessories for the pressure washer, check with the manufacturer to see if the nozzles and brushes are specialised or universal.
eBay Deals: Don't forget to check out the latest deals on pressure washers by checking the 'tools' section. Many additional discounts can be found here along with free postage.
Conclusion
Pressure washers make any and every cleaning job much quicker and simpler than using a traditional garden hose or conventional cleaning methods. Pressure washers are great for industrial and domestic use, meaning anyone and everyone can purchase and use the fantastic high-powered cleaning tools.
Buying on eBay should be considered not only due to the potential of finding a good deal, but due to the extensive choice of pressure washers that the website presents. Remember to keep all personal and banking details safe and secure by using renowned payment authority PayPal to complete transactions.