This guide offers tips for buyers purchasing sports cards on eBay or other online sites. While the guide is primarily aimed at buyers who are new to eBay and/or new to buying sports cards online, these tips are useful for every buyer.
1. Look at the item's picture. In general, the clearer the picture, the better. Sellers who either do not provide a picture or offer a blurry scan may be trying to hide a defect or flaw in the card such as bent/dinged corners, card restoration, corners that have been pressed, creases, paper loss, poor centering, recoloring, soft edges, surface scratches, etc. If in doubt about the card's condition, ask the seller for an enlarged scan of the card's front and back.
2. Read the item description carefully. Certain cards such as Mickey Mantle's rookie and Michael Jordan's rookie are often counterfeited, reprints, recolored, trimmed, and/or otherwise altered. Unscrupulous sellers may use misleading auction titles that lead buyers to believe they will receive an authentic rookie card when in fact the seller is offering a reprint. Information that the card is a reprint often may not be found until the very end of the item description and is often in fine print.

This is a counterfeit Michael Jordan rookie:
Here is an authentic Michael Jordan rookie: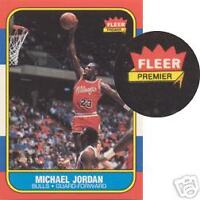 If you are bidding on an extremely rare or valuable sports card that is frequently counterfeited, consider asking for enlarged scans of both the front and back of the card. Any seller worth his/her weight in gold will happily oblige. Likewise, it may be wise to only buy graded copies of rookie cards that are frequently copied. Cards that have been graded by reputable graders like BGS/BVG, GAI, PSA, and SGC have been deemed authentic, so buyers can rest assured that the card has not been recolored, reprinted, restored, trimmed or otherwise altered.
Another trick dishonest sellers use is "keyword spamming", listing popular terms such as "no auto", "BGS", and "PSA" in the title of their listings in order to lure more buyers. Keyword spamming violates eBay's Terms of Service and misleads buyers into thinking they will receive one type of item when in fact they may receive something entirely different. Be sure to read the fine print in the item description to make sure you are bidding on the card you intend to.
3. Examine the seller's feedback. Feedback is an excellent and quick way to gauge how trustworthy an eBay seller is. In general, the higher the feedback percentage, the better. Skim the positive feedbacks as sometimes buyers leave positive feedbacks that may foreshadow problems with the seller (e.g., "Got the item after 6 weeks", "poorly packaged but received item", "overcharges for shipping"). When looking negative or neutral feedback comments, it is key to determine whether the negative feedbacks were legitimate or retaliatory feedback left by non-paying bidders. Buyers should also read feedback the seller has left for buyers to see if the seller retaliates against buyers who leave negative or neutral feedbacks.
4. Check the seller's terms of service. When does the seller ship (ex. Within 24-48 hours of payment, 1-2 times a week?)? How does the seller package the card? What types of payments does the seller accept? Generally it is recommended to purchase from sellers who accept PayPal as PayPal provides all buyers with Buyer Protection/a way to get a refund if the item was not delivered and/or significantly different than was described. Sellers who pay by any method other than PayPal do not have Buyer Protection through eBay. Does the seller charge a reasonable fee for shipping? Does the seller offer combined shipping? Does the seller offer insurance? Does the seller offer a return policy?
5. Broaden your search. One of the greatest benefits of eBay is that multiple sellers often list the same item, meaning that buyers may often find outstanding deals on items that would cost much more in retail stores. If you get outbid on one item, check to see whether another seller is offering that same item and you may end up getting it cheaper. Buyers may also want to search for "Buy It Now" items to find steals. Another useful technique for finding bargains is to misspell a player's name.
RAINMANESQ'S SPORTS CARD CENTRAL busts cases of most of the popular baseball, basketball, football, and hockey products, so please keep an eye on our listings!
If you have found this eBay guide to be informative, please vote by clicking on the "yes" button below.
Looking for other information on sports cards? Please review our other eBay guides!