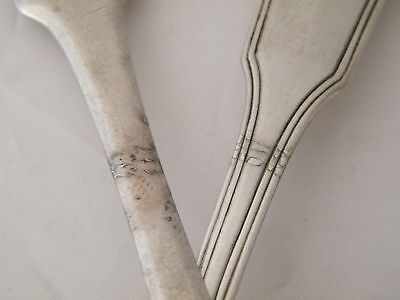 1) DON'T use rubber bands or sticky tape
The most common damage I see on silver, apart from the bumps and scratches from everyday use, comes from improper storage. Rubber bands and sticky tape can both permanently stain your silverware.
2) DON'T store your silver anywhere damp
Moisture and silver don't go well together. If possible add a few of the moisture sachets that come with shoes or vitamins.
3) DON'T clean your silver with Silvo or any other abrasive cleaners
Antique silver should look at least a little bit old! Also, when you use a cleaner like Silvo, you are actually stripping a layer of the silver off. Instead use something like Goddard's Silver Foam which is much less abrasive.
4) DON'T just throw it in a drawer with the other cutlery
Sterling silver is much softer than stainless steel, so if you store your cutlery in a drawer with your other knives and forks can easily lead to the sterling silver items being damaged.
5) DON'T just lock your silver away.
Silver should be used and enjoyed! Pull it out for those special occasions, or for any occasion at all. Give it a quick clean with warm water and dry it off well with a clean cloth and it is ready to store again until the next time.