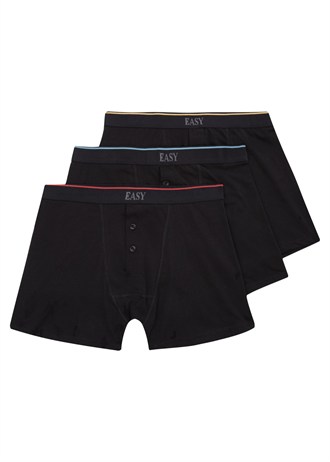 Boxer briefs are a hybrid type of men's underwear that fit somewhere between boxer shorts and standard underwear briefs, hence the name. Exactly where depends on type and manufacturer, as marketing for this garment is diverse. Another commonly used term to describe this type of underwear is trunks, although these are generally understood to have a shorter leg length. Nevertheless, distinguishing between the two is often subject to the type of marketing behind them. In Australia, the two terms are used interchangeably despite their arguable technical differences.
Of course, the various design features evident in boxer briefs depend on manufacturer and image. It is therefore advisable that a man who only looks for good quality boxer briefs should consider the item's fabric type and fitment, as well as comfort and support requirements.
The Boxer Brief Market
Men's underwear that occupies style between briefs and boxer shorts is a broad one. Boxer briefs (or trunks), aim to provide men with the style aspects of boxer shorts combined with the supportive fit of briefs. Not all men are comfortable wearing their boxer shorts as underwear, nor are they comfortable with the restrictiveness and skimpy feel of many briefs, so this product does fulfill a significant part of the underwear market. Men's underwear once performed a purely functional role, but has since become something of a fashion item for some men. This in itself was barely conceivable in past generations.
The Best Boxer Briefs
eBay lists many types of boxer briefs from leading brands, which makes it the first online destination for a great deal of shoppers. The range here is far more extensive than in most retail stores, and often has less attached expense even after postage and handling costs. The list below points to some specific products and brands that have received the greatest reviews by Esquire magazine.
1. Calvin Klein
The Calvin Klein Micro Modal trunk is a classic choice and still provides the ultimate in comfort and support. They are manufactured quite simply and to the highest standards. These boxer briefs sit low on the waist and extend down to the upper thigh. Another good example of this is the Flexible Fit boxer brief. It is a soft cotton mix with XLA fibre to accommodate stretch and provide shape retention. Being 30 years old, Calvin Klein can avoid much of the hype that accompanies many newer products because they enjoy the benefits of a proven track record.
2. Tommy Hilfiger
The Tommy Hilfiger boxer brief is a highly durable garment and outlives most others in its class. They display a somewhat more traditional cut with a longer leg, and are made of a cotton/elastane mix for a stronger wear and increased flexibility. These qualities are epitomised in the athletic boxer brief, as it can be worn comfortably under gym gear to help avoid chafing during exercise. Tommy Hilfiger boxer briefs are an excellent choice for a broad cross section of men.
3. Polo Ralph Lauren
Polo Ralph Lauren boxer briefs are superbly comfortable as they are made entirely from soft cotton that conforms perfectly to the body. These boxer briefs are also a popular choice for gym goers who wear them under workout clothing. Additionally, their flat and close fit ensures they lie undetectable under regular dress or casual pants. Styled similarly to cycling shorts, these boxer briefs give full coverage.
4. Gap
Gap solid boxer briefs are distinct in their design with their gently elasticised leg bands. These boxer briefs are a favourite for those with skinnier legs and who wear their boxer briefs under skinny leg pants. They are comfortably form fitting, but never tight. The elastic leg bands ensure they do not creep up the leg during the day.
5. Lonsdale
Lonsdale boxer briefs are an old favourite for many men. As a classic British sports label, the Lonsdale name is legendary and has a long reputation for producing sporting gear, clothing, and underwear of good quality. The company tends to go for classic styling with a buttoned fly, made of cotton with a small amount of elastane for durability. The Lonsdale boxer briefs are often slightly roomier in fit, and less expensive to buy.
6. Hanes
Hanes boxer briefs are aimed at a broader market but do provide excellent quality elastic waists that beat many of its upscale contemporaries. Hanes boxer briefs are a classic cut boxer and supremely comfortable with their tagless design. Unlike many big name boxer briefs, these are highly affordable and unpretentious.
In Summary
All of the boxer briefs listed above come with highly regarded recommendations. Despite their variations, they all serve roughly the same purpose: to provide support where needed with the comfort of a boxer. There may not be an absolute best boxer brief, as it is a matter of personal taste, and men invariably have differing views on which is the best garment. So rather than focusing on an objective best, men who shop for this garment may be better to assess if their designated boxer briefs display the qualities they want in their underwear.
Boxer Brief Considerations
In order to satisfactorily purchase boxer briefs online, a customer should have a sense of their own preference in fit, fabric, comfort and support. The chart below can help a man determine the type of boxer brief that may be most suited to him.
| | | |
| --- | --- | --- |
| Features | Look For | Avoid |
| Comfort | Boxer briefs that are barely noticeable when worn | Unnecessary seams; tags |
| Fabric | High breathability; flexibility and stretch; anti odour capabilities | Polyester-based moisture-wicking fabrics |
| Fitment | A close but yielding fit throughout garment; snug around legs but not tight | A tight fitting pouch |
| Support | Offers support to buttocks, thighs and genital area | Shapeless in boxer brief cut |
If shopping online, a customer should always have the above characteristics determined before making a decision. It should be noted that price alone is not always a good indicator.
How to Buy Boxer Briefs on eBay
There are several ways you can shop for boxer briefs on eBay. You can make a general search by simply adding "boxer briefs" to the search bar. This provides you with a general overview, but you can also conduct a specified search request such as "Calvin Klein Micro Modal" if you know the exact type you want. Alternatively, you can search according to brand name using the filter options, or check the listings on eBay deals.
Upon finding a few items that interest you, compare details to see which ones most closely meet your needs. Make sure you know your size, and confirm that your designated seller offers a return or refund. Check that your seller has a good reputation on eBay by noting their customer feedback score.
Conclusion
Most men can testify that wearing the wrong type and size underwear can be hideously uncomfortable, not to mention the potential for fertility problems if they are too tight and restrictive. Boxer briefs were invented to fill an important gap in the consumer market that wanted the best of both worlds between boxers and briefs. This was achieved by merging together the best qualities of each.
With a such a wide variety of fabric blends, leg lengths and styles available in boxer briefs today, the customer no longer has to put up with underwear that does not make the grade. The extensive range on eBay should be tempting enough for any man who wants the top brands for less.
Briefs|Men's Boxer Briefs|Trunks|Men's Trunks|Underwear