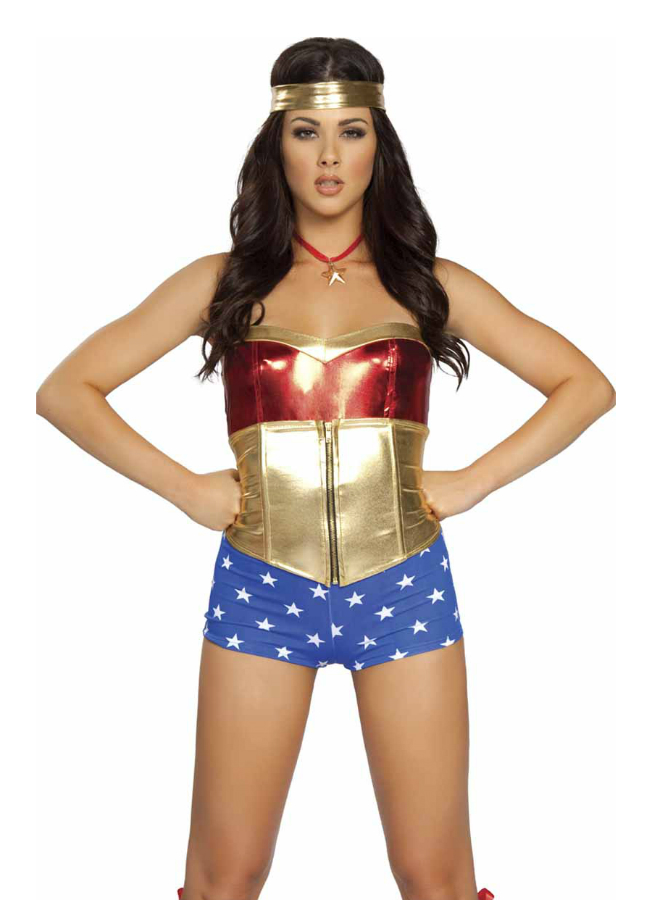 Comic superheroes and villains not only capture readers' imaginations, but also provide inspiration for many in their daily lives. Therefore, it is no wonder some comic fans want to put on costumes to look like their favourite comic characters. Fans of comic books include readers of all ages, from children to adults. Furthermore, many people have grown up with comics and still enjoy them after many years.
Fans who plan to wear costumes of their favourite characters might already know what costumes they want to wear. However, there are also those who may not be so sure of what comic character they want to play. To choose the right costume, buyers can consider the look, ease of use, and cost of the costume. Besides buying costumes from costume stores, buyers can also visit online stores such as eBay.
Popular Costumes Inspired by Comic Books
Comic fans can choose to wear any costume they want, whether it is of a hero, villain, or even side character. Even those who have never worn comic costumes find it easy to choose the right costume based on budget, size, and style. The following list of the top six costumes for comic fans according to many popular comic fans' blogs may be a good starting point for those who cannot decide on what to wear to the next costume party.
Costume 1: Batman
Batman is the ideal hero for many comic fans. He is almost always clad fully in black, which gives him an air of mystery. Any buyer who puts on a Batman costume can feel like a hero himself. Buyers can find a variety of Batman costumes inspired from the original costume Batman worn in the 1960s TV show, or the more recent Dark Knight version of the costume. Fans who prefer to make their own costume may find that the Batman costume is among the easiest to construct since it has limited colours and few parts and accessories.
Costume 2: The Joker
The Joker, Batman's nemesis, has also inspired some of best costumes in the comic world. With his green vest, along with purple suit and trousers, the Joker costume is quite easy to acquire and also to pull off. Although wearing a rather brightly coloured costume, anyone playing the Joker can look terrifying, especially if they get the make-up right. However, buyers can also find a suitable mask to go with their outfit if they do not want to put on make-up. Just like Batman costumes, the Joker costumes also come in many types and buyers can get either the full costume set that includes the suit, vest, and other accessories, or just buy some parts and improvise.
Costume 3: Superman
Superman, also known as The Man of Steel, has to be one of the most iconic heroes for comic fans. Therefore, it makes perfect sense for comic fans to chooses a Superman costume. Wearing a Superman costume at parties or comic conventions is a sure way to attract attention and admiration, especially from young fans. Some Superman costumes are just fabric suits, whereas some have additional paddings to give wearers a bulked up look when they wear their costumes and resemble their hero more closely.
Costume 4: Spider-Man
Comic fans who dream of swinging from building to building and having excellent acrobatic skills can put on a Spider-Man costume and at least look the part. What makes Spider-Man costumes great for fans is that it covers the whole body, from head to toe, so wearers do not have to worry about make-up or styling their hair to look good. They already look like their hero by wearing the full body suit. There are many variations of the Spider-Man costume, and in addition to coming in different designs, they are available in different colour combinations including black and white, which may be appropriate for Halloween parties but are likely to attract critiques at a comic fans' convention.
Costume 5: Darth Vader
Darth Vader has to be the most well known villain in science fiction and comics. He is, after all, the most powerful tyrant in the Star Wars universe. Furthermore, his costume can compete with Batman when it comes to looking mysterious and intimidating others. However, buyers who choose Darth Vader over Batman probably like the fact that the evil Sith Lord can employ the Force in any way he likes. To complement their Darth Vader costumes, buyers can also get a toy lightsaber, preferably one that lights up. This accessory is likely to increase the realistic effect of the costume and enable the wearer to pose with various actions.
Costume 6: X-Men
All comic fans have at least one favourite X-Men character. Whether they like Wolverine, Cyclops, or Professor-X, there is always an X-Men costume a comic fan can wear. Although the comic and animation X-Men versions have very unique and brightly coloured costumes, buyers can also choose to get costumes inspired by recent X-Men movies. Compared to the comic versions, the movie costumes look more mature and are easier for any fan to pull off. Comic fans can also refer to the following table for other ideas to improve the look of their costumes.
| | |
| --- | --- |
| Costume Ideas | Description |
| Team up | Team up with friends and wear superhero and sidekick costumes |
| Battle-scar look | Makes wearers look like a hero after a fight |
| Accessories | Carry accessories, such as toy guns, to make a costume more realistic |
| Electronic gadgets | Attach lights or speakers to a costume for various effects |
Besides wearing a ready-made costume the way it is, fans can also improvise to stand out in a crowd. A very effective way to draw attention in a costume is to team up with another friend and wear complementing or matching outfits. For instance, one can team up with a friend to form the Batman and Robin team, if they manage to convince the friend to wear a Robin costume, which is not a very good choice of costume, at least according to popular comic fans discussion forums.
Buying Comic Costumes on eBay
To search for a costume on eBay, all you need to do is type your keyword into eBay's search bar. You can use search terms such as 'men's costume' and even 'superhero costume'. When looking at all the available costumes on eBay, make sure you look at their description, price, and delivery fee. You can also visit the eBay Deals page to look for discounts and offers on costumes, which may include your favourite comic character costume.
One important thing to look at when buying your costume is the size. Always check this before you purchase a costume. In addition to checking the size, you should also look at all available information about the product. If you have any questions about it, you can just drop the seller a message. However, if you are satisfied with your chosen item, you can proceed to purchase it.
Conclusion
Comic fans are an enthusiastic and cheerful group of people. With their costumes, they not only have fun interacting with each other, but also entertain and inspire others, especially children and teenagers. The iconic costumes that have stood the test of time among fans are the Batman, Spider-Man, Superman, Joker, Darth Vader, and X-Men inspired costumes.
These costumes not only look good, but never run out of style. Buyers can wear them to any party and comic event to ensure they are at the centre of attention. Besides just buying a ready-made costume, fans can also mix and match some parts of a costume with what they already have in their wardrobe. Furthermore, they can also modify their costumes with accessories and gadgets. No matter what kind of costume buyers choose to wear, they cannot go wrong if they feel comfortable and confident in it.
X-Men Costume|Darth Vader Costume|Batman Costume|Superman Costume|Spider-Man Costume