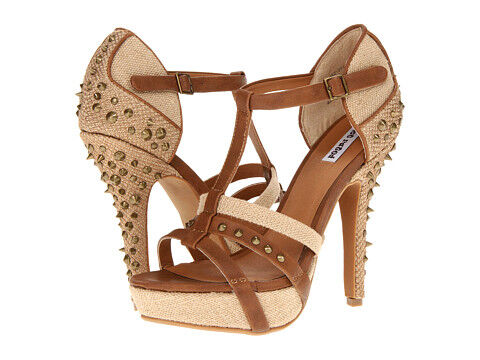 Women looking for a new pair of shoes have to face a lot of choices when it comes to deciding which style would be better for a certain outfit. Many women choose to wear heels for both day and evening outfits, as these shoes are stylish and flattering at the same time. There are several types of heels that should not miss from a woman's wardrobe. From court shoes to stilettos, there is a suitable type of heel for any moment of the day.
When shopping for heels, women should pay attention to a large number of factors, including the shape of their legs and the colour, decorations, and comfort of the shoes. They should also take into account whether a certain shoe type is versatile enough to be worn for both casual and formal wear. By learning more about the top types of heels, one can make an informed choice every time.
Top Heel 1: Court Shoes
Court shoes are an essential type of footwear in a woman's wardrobe and perhaps the most popular version is the one with demi-heels. The editors at ELLE magazine consider that court shoes with mid-length heels are cool and fresh, thus being a top choice for women who do not want to struggle with five-inch heels. Court shoes are versatile and they are suitable for both casual and formal wear. Because they are quite comfortable as daily wear, many women choose to wear court shoes at the office. They work well with mid-length skirts, jeans, trousers, and even shorts.
Top Heel 2: Ballet Flats
Ballet flats have been en vogue for the last decade and their success is mostly due to their low heel that makes them a comfortable choice for casual and formal wear. Vogue magazine included ballet flats on their list of 20 most iconic shoes of all times. Audrey Hepburn made the style popular and since then numerous celebrities adopted them for their outfits. Ballet flats go with virtually anything, but some of the most popular choices include matching them up with leggings, short skirts, Capri trousers, and trousers. They come in a wide range of materials and one can find a suitable pair regardless of the season and occasion.
Top Heel 3: Wedge Heels
Wedges are a top choice of many fashionistas because these shoes offer the height of a stiletto without the discomfort. Fashion magazines and bloggers consider them essential pieces of footwear especially for this reason. Wedges work well with jeans, dresses, skirts, shorts, and more and one can choose from wedge boots, sandals, or mules, depending on the season. Wearing wedges is a good way to make one's legs appear longer and they come in a large variety of materials for all occasions.
Top Heel 4: Stilettos
Considered by many the epitome of elegance when it comes to shoes, the stiletto has a long history and comes in numerous styles. Even though one can choose from different styles including boots and sandals, the stiletto court is perhaps the most famous style, made popular by TV shows such as 'Sex and the City'. ELLE Canada included the Manolo Blahnik stiletto on their top 10 most iconic fashion pieces list. The only downside of wearing stilettos on a regular basis is the fact that they can be uncomfortable. The posture is very important when walking in stilettos, so women should make sure they stand up straight and avoid putting all their weight on the balls of their feet.
Top Heel 5: Block Heels
Block heels are the perfect choice for those who are looking for style without sacrificing comfort. Bloggers repeatedly reported about celebrities wearing this style, including Kate Bosworth and Chloe Sevigny. The main characteristic of these heels is that they are chunky and thus provide better stability than thin heels. One can choose from block heel court shoes, boots, sandals, ankle boots, and more. Block heels work well with short and mid-length skirts and dresses, as well as with jeans and trousers.
Top Heel 6: Kitten Heels
The kitten heel may not seem like one's first choice when it comes to buying a new pair of shoes, but the truth is designers from Christian Louboutin to Oscar de la Renta revived the style and made it fashionable again. Kitten heels were popular a few decades ago and the comeback is very much welcome, given that these heels are stylish and comfortable at the same time. The Telegraph mentions a few of the celebrities who have embraced the style, including Anna Wintour, Michelle Obama, and the Duchess of Cambridge. One can choose from different heel heights and wear kitten shoes with skirts, dresses, and jeans.
Tips for Choosing Heels in the Correct Size
No matter how stylish, a pair of uncomfortable heels can truly ruin one's day. This is why it is extremely important to choose heels in the correct size. Shoes that are too small or too large may cause pain and even health problems in the long run. The chart below may be useful for those who shop for shoes online on websites such as eBay.
| | | | | | |
| --- | --- | --- | --- | --- | --- |
| AU Size | UK Size | US Size | European Size | Cm | Inches |
| 6 | 4 | 6 | 37 | 23.20 | 9 |
| 6 1/2 | 4 1/2 | 6 1/2 | 37 1/2 | 23.50 | 9.25 |
| 7 | 5 | 7 | 38 | 24 | 9.45 |
| 7 1/2 | 5 1/2 | 7 1/2 | 38 1/2 | 24 | 9.45 |
| 8 | 6 | 8 | 39 1/2 | 24.70 | 9.65 |
| 8 1/2 | 6 1/2 | 8 1/2 | 40 | 25 | 9.85 |
| 9 | 7 | 9 | 40 1/2 | 25.50 | 10 |
| 9 1/2 | 7 1/2 | 9 1/2 | 41 | 26 | 10.23 |
| 10 | 8 | 10 | 42 | 26.50 | 10.40 |
| 10 1/2 | 8 1/2 | 10 1/2 | 42 1/2 | 27 | 10.6 |
| 11 | 9 | 11 | 43 | 27.50 | 10.80 |
| 11 1/2 | 9 1/2 | 11 1/2 | 44 | 28 | 11 |
| 12 | 10 | 12 | 44 1/2 | 28.5 | 11.20 |
| 12 1/2 | 10 1/2 | 12 1/2 | 45 | 29 | 11.40 |
| 13 | 11 | 13 | 46 | 29.50 | 11.60 |
| 13 1/2 | 11 1/2 | 13 1/2 | 46 1/2 | 30 | 11.80 |
| 14 | 12 | 14 | 47 | 30.50 | 12 |
Remember that sizes tend to differ from one shoe manufacturer to another, so it is essential to pay attention to the sizing information provided by the seller. Women can also measure their feet with a measuring tape in order to be able to determine their size.
How to Shop for Heels on eBay
Finding the right pair of heels for a specific outfit may look like a daunting task to many, but fortunately there are ways to make the search easier. By choosing to shop for women's shoes on eBay, buyers can take advantage of the large number of styles available on the website. Moreover, the user friendly interface makes it easy to browse through the numerous products until you find the perfect pair.
After you have determined what style of heels would look well with a particular outfit, type the relevant keywords into eBay's search bar. For example, if you are looking for a pair of black stilettos, type these terms into the search bar. Narrow down the search by size, colour, and price, and choose the pair that you want to buy.
Conclusion
A pair of stylish heeled shoes can make any outfit look more elegant and interesting. There are multiple styles to choose from and buyers should take a few things into account prior to making a purchase. Colour, heel height, material, and price are all essential factors. Those who choose to shop for heels online on eBay can take advantage of the deals and bargains offered by various sellers, which are listed on the eBay Deals page. Buyers can also opt for new or used shoes when shopping on eBay. Vintage heels are sometimes a natural choice for various outfits and buyers can find these on eBay as well. All it takes is a bit of patience to browse through the large selection of shoes to find the perfect pair for a specific occasion.
Kitten Heels|Block Heels|Ballet Flats|Stilettos|Court Shoes