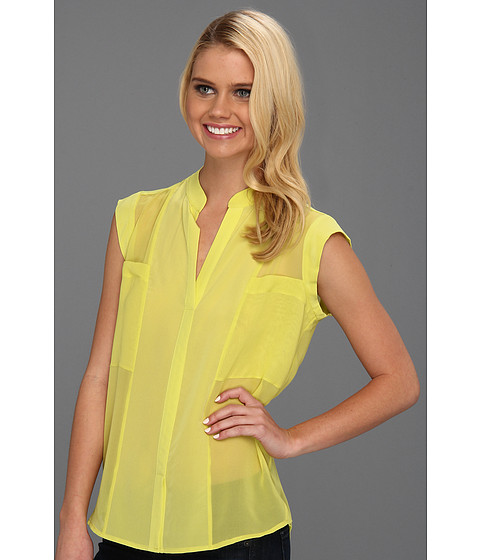 No one can dress up all the time, and the casual look works especially well for some people. However, dressing casually is not the same as not paying attention to appearances. Most women want to feel and look comfortable and, at the same time, look good. Polo shirts, short-sleeve button-down shirts, and T-shirts are all standbys of casual style for women's fashion. And with each of the big name brands offering their own version, there are many high-quality, well-tailored examples of these shirts to choose from. For all occasions, from hot summer days to cool winter nights, to hanging out with friends, to looking professional at one of the more laid-back workplaces, these top picks keep a woman looking and feeling her casual best. Knowing the main features of the top six types of casual shirts can help buyers pick their favourite before heading to local stores or online shops, like eBay, to purchase it.
1. Classic Oxford Shirt, by Tommy Hilfiger
This short-sleeve button-down shirt dresses up nicely, but would not be out of place for sitting out on the veranda with a nice cold drink. The Oxford is comfortable and goes with everything, so putting together an outfit to look good on that veranda is a breeze. Available in several colours and patterns, the shirt is likely to appeal to any buyer. Quality stitching, thoughtful, stylish details, and cool, 100 per cent cotton fabric takes this shirt to the top of the list.
2. Buttonless Polo, by Tommy Hilfiger
This navy blue short-sleeved polo features thin white striping at the sleeves and neckline that really grabs the eye. At the same time, the comfortable fit and lack of buttons give this shirt a definite, casual feel. The open, somewhat low V-neck means most women would prefer to wear this polo over another shirt, like a contrasting long-sleeved tee. The polo features the same quality and attention to detail that Tommy Hilfiger's Classic Oxford Shirt does.
3. Vintage L.L. Bean Women's Flannel
Nothing beats a well-made plaid flannel for either comfort or warmth and, for some people, a loose plaid flannel, worn unbuttoned over a long or short-sleeved tee, is very close to a personal trademark or uniform. This look is how some people best express their personal style. At one time, some of the best plaid flannels around came from L.L. Bean. Unfortunately, L.L. Bean no longer makes its traditional flannel shirts in women's styles; their recent offerings have received much poorer reviews. Fortunately, however, the older L.L. Bean shirts last forever, so it should not be too difficult to pick up a good one second-hand.
4. Premium Double L Relaxed Fit Short-Sleeve Polo, by L.L. Bean
This polo has a high neck so there is no need for anyone, even the most modest, to wear a shirt underneath on hot days. The double L stands for L.L. Bean, the American company that made its name making high-quality outdoor clothing and, more recently, everyday but attractive styles. The durable cotton fabric resists wrinkling and lasts just about forever. The price is much lower than for shirts of similar quality from other brands.
5. Scoop-Necked T-shirts, by American Apparel
American Apparel is at its best with its T-shirts, which are comfortable, durable, and attractive. Their scoop-necked tees particularly look good on just about anybody, regardless of shape or size. Though the company has seen some controversy in recent years over its advertising campaigns, many customers still appreciate its non-sweatshop policy and its practice of recycling its scrap cotton.
6. Custom-Printed American Apparel T-Shirts
American Apparel tees can also be printed with the buyer's own original designs, usually through third-party companies that operate online. What can be more fun than a professional-quality print of an in-joke shared only with friends? And since these shirts have the same comfort and flattering fit as the company's other tees, the deal is twice as good. American Apparel also accepts large private custom orders through its wholesale division, a good option for people shopping for companies or schools that need their own shirts.
What Casual Means
The word casual can mean different things in different contexts, everything from business casual to the sort of rumpled outfit someone might wear for cleaning the house. Physical comfort and some degree of freedom for self-expression are important across the spectrum and more or less define casual clothing, but from there on is a lot of variation. Often what makes the difference is less a matter of cut and style and more a matter of colour and fabric, and, of course, how the item is worn.
Polo shirts and button-down shirts can count as business casual if they are of a solid colour or a conservative pattern. Excellent tailoring helps, since many people perceive professional attire for women as necessarily feminine-looking. On the other end of the spectrum is the T-shirt, but even the T-shirt is variable. A cotton tee with some advertising slogan printed on it is definitely the dressed-down version, but a solid-colour silk tee is much more stylish. In any case, context is the main issue; how casual a given shirt looks depends a lot on what else the shirt is worn with.
How to Buy Shirts for Casual Wear on eBay
Women's shirts are available through eBay in a wide variety of styles and sizes to fit any buyer. The site is easy to navigate and the buying process is straightforward. A further advantage is that eBay is a great place to find second-hand shirts, including styles that may now be difficult to buy new.
Finding Casual Shirts on eBay
There are two main ways to search for anything on eBay; either browse the listings or get specific. To see what is available, do a simple search for something broad, like casual shirts. Then use the menu options to narrow down the results to something manageable. But if you already know exactly what you want, use the Advanced Search feature to go right to it. Alternatively, try out eBay Deals, where the current best prices in any category are listed. The perfect casual shirt might be there.
Buying Shirts on eBay with Confidence
If you have any questions about a listed shirt, go ahead and ask the seller. Use the contact link listed on the seller's profile page. His or her feedback score, return policy, and any special deals are listed there, too, and it may be a good idea to check them before you purchase the shirt.
Conclusion
One way to think about clothing is as a language, with individual pieces being words. Polos, short-sleeve button-downs, and tees all say casual pretty well, but depending on the specifics these pieces can also say attractive, stylish, or even professional. Flattering, feminine cuts, fun, but not gaudy colours, and comfortable, easy to care for fabrics all round out the vocabulary and help define a good shirt of any kind. Of course, there is more than one kind of casual, too. There is hanging around the house in a T-shirt with something rude printed on it casual, but a solid-colour tee in a high-end fabric is casual in an entirely different way. Even a collared shirt is variable and dresses down very nicely with the sleeves rolled up. With a couple of suggestions of top styles to get her started, a woman can build a great and very stylish casual vocabulary.
Casual Shirt|Classic Oxford Shirt|Polo Shirt|T-Shirt|Flannel Shirt