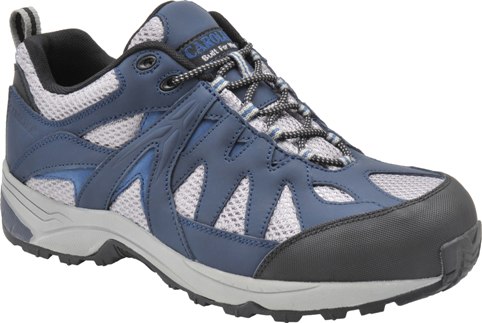 Having suitable
shoes
for working out in is always important, whether for cardiovascular or weight training or both. Most men wear their cross trainers to the gym, which is fine because cross trainers, unlike sports-specific shoes, are a general purpose trainer. The majority of good quality cross trainers have more than acceptable cushioning, support and stabilising qualities. However, for those who do not possess a decent pair of cross trainers, or for elite level gym goers with heavy routines, it is wise to invest in the most ideal pair for the gym environment.
When choosing gym-specific shoes, customers should consider their body weight and size as well as type of gym routine they normally engage in to help them determine the kind of support they need.
Gym Shoe Types
The best gym shoes for the man who engages in a wide range exercises needs to be a pair that facilitates all of these activities without feeling the need to bring another pair. The shoes listed below can be worn for the whole routine, from warm-up, stretching, and weight training to the cool-down phase. As such, they are cross-purpose shoes and not exercise specific. Elite athletes who spend an entire session on one or two exercises may require shoes made specifically for that exercise, such as
weightlifting shoes
. The most suitable shoes for the average gym goer depends on the individual, but the six listed below are highly recommended for crossfit training.
1. New Balance Minimus 20v3
The
New Balance Minimus 20v3
is a great all-around gym shoe. A very lightweight shoe with a modest 4mm heel to toe drop, it provides optimum cushioning and support for many gym activities such as weight lifting, treadmill sprints, and box jumps. It is free of sewn seams, which means chafing is not an issue in these shoes and that they can be worn sock-fee. They are also designed with odour-resistant properties.
2. Inov-8 F-Lite 232
The
Inov-8 F-Lite 232
is another zero drop shoe that facilitates the most natural performance for a variety of exercises including free weights. This shoe is most suited to those who perform better with a close sense of the ground beneath their feet. The low and flat profile shoe provides good traction and the wide toe box allows the wearer to spread their toes to gain a stronger lifting foundation. With a super sticky sole, the shoe grips effectively to many different floor surfaces.
3. Merrell Hammer Glove
The
Merrell Hammer Glove
is a shoe which lives up to its namesake. It fits like a glove and is super lightweight. This shoe is suitable for a wide range of activities from weight training to running. It is most highly suited to those who prefer a minimalist shoe, as its zero heel to toe drop facilitates very natural movement. Despite its slender design and thin mesh upper, there is a moderate amount of cushioning and a good deal of lateral and medial support for most types of exercise.
4. Puma Bioweb Elite
The
Puma Bioweb Elite
is clearly designed with versatility in mind. This shoe is very effective for weight training stabilisation and doubles as a running shoe. It is stiffer and more highly structured than many other running shoes; its emphasis is on stability rather than cushioning. It does have a good deal of flexibility through the heel wrap and effectively resolves the heel slippage problem common among those with narrow feet. It may, however, prove too narrow for those with broader feet.
5. Reebok CrossFit Lifter
The
Reebok CrossFit Lifter
is another shoe that assists performance across several different exercises, yet is not as efficient for running or forward jumping. Although marketed as a crossfit shoe, they definitely perform best for weight training. They are an excellent choice for those who lift either free weights or resistance machine weights, as they provide superb support and ground traction. The heel to toe drop is a little greater than in most weightlifting shoes; nevertheless, a great deal of energy can be transferred through the feet.
6. Adidas Power Lift Trainers
The
Adidas Power Lift Trainer
focuses on allowing the ultimate stability and grip during weight training. Although the shoe can be successfully worn throughout an entire workout, it does perform better for those who have a weights-based programme. With a rigid sole and weight distribution plate, wearers are unlikely to ever feel off balance during a lift. The gently elevated heel is designed to facilitate greater lifting power through the quads and glutes.
Shoe Comparisons
The chart below can help a customer make important feature distinctions between the shoes previously listed. A man should choose his shoes according to which type facilitates the type of training he participates in.
| | | |
| --- | --- | --- |
| Shoe type | Specifications | Suited to |
| New Balance Minimus 20v3 | 156 g weight; 4 mm heel to toe drop; odour resistant; mesh upper; welded seams | Running, guided and free weight training; basketball; aerobics; step classes |
| Inov-8 F-Lite 232 | 232 g weight; 3 mm footbed; zero heel to toe drop; anatomic sole; synthetic TPU upper; mesh lining; injected EVA midsole | Offroad running; guided and free weight training |
| Merrell Hammer Glove | 375 g weight; zero heel to toe drop; Aegis antimicrobial treated lining; medial rubber protection cages; stabiliser straps with hook and loop closures; integrated microfibre footbeds; midsole EVA foot frame; Vibram Road Glove Rubber outsoles | Running; guided and free weight training; aerobics |
| Puma Bioweb Elite | Mesh upper; injected PU webcage; eco ortholite sockliner; external web heel counter; EVA and rubber outsole; flex grooves; control cell designation | Running; guided and free weight training; court sports; aerobics |
| Reebok CrossFit Lifter | 380 g weight; lightweight perforated upper; soft full grain leather toe; polyurethane moulded sockliner; carbon rubber outsole | Guided and free weight training; box jumping |
| Adidas Power Lift Trainers | Synthetic mesh upper; hook and loop strap over lockdown; weight distribution plate; EVA wedge midsole; multi-grip sole; textile lining | Guided and free weight training; limited running |
The shoes listed here are the best six shoes for the gym. Those men who frequent the gym may nevertheless find many other types of athletic shoes just as adequate.
Selecting the Right Type of Gym Shoes
As already noted, the types of shoes suitable for the gym depends on body type, training type and training level. For the treadmill, a good pair of cross trainers or running shoes are ideal, but for aerobics classes, a man may need shoes with more lateral support, as is found in tennis shoes. Weight training may require a man to step up the stability features in his shoes. However, that is only one side of the story. Sports science has begun to see how too much support in shoes can lead to foot mobility weakness which can lead to further joint problems throughout the body. For those in good physical shape, highly supportive shoes may not be the answer, and for those with compromised skeletal health, a consultation with a physiotherapist or podiatrist is advisable.
How to Buy Shoes For Gym Workouts on eBay
Whether you know the exact shoe you want, or simply wish to gain an availability overview, you can conduct a general or model-specific search on eBay such as for "
Puma Bioweb Elite
". After you have located several potential listings, make important specification comparisons between them to find the type that has the features you are looking for. Ensure that you know your own size in the brand you choose. Take particular notice of the seller's returns policies because you may depend on it later.
Before making a final choice of gym shoes, check your designated seller for their sales reputation on eBay. You can do this by reading the feedback left by previous customers and noting their customer feedback score.
Conclusion
Although the faithful cross trainer usually plays its part adequately well in the gym environment, it is not always enough. Having the right shoes for a particular type of gym routine goes a long way towards achieving peak performance, and a man can more than likely find such shoes on
eBay
or
eBay deals
.
The myriad of resistance exercise machines, free weights, and cardiovascular equipment at any gymnasium necessitates a pair of shoes that can be used across the board. Although a man with a heavy weight lifting regime may want to bring a pair of running shoes along for his warm-up and cool down sessions, the more typical gym-goer looks for a single pair that can fulfill his needs for the entire workout.