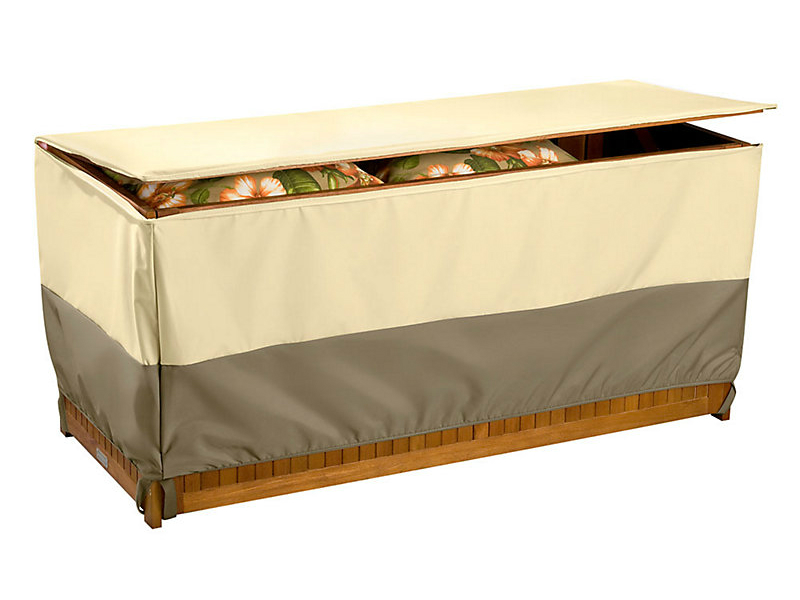 Storage chests are made from a variety of materials, and are useful for a variety of items. A storage chest easily complements existing furniture in any room, whether it is a bedroom, media room, or dining room. They are available in different sizes depending on what consumers are going to use them for, and they house everything from clothes to books and collectables.
Consumers are able to find out more about the most popular types of storage chests before deciding which one they are going to purchase for their home. It is helpful to know what is going to be stored in the chest so the proper type of chest is purchased. Chests are available at furniture stores or on eBay.
1. Wooden Storage Chests
Wooden storage chests are not only attractive, but chests made out of real wood are extremely durable, and with the proper care, last for many years. According to Forbes, when consumers are shopping for a wooden storage chest, there are a few things to look for. The wood should be solid, and the chest should not be put together with glue or nails. Pieces should interlock properly and with solid corners, and be reinforced as well.
When it comes to wooden storage chests, there are many types available for purchase. Consumers who enjoy antiques might opt for a vintage or shabby chic storage chest. Newer chests are painted in a variety of colours, and some offer glass doors, sliding drawers, or a combination of both. Wooden chests are tall, or short and wide, and they are often used to hold clothes or as a side table next to a bed or sofa.
2. Storage Units
A storage chest that is meant to house a television or other media is called a storage unit. This kind of chest typically goes in a media room or living room, and some models have large, cabinet style displays that have doors made of wood or glass. These storage chests hold movies or music, electronic devices such as game consoles, or other accessories such as remote controls.
These storage chests are also called entertainment centres. These are created in several different styles. One type of media storage chest is triangle shaped and meant to fit into a corner. Other types look similar to standard storage chests, with room for the television to sit on top and other peripherals to go underneath on shelves or inside cabinets or drawers.
3. Display Cases with Shelves
Another popular type of storage chest is a display case with shelves. Display cases are used for showing off collectable items, china, crystal, or other special things. A display case is generally made of wood with glass sides and doors so items are easily seen. Some display cases have lights. Some of these are known as cupboards and may have drawers as well as storage above. This kind of unit is good for consumers who need extra storage space in the kitchen for dishes or glasses.
A display case with shelves that has glass as well as drawers is useful for many rooms in the home, including the bathroom. Small versions are good for holding towels and other bathroom supplies, while larger cases are perfect for kitchens and dining rooms. Other styles of display cases have drawers that are meant for CDs or DVDs, and are a perfect complement to media centres in living rooms.
4. Coffee Table Storage Chests
A versatile type of storage chest that does double duty is the coffee table storage chest. This is a large piece of furniture that has a flat surface which is functional as a coffee table, with drawers on the sides or back that house space for storage. For consumers who do not have much space in their living room, this is the perfect solution to a storage problem.
Coffee table storage chests are made from a variety of materials, such as wood, wicker, or even metal. These are generally aesthetically pleasing and complement existing living room decor, as well as camouflage a large amount of storage that works well for the remote control, movies and media, or video game storage that is easy to access.
5. Shoe Cabinets
Women or men who have a large shoe collection need a special storage chest to store their favourite footwear. A shoe cabinet keeps a shoe collection organised and visible. There are many ways that a shoe storage chest works. Some models have drawers that pull out where shoes are stored, and some are a cabinet with doors that open out. There are even models of shoe cabinets that open up to racks where shoes are placed in a line.
Shoe storage options are available in many materials and sizes, and hold a varying amount of shoes, and there are models made of wood, plastic, and metal. They are available in a variety of colours and styles that blend well with existing decor, and some pieces are also able to serve double duty as a nightstand, dresser, or other piece of furniture.
6. Storage Trunks
Another popular type of home storage chest is the storage trunk. These offer a unique and eclectic look, and they are large enough to store a variety of items. They also double as coffee tables or end tables, and work well with many types of decor. There are a few different types of storage trunks, from vintage style chests to updated designs. They are available in many sizes and are made of different materials, such as wood, and vintage steamer trunks are commonly used for storage too.
Some options have a lock that is used, and some are simply used for decorative purposes, though many consumers store clothing, blankets, or other items inside the heavy-duty, durable storage chests. Some are painted or embellished, or have a distressed, antique finish for decoration.
Storage Chest Uses
There are so many types of storage chests which offer users a variety of functional uses. Because of their varying sizes, materials, and colours, they are one of the most versatile types of furniture available.
| | | | | |
| --- | --- | --- | --- | --- |
| Wooden Chest | Storage Unit | Display Case | Cabinet Storage | Trunk |
| Dresser | Media centre | Collectables | Shoes | Linens |
| Nightstand | TV stand | China | Clothing | Coffee table |
| Bathroom storage | Media storage | Glassware | Kitchen items | Remote controls |
| Kitchen storage | Game console | Dishes | Toys | Media storage |
| Side table | Stereo | Flatware | Linens | Bedroom storage |
| TV stand | Books or DVDs | Linens | Media | Heirloom storage |
Storage chests are unique in that they are useful for more than one purpose. A chest that makes a great nightstand doubles as an end table in the living room, or a dresser in a child's room.
How to Buy Storage Chests on eBay
If you are looking for the perfect storage chest to meet your needs, shop for a storage solution on eBay and get great deals. Navigate to any internal page or use the home page search box to key in what you are looking for, such as "wooden storage chest" or "storage trunk", to get specific results. From there, you are able to easily filter your search by product brand, such as Eames, or by price range. You may want to shop by colour, such as a green storage chest.
Since chests are heavy and difficult to ship, find a seller who is local so you can pick up your new storage chest in person. Contact the seller directly to discuss your options by clicking the "Ask a Question" button on the seller's page.
Conclusion
Storage chests, trunks, cabinets, sideboards, and centres are all functional pieces of furniture that serve more than one purpose. Most of these pieces are not only beautiful and sturdy, but versatile, too, and are useful for several different purposes. One good storage chest is useful in the bedroom, living room, or even in the kitchen. Consumers should opt for a storage chest that is made from high-quality, durable materials, and works well with the existing home decor.
Investing in a solid piece of furniture such as a storage chest is a good purchase. These items are long lasting and always come in handy when consumers need one extra piece of furniture to store just about anything, from linens and blankets to cups and plates.
Storage Chests|Storage Units|Storage Trunks|Entertainment Centres|Display Cabinets