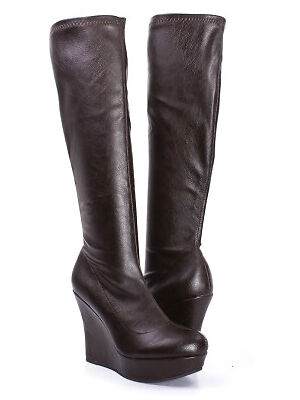 More often than not, boots are made to be versatile and multifaceted. Many people need a pair of boots that allows them to feel comfortable day and night. When the seasons start to change, the time for pants and jackets, and boots emerge as the fall fashion staple. Boots come in hundreds of different styles from the tiny bootie to the stiletto thigh high and everything in between. Some work best in the day, while others are great for a night out on the town.
Finding a boot that works for both daytime and nighttime is a challenge, but it is a task any woman is capable of accomplishing. There are several classic styles that look just as good lounging around the house, working in the office, or dancing at the club. The key is to buy a boot in the store or online via websites like eBay, that fits with plenty of other pieces in the buyer's wardrobe, while also being versatile enough to look good both day and night.
Boot #1: Booties
Booties go by several names in the fashion industry, such as ankle boots or shorties. Essentially, a bootie is simply a boot that only goes to the ankle. Glamour magazine loves the stiletto ankle boot with a touch of sequins as a perfect option for a night out on the town. This style, however, is probably too much to wear during the day. Settle for a bootie with a moderate heel, no more than three inches is work appropriate. Bright colours like red or white do well day or night, but leave the sequins out.
Boot #2: Motorcycle Boots
The full length motorcycle boot is always impressive. Most usually rise to the knee or higher and come with thick, heavy soles and plenty of buckles. It is a wonderful daytime boot, but those thick soles and multiple straps put strain on legs dancing at night. The solution is to use a motorcycle bootie.
Tiny Boot, Big Style
Vogue magazine loves the big style that comes in the tiny black motorcycle bootie. Most have several small buckles that give the wearer plenty of flair. Since the boot is so small, it also does not overwhelm the wearer or make feet look overly large. Motorcycle boots tend to have a smaller heel, so they work well for those who do a lot of walking during the day. However, the heel is high enough so the boots still show off the leg when paired with a skirt or dress.
Boot #3: Stiletto Thigh Highs
Many women lump their stiletto thigh highs into clubwear and never wear them during the day. But these boots do make excellent daytime options, especially for someone who is planning to spend some time out on the town afterwards. The trick is to pull off a polished look that is more elegant than sexy. Pair natural coloured beige boots with tights and a short skirt so that the entire outfit goes together.
Skirts and Boots
There are several unwritten style rules when it comes to skirts and boots. For long skirts, it is fine if the hem of the skirt touches the top of the boot. For short skirts there needs to be a bit of a gap between the top of the boot and the hem of the skirt. Harper's Bazaar recommends wearing tights for a polished personal look.
Boot #4: Lace Up Boots
Traditional boots slide over the front and fit tightly around the ankle while leaving gaps around the top. Lace-up boots use a tighter fit, and this is especially stunning on very high boots like thigh highs. However, wearing a thigh high lace up boot during the day is a bit much. Plus, because of their tight fit, lace-up boots are not easy for dancing. For a day to night appeal, pick a lace up boot that goes no higher than mid-calf. Any size heel is fine as long as it is comfortable enough to wear in the workplace. Vogue magazine loves bright coloured blue lace ups that attract attention to the shoe, but make sure that the colour of the shoe and the outfit go well together.
Boot #5: Equestrian Boot
Equestrian boots are just a tad bit rugged and a bit formal even. This classic boot style comes from part of a uniform used by horse riders for dressage and jumping competitions. They also look wonderful with a pair of skinny jeans tucked into the boot. While equestrian boots do not work for dancing, they are a great choice for casual day at work followed by a relaxed dinner with friends at a bar.
These boots come in several colours but the traditional ones are either brown or black. Glamour magazine also loves the red oxblood colour of many equestrian boots, declaring it the perfect pick for autumn. The heel of these boots is also very low, and they may even be worn with a short dress for a retro 1990s look.
Boot #6: Fur Trim Boots
Fur, or at least faux fur, is back in style. Vogue magazine loves many new fur trim boots that look perfect with a pair of tights and a skirt. The trick to pulling off this look in the daytime as well as night is to remember the difference between fur and fur trim. A moderate amount of fur around the top of the boot is adorable in the day and sexy at night. A tall boot covered with an obnoxious amount of animal fur is not going to be a good look for anyone.
These boots come in all different sizes. They tend to look best when paired with skirts and tights instead of jeans. When wearing jeans, tuck the top of the jeans into the boot. The fur colour varies greatly, and includes impossible natural shades like purple and green. Again, while this colour works in a club, it is not a good choice for the daytime. Pick natural fur shades like white or brown for a day and night boot.
Boot #7: Western Boot
Call them western boots or cowgirl boots, but they are the same thing. Based on the style popularised in the Wild West of the United States, western boots are popular all over the world. They are tall boots made out of leather with designs on the front and toe. Glamour magazine recommends western boots because they are so versatile. They are casual enough to be paired with jeans during the day, but stylish enough for pairing them up with a skirt for dancing. Since the tops of the boot are loose, it is easy to slide skinny jeans inside the shoe.
Prices vary widely on western boots largely depending on the brand and the amount of artwork that goes into the shoe. Keep in mind that while these are high quality boots, they do get easily damaged by bad weather conditions. Therefore, the expensive boots with delicate designs are best saved for indoor days and nights. Opt for more reasonably priced boots for outdoor excursions.
How to Buy Boots on eBay
eBay has plenty of boots for sale that have the ability to turn plenty of heads in public. Select from brand new boots, or score a great deal on a pair of pre-owned ones. Buying pre-owned shoes is a wonderful way to save money on a top designer brand without having to pay a designer price.
Start off by doing a search for 'women boots' through the search engine. This returns all results for boots in different sizes, styles, and brands. At this point, the results are too big, so you need to narrow the search further. For example, if you wear a size 5 boot, then search for 'size 5 women boot'. If you want a boot with a heel then search for 'high heel boot'. Try searching by colour and manufacturer as well to pinpoint specific shoes. Explore how adding different search terms changes the results until you find the shoes you want.
Conclusion
Boots are a fashion staple, and every woman needs to own a pair or two. However, not all boots are suitable for all occasions. The best boots for both day and night are versatile enough so that their style blends with different occasions. Booties are a good choice because their small size makes them ideal for both work and play. Equestrian boots are a bit more formal, but they are also casual enough to wear almost anywhere.
Lace up boots and fur trim boots are playful additions that add a touch of fashion to any outfit. Finally, even the daring stiletto thigh high boot works during the day as well as night, as long as it is paired up with the right outfit. eBay sells all of these styles from private and commercial sellers, and ends up saving the buyer money. It is okay to go ahead and splurge on a fabulous pair of boots that make their feet feel refreshed all day and into the night time as well.
women boots|booties|thigh high boot|lace up boot|fur trim boot