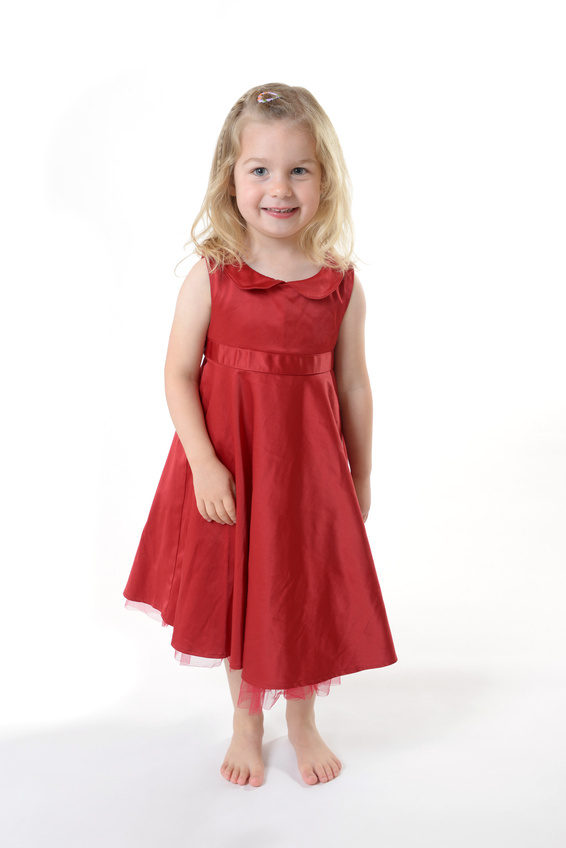 Purchasing Christmas dresses for girls should involve researching a style of dress, choosing the type of dress, setting a budget, and then picking out a colour and length. A great Christmas dress should also be chosen according to the age of the girl wearing the dress as something that looks fabulous on a one-year old might be tacky or overdone on a ten-year old. Another consideration is that the budget should most likely be quite low for this type of dress as it might only be worn once.
Parents can choose a dress that suits the formality of the Christmas party as well whether or not the dress is intended for family photos. There are many styles and types of dresses for girls, ranging from very formal to casual. Buyers can look in local shops to see which types of Christmas dresses are available or popular at a certain time or can choose to look on eBay where everything from designer to budget brands is listed in either new or used condition and is easy to purchase.
1. Smock Dress
The smock dress is a simple and casual style that is suitable for girls of almost all ages. While not as flattering as a more fitted dress, the smock is easy to get on and off and is therefore especially great for younger children. Smocks are typically made without a waist but can be tied at the waist to create a more girly look for photos.
Smocks can be very casual, but some might also feature a pleated skirt that flares out, or feature lace and ornamentation, which makes it more appropriate for a Christmas dress. There are plenty of different brands that sell smock type dresses although these are not usually available in formal styles except for very young girls. Catimini produces a range of smock dresses that might look lovely on a little girl during the holidays. Other popular brands, including designers like Oscar de la Renta and Calvin Klein, produce very nice smock dresses in a range of colours and styles.
2. Ball Dress
The ball dress is a very popular style of dress for formal occasions but can be toned down a little for a more casual occasion. Very young children can dress up as much as they like and the ball dress is sure to be loved long after Christmas. Colours such as red and green should look great at Christmas time and in photos. The ball dress usually features spaghetti straps and a waist that flairs out at the natural waist. A ball dress is most likely to be suitable for a girl who is up to seven years old. Amy Byer, Gymboree, and Bonnie Jean are well known for producing a range of ball dresses for girls.
3. Princess Dress
The princess dress is very similar to the ball dress except that the skirt flares out at the hips rather than at the waist. Like the ball dress, the princess dress usually features spaghetti straps but can also feature sleeves as well. Princess cuts are very common, especially in most stores that sell formal children's clothing including wedding boutiques, eBay, and more. Brands like Nicole Miller, Ooh La La, and even H&M produce this type of dress for girls, so there are plenty of styles to choose from.
4. Costume Dress
A costume may be just the thing for a young girl to wear at Christmas. Little girls costume dresses are usually themed after either Santa's outfit or an elf's outfit. Both options are a good thing to consider although many might be too warm for the occasion as many Santa outfits are made of velvet. Roxy Quiksilver and Rox y both make Christmas inspired costume dresses for girls but there are also plenty of options on sites like eBay that are not branded and typically a little more affordable.
5. Cartoon Inspired Dress
Cartoon inspired dresses are sure to be a hit with a little girl over Christmas. The dress might not be quite as formal as a ball dress, but the girl is likely to love the dress long after Christmas is over. Popular brands include Tinkerbell, which exclusively produces Tinkerbell themed dresses in a range of styles, Dora the Explorer, Ooh La La, Hello Kitty, and some Disney merchandise, although these can be difficult to find.
6. Empire Waist Dress
An empire waist dress is a perfect semi-formal dress. This dress is also called a drop waist because the waist is very high and just under the bust. As a result, these dresses are usually very easy to put on even a difficult toddler, which makes them a popular choice. Empire waist dresses are also great for girls who like to play because the dresses usually have a full skirt. Most brands make empire waist dresses for girls, andvery popular styles include Ralph Lauren, Animal, Roxy, and Gap.
7. Tutu Dress
A tutu dress can be a great alternative to an actual dress for a little girl. Tutus are a lot of fun, can look great in photos, and are especially flattering when worn by girls up to seven years old. The brand Ballet is very popular for creating tutu dresses but there are many unbranded options of girls' dance clothing like Dance & Play and Energetiks that are quite popular as well.
Considerations when Shopping for a Christmas Dress
There are plenty of considerations for anyone purchasing a Christmas dress for girls. For example, some girls look better in different styles, and different age groups are flattered by different styles of dresses. Full length and knee length dresses are also options although the majority of girls' dresses are knee length or just below the knee for practicality reasons. Buyers can also consider what they would like to spend on the dress, depending on whether it is only being worn for Christmas or being worn throughout the year as a party dress.
Buying Christmas Dresses for Girls on eBay
eBay is a great place to look for and find a Christmas dress for girls of all ages. eBay is home to a range of designers and brands with pretty much every style available on the site and some discounted options on eBay Deals. This means that the buyers can choose virtually whatever style and design they like for the price that they can afford to pay. Whether this means a budget unbranded dress or a Marc Jacobs for Girls dress is up to the buyer.
Purchasing on eBay does require that the buyer check the estimated shipping time to see if the purchased dress can arrive on time. Checking the cost of shipping, reading the description to check the measurements, and knowing the child's dress size are all important. Many brands size clothing differently, so if the measurements are not listed, it may be a good idea to ask the seller before committing to the purchase.
Conclusion
Purchasing a Christmas dress for little girls can be difficult without knowing what brands and styles are available. However, there are plenty of options for parents, no matter what type of event they plan to hold. Dresses range from the very formal to the very casual and there are plenty of options out there.
Buyers should consider their budget for the occasion, the material that they prefer, the style that is most flattering to the girl, the girl's preferences, and whether the dress is being worn indoors or outdoors. Dresses can also be purchased from shops and stores that sell girls' dresses but also from sites like eBay that might have a larger selection of different styles and pricing options. For the most part, simply choosing something that looks great is the best way to choose a Christmas dress rather than adhering to a specific style or look.
Christmas Dress|Smock Dress|Tutu Dress|Costume Dress|Princess Dress