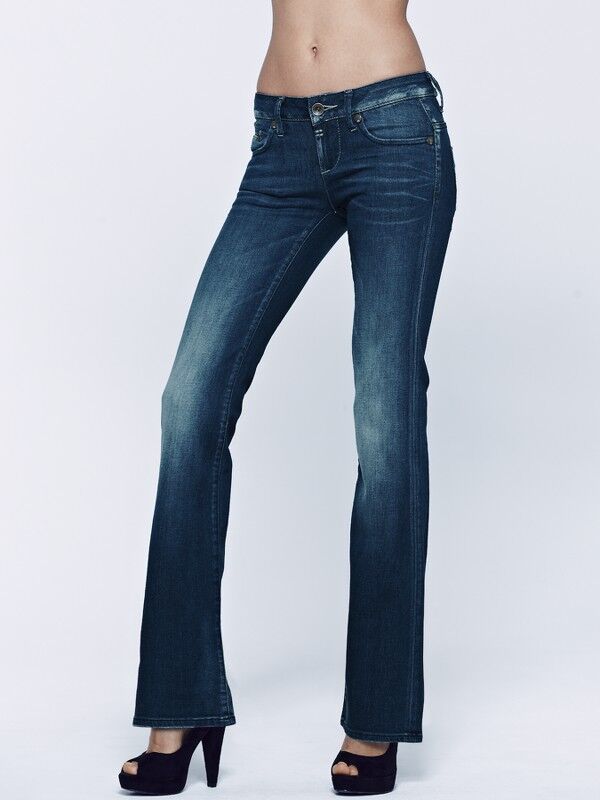 There was a time when denim was more associated with mechanics and rock stars than a night out on the town. But times are definitely changing. Modern fashion not only accepts denim for a night out, but it also frequently encourages this. Socialites and celebrities are often photographed by magazines like Nylon and Cosmopolitan, strutting down the red carpet with a great pair of designer jeans on, rather than an evening gown or suit. Pairing the right set of designer jeans with a dressy top or hot pair of heels can totally transform denim from informal to hip. Best of all, jeans are notoriously comfortable and look good on nearly every body type. There are multiple denim designers, but only a few meet the standards that keep them on the top of trend lists and the legs of celebrities all over the world.
1. Citizens of Humanity
Anna Kendrick, Jennifer Garner, and Anna Paquin are just some of the dozens of celebrities who have been photographed wearing a pair of Citizens of Humanity jeans. In fact, Jennifer Garner is said to have a favourite pair that she is frequently caught wearing out by the paparazzi. Jerome Dahan, a Paris-born designer working in the cutting-edge fashion world of Los Angeles denim is the face behind Citizens of Humanity. He is also a former leading designer for the jean juggernaut, Seven For All Mankind, and in the 1980s, he worked for the iconic Guess jeans group.
2. Bleulab
Bleulab of Los Angeles offers a collection of uniquely reversible, eight-pocket jeans. Marked as a "hot new trend" by US weekly and a People StyleWatch Denim Award winner, Bleulab jeans have rocketed into popularity. Bleulab jeans are a world apart from most jeans, designer or otherwise. The multiple pockets, loud designs, and reversibility make them utterly unique. Many people appreciate the reverse design, as buying a pair of Bleulab jeans means getting two designer looks within a single pair. Celebrity fans include Michelle Trachtenberg, Beyonce, Usher, and Britney Spears.
3. Superfine
Founded in 2003 by Lucy Pinter and Flora Evans, Superfine Jeans offers an amazing denim collection straight from London. Featured in Amica and Vogue Australia, these jeans are effortlessly sexy and incredibly designed. Skinny jeans are a speciality of Superfine, which focuses on hip, punk looks with just a sprinkle of sophisticate. One of the newer lines by Superfine was inspired by the Roma Gypsies, according to designer Lucy Pinter.
4. Dylan and George
Dylan and George jeans have been featured in Cosmopolitan, Star, and Redbook magazines. These jeans have been dubbed as the designer jeans for curvaceous ladies and provide some of the more unique, eye-popping patterns and colours of any other denim option available in the market. Handcrafted Dylan and George denim comes from America, California to be exact. Anyone looking for a pair of forgiving, but hot jeans that manage feminine curves perfectly, can find her groove with Dylan and George jeans.
5. Current Elliott
With offices in the United States, United Kingdom, and Germany, Current Elliott has influence all over the world. Around since 2008, Current Elliott denim offers a style born of vintage Americana. A huge hit amongst celebrities like Naomi Watts, Nicole Kidman, and Diane Kruger, this design made the editor's list in the May 2013 edition of Harper's Bazaar magazine.
6. Red Engine
Red Engine features authentic, American-style jeans designed and stitched in the heart of California, USA. The denim produced by Red Engine has been displayed in dozens of upscale magazines, including Redbook, Marie Claire, Nylon, and US. With shorts, skinnies, flares, and skirts, Red Engine offers a little bit of it all. The special, coated denim look offered by Red Engine is a particularly stylish look for evening apparel. Anyone hoping to wear hot denim and stay ahead of the trends should look no further than Red Engine.
7. Gucci
Not all designer jeans come from new developers. Italian-based Guccio Gucci, better known as simply Gucci, has stayed on top of fashion trends for decades. Nearly a century old, the company was founded in Florence, Italy, in 1921, and it has been making headlines ever since. Known for hip leather and sharp denim, the AskMen website considered Gucci to be a top find for designer jeans for both men and women hoping to bring a bit of sophistication and flair to a blue jean collection. For a flattering fit and incredible feel, stick with this top, enduring piece of fashion royalty.
Tips for Transforming Jeans from Casual Daytime to Elegant Evening
Nearly every pair of designer jeans can be turned into something worthy of a special occasion. Peruse the photographs of celebrities and socialites at premieres and red carpet romps, and one can find many common trends in accessorising. Here are some red carpet tips for making jeans formal-ready.
Layer a Blazer
Adding a nice blazer or jacket to a pair of jeans can really spice things up a bit. Not only does it look good, but it also insinuates formal. Sparkly blazers, leather blazers, and clean striped cotton all look equally as good. A simple designer blouse, or even a strappy tank top underneath, makes a nice accompaniment.
Add Awesome Shoes
The right pair of leather boots or designer heels really classes up a pair of jeans. Choose wisely, and look amazing. Boots can go either way, ankle or over-the-knee. Heels and flats are both equally as incredible. The determining factor is how they look. The shoe has to be dressy for the end result to be effective.
Accessorise with Jewelry
InStyle magazine encourages those wearing jeans for a night out on the town to accentuate denim with great accessories. Necklaces are a top priority. Layered strands of ribbon and pearl always make a nice, feminine statement.
Wear Evening-Style Make-Up
When making jeans evening-out ready, it is important to accessorise not only the ensemble but also one's self. Be sure to wear elegant, night-time make-up, and spend some time creating an attractive and formal hairdo.
Finding Designer Jeans on eBay
eBay is a great place to find designer jeans. To find the perfect pair, start by typing related keywords in the site's search bar. For example, try "Citizens of Humanity Jeans" or "Red Engine Jeans". Once the results for your search roll in, use eBay refinements to reduce them to a more manageable selection, closer to your precise needs. To find items with special pricing, look in the eBay Deals section, where you can likely spot that perfect pair of designer jeans at the right price point.
Always review listings on eBay carefully before making a purchase. Look for your size, and consider the condition of a garment prior to purchase. All of this information and more should be provided in each listing. If questions remain, contact the seller by visiting the user profile and sending a quick email.
Conclusion
Designer jeans, especially if paired with the right accessories, can make a fantastic statement, even during a formal occasion. They look good on nearly every body type and are super comfortable. These factors make designer jeans a far better option than some other more traditional formal wear. Put together an ensemble with a well-made designer pair of jeans, a nice pair of heels, and an elegant necklace, and voila, one can expect to turn heads. A favoured look amongst celebrities, this is one combination that almost always comes across looking great. The important factor, as with all clothing choices, is selecting a pair of designer jeans that looks and feels good. Pick out the right size and fit. And, although jeans remain a central attraction of this look, attractive accessories and a nice pair of shoes complete the outfit.
designer jeans|Gucci|accessories|denim|Red Engine