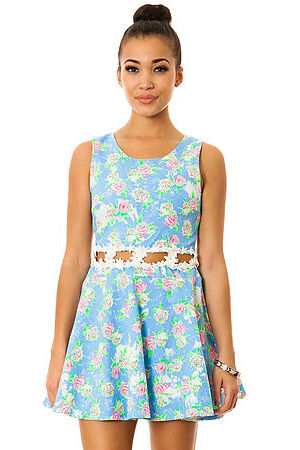 Women with petite body types often face challenges when shopping for the right dress for their frames. Because petite women have small dimensions, some dress styles often overwhelm their appearances, particularly if the dresses do not fit properly. When choosing dresses, petite women can use the cut and features to create a sense of visual proportion that balances their height and width. Dresses for petite women can be found at local department stores and women's clothing shops, but selection is frequently limited. Alternatively, petite women can browse the dress selections available on online retail sites like eBay, which carries dresses in every colour, size, and style imaginable. Before shopping for dresses, however, petite women should consider styles and features recommended for their body types by fashion experts.
1. Dresses With Defined Waistlines
Glamour Magazine finds that dresses that contain a defined waistline enhance a petite woman's frame. By creating a visual focal point at the waistline, petite women lengthen the appearance of their legs. This helps to establish a sense of height. To elongate the legs even further, petite women should choose high-heel shoes to wear with their dresses.
2. Belted Dresses
Like dresses with defined waistlines, Glamour Magazine proposes that petite women should consider wearing belted dresses to enhance the appearance of their frames. Belted dresses produce the visual illusion of longer legs, which combats the shorter height of petite women in contrast to their peers. If a dress does not include a complimentary belt, petite women can experiment with adding separately-purchased belts to their dress ensembles.
When shopping for belted dresses or belts to match a plain dress, women should remember to choose belt widths and styles that do not seem to engulf a petite woman's frame. Avoid bulky belts because they can add a sense of visual weight to a petite woman's midsection. To enhance proportion, petite women should wear belts that are 7.5 cm or thinner. The colour of a belt also impacts a petite woman's appearance. To create a long and lean look, petite women should choose belt hues that match the fabric of their dresses as closely as possible. Belts that contain a high-contrast colour unfortunately cut a petite woman's appearance in half visually, which can emphasis her smaller frame.
3. Solid Colour Dresses
Harper's Bazaar advises petite women to use solid colours to maintain a sleek look. Print dresses have a tendency to minimise a petite woman's stature, especially if the print includes large-scale pattern elements. Solid colour dresses, on the other hand, create a sense of length visually, which can offset a petite woman's body dimensions.
4. Textured Fabric Evening Dresses
When choosing formal evening dresses, Harper's Bazaar recommends that petite women opt for dresses that are constructed of textured fabrics. These fabrics can give the appearance of fullness and help a petite woman wear many of the more dramatic dress styles associated with evening wear.
Textured Fabrics

Description

An intricately embroidered fabric that is partially see-through

Is often added over other fashion fabrics to create a completed dress

A heavy fabric that contains a noticeable nap

A fine fabric that can be woven to produce a variety of finishes, such as matte or gloss finish

Can be lightweight or heavy depending on its weave

Brocade

A heavy, thick fabric that frequently includes raised embroidery
Which type of textured fabric petite women should choose for their evening dresses relies largely on the season. Silk and lace are generally too light to be worn during cold weather, while velvet and brocade are too heavy for warm weather events. Additionally, petite women should keep in mind how the print of a textured fabric can affect her appearance when shopping for evening dresses. Silks, laces, velvets, or brocades that include large print patterns can swamp the petite body type. Because of this, women should choose textured fabric eveningwear that is solid coloured or contains discretely patterned prints.
5. A-Line Dresses
Glamour Magazine suggests that petite women should choose an A-line silhouette dress to create a sense of proportion, particularly if they carry any extra weight in their hips or thighs. The A-line dress silhouette is a classic dress style that combines a fitted bodice and an attached, flared skirt. Popular because it can flatter a number of body types, the A-line silhouette features in designs of casual and formal wear, so petite women can purchase a number of dresses in this style to match variety of dressing occasions.
6. Shorter Dresses
Shape Magazine recommends that petite women keep the length of their dresses comparatively short. To be able to dress appropriately for social, casual, and professional situations, experts advise petite women to have a variety of dress lengths available in their wardrobes.
Above-the-Knee Dresses
Above-the-knee dresses include a range of lengths. More conservative dresses in this style simply have a bottom hem cut a few centimetres above the knee. Designers cut mini dresses significantly higher, however, which impacts whether a mini dress is a smart fashion choice for occasions other than casual events.
Knee-Length Dresses
Knee-length dresses include a bottom hem that graces the middle of a wearer's knees. For petite women, this length still provides the visual illusion of height. Dresses cut below the knee, however, can make a petite woman look shorter than she really is.
7. Dresses With Bustline Details
To create a well-proportioned look, Shape Magazine advises petite women to choose dresses that include bustline details. Detailing around the bustline gives the appearance of volume in the area and can draw attention to a woman's upper body and face. Bustline details include ruching, which is small gathers of fabric that create soft pleats, or ruffles. Additionally, a neckline detail can be well-placed beads, jewels, or trims. The width of bustline details can impact their effectiveness in creating a sense of proportion for petite women, however. Because of this, petite women should opt for bustline details that are not too wide.
How to Buy Dresses for Petite Women on eBay
Women can increase the likelihood of finding dress styles that are appropriate for petite frames by shopping on eBay. Because eBay has a large selection of dresses, petite women can source casual, formal, and professional dresses that include a range of style elements, like long sleeves or strapless bodices. Petite women on a budget can also check out the purchasing options available through eBay Deals ' Women's Clothing category. After locating some potential dress purchases, petite women should read the specifications of each dress to learn about the size, fabric, and construction details. Buyers should also determine which care and cleaning requirements are necessary for a dress before committing to a purchase. If buyers have any questions, they can contact the seller of a dress directly.
Conclusion
Finding the right dress styles to complement a petite woman's frame can be difficult. Keeping a few style expert recommendations in mind when shopping can increase the chances of locating the perfect dress for petite body types, however. Wearing a dress with a defined or belted waistline aids petite women in creating the illusion of height. Additionally, solid colours in a dress elongate a petite woman's torso. Textured fabrics are great for evening ensembles because they can add volume to certain areas of a petite woman's contours. A-line dresses and shorter dress lengths are appropriate for petite women because these dress styles help to maintain balance. Once petite women know what to look for in a dress style, they can visit eBay to browse through the site's large selection of casual and formal dress options.
Petite Women|Dress|Evening Dresses|Dresses for Petite Women|A-Line Dresses