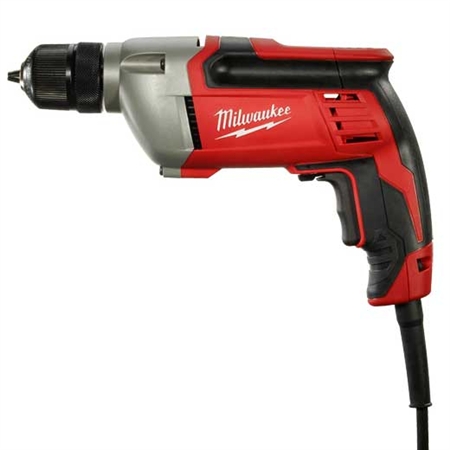 Whether working around the house or out at a construction site, tools make it easier to get just about any job done. When it comes to drills, homeowners and contractors have a wide variety of options to choose from. In addition to standard drills that help users drive screws and bolts, there are also a number of drills that help with breaking up hard materials such as stone and brick, allowing users to place bolts and screws even in harder materials.
Drills also exist that can help remove stubborn bolts and screws that have become stuck. There are even drills that allow users to get into hard-to-reach places, such as between roof joists and studs or in tight corners. Drills are available at local hardware stores as well as online shops such as eBay.
1. DeWALT DC970K-2 Drill
The DeWALT DC970K-2 Drill provides a cordless and compact drill that can get into a variety of top spots. The DC970K-2 packs a high-output motor that operates on 380 unit watts out and has dual-speed capabilities, 0-450 RPM and 0-1,500 RPM, respectively. For power, the DC970K-2 relies on a rechargeable NiCad battery. Luckily, recharging only takes 60 minutes and drill owners should keep extra batteries on standby so as not to interrupt their workflow while completing projects at home or work. Most kits that contain this drill have two batteries and a charger included, so having available batteries is no problem.
2. Makita LXFD01CW Driver Drill
The Makita LXFD01CW Driver Drill offers a powerful cordless driver drill that produces a maximum of 480 inch-pounds of torque. The drill also additionally boasts a dual-speed transmission, producing up to 1,500 RPMs, ensuring the drill can drive into anything, including concrete and even steel. Weighing in at 1.36 kilogrammes, the LXFD01CW provides a portable, lightweight solution that users can easily store when finished using the drill. The drill's ergonomic design makes it easy to hold while working and keeps the tool from exerting unwanted pressure on the wrists and arms. This, in turn, cuts down on fatigue and exhaustion.
3. Bavaria 18v Drill
Designed in Germany, but produced in China, the Bavaria 18v Drill presents a perfect balance between quality, affordability, and performance. This 18-volt drill boasts a variety of features, including a quick release and tightening chuck, torque selector, quick-stop, electronic speed control, bit holder, and more. The torque selector lets users choose between 20 different settings, while the electronic speed control allows users to choose between a first gear with a maximum of 350 RPM or second gear that offers 900 RPMs. While not as powerful as other cordless drills, the Bavaria 18v has enough power to accomplish small tasks around the house.
4. Ryobi 18v 2-Speed Hammer Drill
Hammer drills, such as the Ryobi 18v 2-Speed Hammer Drill, also drive screws and bolts through harder materials such as stone and brick. One uses the drive mode for driving screws, while the hammer mode helps drive screws into masonry. The drill also has a two-speed transmission and 24 different clutch positions to help when users need higher torque. A magnetic tray sits on the bottom front of the tool to hold a variety of screw driver and drill bits. Best of all, the drill has a clutch override, making it easy to change bits on the fly.
5. Bosch PSR Drill/Driver
The Bosch PSR Drill/Driver offers a lightweight and compact drill, perfect for working around the house, as well as on the go. Functioning as both a drill and a driver, the drill offers a variety of pre-selectable torque settings in addition to a drill setting. This allows users to access the exact power they need, whether drilling a screw into a wooden beam or drilling into steel or hard woods.
6. DeWALT DCD775 Compact 18v Lithium Ion Hammer Drill
The DeWALT DCD775 Compact 18v Lithium Ion Hammer Drill provides a lightweight, compact, and ergonomic design, lessening user fatigue and making it easy to use for extended periods. The drill also has a built-in worklight that helps increase visibility while working, especially in confined spaces with low visibility. It likewise boasts dual-speed capabilities at a range of 0-500 RPMs and 0-1,700 RPMs. Additionally, this 18-volt drill has a hammering range of 0-8,000 BPMs and 0-29,000 BPMs, respectively.
7. Milwaukee 2604-20 M18 Fuel 18v Hammer Drill
The Milwaukee 2604-20 M18 Fuel 18v Hammer Drill presents an 18-volt cordless drill that can deliver drilling power in two variable speeds, 0-550 RPMs and 0-1,850 RPMs. Lightweight and versatile, the Mi8 Fuel provides one of the most powerful 18-volt cordless hammer drills in its class. Due mainly to its Powerstate brushless motor, the M18 Fuel delivers 725 inch-pounds of torque. Another great feature deals with the onboard battery gauge, which helps users easily monitor the charge they have remaining.
Type of Drills
In addition to standard drills, shoppers can find other drill combinations useful for specific applications. These include getting into tight spaces, drilling into hard materials, and removing bolts that might otherwise prove impossible for a standard drill. The following table details the different types of drills and their function.
Drill Type

Description

Highly mobile, though dependent on batteries for power

Lightweight

Allow users to get into tight areas that corded drills do not

More powerful than cordless drills

Offer continuous use, as long as the drill has access to an electric outlet

Useful for drilling into concrete, stone, and brick, among other materials

Has a handy hammer function that can deliver up to 60,000 blows per minute to pulverise hard spots

Useful for removing stuck lug nuts and bolts

Can deliver up to 2,700 impacts per minute

Allows work in tight spaces by drilling holes at 90 degrees

Useful for drilling between studs and joists
As shoppers can see, there are a variety of drills available to help them achieve their goals while working on projects at home or at the job site. Knowing what drill type they need can help them purchase the right drill the first time around.
Find Drills on eBay
If you have decided to purchase a drill online, go to any eBay page for a wide range of product options. To begin searching, simply enter descriptive words into the search box, using terms such as 'drill' or 'DeWalt drill', for example, to begin your search. Once the list of results comes up, you may further define your search by clicking on the categories listed on the page. Also read eBay's Search Tips page for more tips on how to search effectively, and visit eBay Shops for product options.
Remember to read through each product listing in detail to make sure it matches your needs. Look over the price of the item, its colour and size, and any other important details. It is also helpful to read through the seller's feedback ratings.
Conclusion
Regardless of the job at hand, a drill usually makes working on the project easier, whether around the home or in a work setting. Drills allow the user to drive nails and bolts with ease; some can even drive items into material that is too hard to work with using other methods. Cordless drills offer maximum mobility but at the cost of the power a corded drill offers. For tougher jobs, impact and hammer drills give users the ability to drive through those harder materials or to remove bolts that have rusted into place. Finally, right angle drills give users access to locations that most drills cannot fit into.
When looking for drills of any type, eBay has a wide selection to choose from, including many popular brands like DeWALT and Makita, and a convenient, easy, and satisfying shopping experience.
drill|impact drill|cordless drill|hammer drill|right angle drill