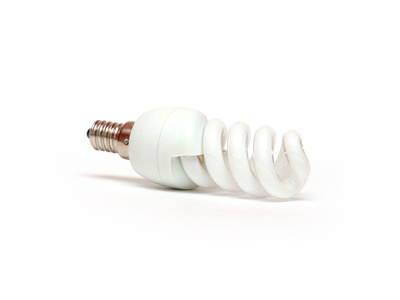 Energy costs often make up a large part of a homeowner's monthly utility bills. Whether appliances, electronics, or light fixtures, there are a few options exist for those who want to cut energy consumption. One way to save on energy costs around the home includes using energy-saving light bulbs. Offering energy savings up to 75 or even 80 percent, depending on the type of bulb, installing these types of bulbs allows energy-conscientious homeowners to conserve energy and save money.
When purchasing energy-saving light bulbs, shoppers should familiarise themselves with the different types of bulbs available, as well as learn about popular bulb types. Homeowners also need to determine the intended use of the bulb, such as indoor or outdoor use, before making a purchase. One can purchase energy-saving light bulbs at local home improvement shops, even grocery stores, or online at sites like eBay.
1. Philips 10-watt LED A19 Soft White L Prize Light Bulb
While a 60-watt incandescent bulb typically emits about 840 lumens, the Philips 10 -watt LED A19 Soft White L Prize Light Bulb gives off 940 lumens. What makes this so special is that the Philips L Prize is an LED bulb, which means the bulbs put out more light with more energy efficiency, about 75 to 80 percent more. They also last longer than a typical light bulb, around 30,000 hours. While LED bulbs weigh 131.54 grammes, heavier than the typical incandescent light bulb, this does not present much of a downside. Shoppers should simply ensure that their lamp can handle the additional weight before purchasing.
2. GE Energy Smart Soft White CFL 60-watt Light Bulb
The GE Energy Smart Soft White CFL 60-watt light bulb offers good energy savings in a compact size. These bulbs offer energy savings of 75 percent and last eight times as long as do regular incandescent bulbs. Providing 825 lumens over 8,000 hours, the GE Energy Smart soft white CFL 60-watt light bulb gives homeowners an environmentally safe and economical alternative over ordinary incandescent light bulbs. GE's Energy Smart bulbs replace ordinary light bulbs in such common household items as table lamps, floor lamps, and bare lamp sockets, and provide a CRI of 82 for good colour definition.
3. Sylvania 50-watt Outdoor Halogen Light Bulb
While not as energy efficient as either an LED or CFL light bulb, a halogen light bulb such as the Sylvania 50-watt outdoor halogen light bulb still provides 30 percent energy efficiency over older incandescent bulbs. This makes them the perfect choice for outdoor use, providing bright, white light with a 30-degree beam angle. Also referred to as a PAR20, these light bulbs fit wherever the outdated R20 incandescent light bulbs do. And with 550 lumens, homeowners can light up even the most dark of outside areas, improving overall home safety and security.
4. MR16 Ultra Bright LED Spot Lamp Light Bulb
The MR16 Ultra Bright LED Spot Lamp Light Bulb gives 30 degrees of spot illumination at 196 lumens. The MR16 is 90 percent more efficient than halogen and incandescent bulbs and lasts up to 50,000 hours before needing replacement. Additionally, the bulbs come mercury-free with no harsh UV emissions, as well as being shock- and vibration-resistant. They have a bi-pin design and fit most outdoor lighting fixtures.
5. Ionmar Oxylight CFL Light Bulb
In addition to serving as an energy-saving CFL light bulb, the Ionmar Oxylight CFL Light Bulb also purifies the air by neutralising harmful pollutants and allergens. The Ionmar Oxylight uses ionic air to purify the air of dust and odours. The ionic air attaches to these unwanted, negative particles and makes them too heavy to remain afloat, effectively removing them from the surrounding air. Better yet, the Ionmar Oxylight requires no special modifications to use, fitting into any available light socket.
6. Toshiba 7-watt LED A19 Warm White Light Bulb
With a strong colour-rendering index, or CRI, of 80, the Toshiba 7-watt LED A19 Warm White Light Bulb provides efficient warm light over its 40,000-hour life span. Like most LED light bulbs, the Toshiba provides 80 percent energy savings, making it a good choice when it comes to energy-cutting measures. On another positive note, Toshiba LED light bulbs do not contain harmful lead or mercury. Finally, the Toshiba 7-watt LED A19 warm light bulb screws into any standard light socket, making them easy to replace when they do eventually go out.
7. Philips LED Low Energy Saving 5-watt Light Bulb
The Philips LED Low Energy Saving 5 -watt Light Bulb offers an LED light bulb with low energy consumption. While the light bulb only produces 250 lumens, the bulb does come to full brightness instantly while only utilising 5 watts of power. The life of the bulb, rated at 25,000 hours, means that it should last for many years, especially if only used for a few hours each day. While the bulb has a higher cost initially, it can more than pay for itself over time and save homeowners a lot of money.
Types of Energy Saving Light Bulbs
With incandescent light bulbs falling out of favour as homeowners grow more environmentally minded, energy-saving light bulbs have sprung to the fore. These include LEDs, CFLs, and a variety of other eco-friendly bulb types detailed on the table below.
Light Bulb Type

Energy Savings

Description

75 to 80 percent

The best energy saving bulb

Last 25 times longer than traditional incandescent bulbs

More expensive than other bulb types

75 percent

Similar to the longer fluorescent lights found in kitchens

Very energy efficient, commonly paying for themselves in 9 months

Uses one fourth of the energy of incandescent bulbs and last ten times longer

30 percent

Find use mostly in outdoor settings

The halogen gas used in the quartz envelope helps extend filament life

The filament can usually run longer and hotter than incandescent bulbs

25 percent

A bulb within a bulb, a capsule inside holds a gas around the bulb filament to increase efficiency

Available in a wide range of colours and shapes

Can last up to three times as long as incandescent bulbs
When purchasing energy-saving bulbs, shoppers should take notice of the bulb wattage they are replacing. Energy-saving bulbs use much less wattage than standard bulbs.
Find Energy Saving Light Bulbs on eBay
To search eBay for energy-saving products such as light bulbs, simply use search terms such as 'energy saving light bulb', for example. For more specific results, be sure to use keywords that include the bulb's brand, product type, or other descriptors. To further narrow the list of results down once it pops up, you can click on any of the category options. Another of eBay's many helpful search tool includes the Search Tips page.
When browsing product listings on eBay, take notice of price, quality, size, colours, and any other terms of sale. Don't hesitate to ask the seller a question by clicking the link on the seller's listing page to contact him or her directly. Also remember to look over the seller's feedback rating before making a purchase. Only buy from sellers you feel confident in.
Conclusion
Using energy-saving light bulbs can save homeowners money and the time they would have spent changing a regular incandescent light bulb. Before buying, however, shoppers need to keep some important factors in mind. When determining which bulbs provide the best performance in indoor or outdoor situations, shoppers should remember that halogen bulbs commonly find use in flood lights or other outdoor lighting types, though some LED bulbs find use in outdoor fixtures as well.
Most often energy-saving bulbs save energy by only using a miniscule amount of watts when compared to incandescent bulbs, so shoppers should check the exact wattage of the bulbs they are replacing to get the intensity of light they want. Finally, when shopping, homeowners should remember that eBay offers a wide selection of energy-saving light bulbs.
energy saving light bulb|cfl light bulb|led light bulb|halogen light bulb|incandescent light bulb