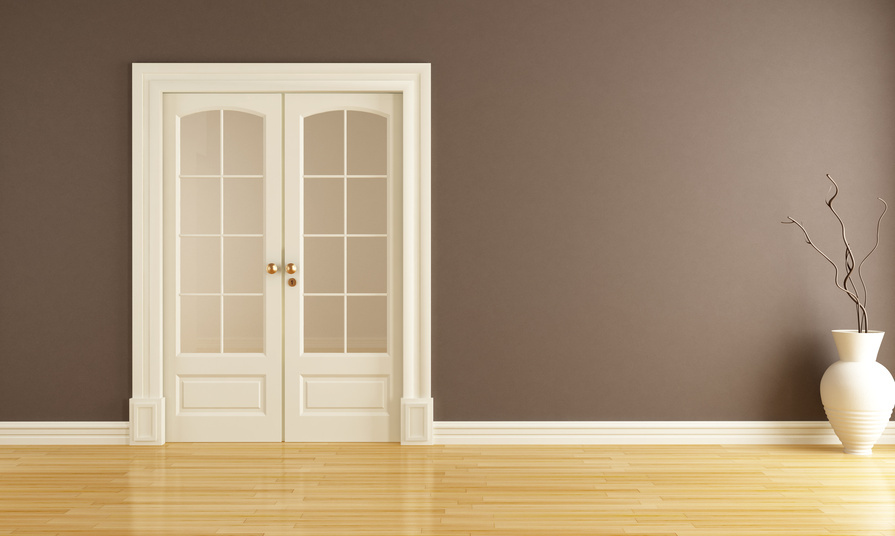 Renovating and redecorating a home involves a significant commitment of time and money. Homeowners must carefully plan what they want to change, calculate the cost, and set aside extra money to cover unexpected costs. As owners work out the details of their renovation or addition, they must think about all the different supplies and hardware they need to finish the job.
If owners are adding a room or removing a damaged interior door, they must have a new one to replace it. Before selecting an interior door, buyers should check out the top seven interior doors on the market. Considering the various advantages of certain doors and their features and matching to the home decor and personal tastes ensures a wise purchase. Local home goods stores and online retailers such as eBay should stock an ample supply of interior doors of varying quality and at different price points.
1. Standard Wooden Doors
Standard, hinged wooden doors continue to be very popular among homeowners. They are practical, efficient, and affordable. In addition, they blend unobtrusively with the decor of most homes. The privacy that a regular wooden door supplies is ideal for bedrooms and bathrooms in particular.
If homeowners feel that a plain wooden door is too drab, they can choose one that includes interesting visual elements. Many doors have rectangular panels in varying configurations. Some include moulded panels for a touch of elegance. Buyers should find a plethora of options with regard to the number and arrangement of the panels and the colour and finish of the door. For some homeowners, custom carving may be a viable option to ensure a distinctive, beautiful final product.
2. Pocket Doors or Sliding Doors
If buyers live in a condo or a small house, space is usually in high demand and low supply. To make the most of the space in the home, buyers should consider pocket doors that slide back into a narrow space in the wall. Pocket doors, also called sliding interior doors, are often solid, but they can also incorporate glass panels for additional light and a feeling of depth and space. The design creates the potential for separation between rooms but also allows owners to hide the door away in its wall pocket when they want a more open space. Since pocket doors are more difficult to put in than standard doors, homeowners may need the help of a professional builder or renovator to complete the installation.
Owners often choose pocket doors for areas such as the laundry room, play room, bedroom closet, or pantry. For a space such as the master bedroom, the doors can serve as art in addition to their practical purpose. Some homeowners opt for custom-made, beautifully designed sliding pocket doors on their closets, which when closed create a mural of lovely artwork.
3. French Doors
Most homeowners are very familiar with the concept of French doors. These doors often come in pairs, although single French doors are common as well. If buyers are looking at a two-door set, they need to be sure that the width of their door frame and the combined width of the doors are a match.
French doors feature a slightly old-fashioned style, but they add a touch of vintage elegance and old-world charm to a home. They supply a degree of separation between rooms but allow plenty of light to pass through their panes. Traditional French doors are white, although buyers should feel free to experiment with another colour if it works better with the rest of their decor.
4. Dutch Doors
A Dutch door or stable door is essentially a regular wooden door cut in half and hung so that each half can open, swing, and close separate from the other. Sometimes, Dutch doors have a narrow shelf at the top edge of the lower half. Some include clear or frosted panes of glass in the upper half.
These doors are perfect for kitchens, pantries, nurseries, children's rooms, workout rooms, and mud rooms. They lend an air of old-fashioned warmth to the home. In addition to their vintage style, they serve a practical purpose if homeowners need to temporarily keep children or pets in one room. The bottom half of the Dutch door prevents egress while allowing communication and connection via the open upper half.
5. Barn Doors
Owners who are interested in repurposing materials or who want a rustic feel should consider a more innovative type of interior door. The barn door style comes in a variety of versions. Designer Randy Weinstein created small, modern glass version on a short track. Another homeowner chose a massive, traditional door of parallel beams and one diagonal beam. Painted pure white, the door is so large that it works like a movable wall. Whether buyers prefer a more subtle take on the barn door or a raw, unfinished version of the style, they are sure to attract compliments from visitors once the door is in place within the home. Owners can paint their barn door any colour, including some of the most popular shades like red, white, yellow, black, or orange.
6. Shoji Screen Doors
Another distinctive, effective interior door is the shoji screen door. These Asian-inspired doors feature multiple rectangular panes. However, instead of glass, the panes of the doors often have screens, rice paper, or woven coverings. Some models use frosted fibreglass in each pane to maintain the rice-paper look but improve durability.
The screens of a shoji screen door typically allow some light to pass through, softening the look of the room and giving it a more airy, spacious feel. Some homeowners install these doors between the master bedroom and the master bathroom, or between a meditation or workout room and the rest of the house. Some may even appear as partitions between the living room and dining area. Since they provide limited privacy, shoji screen doors are not generally used as bedroom doors or bathroom doors in busy family homes.
7. Creative Chalkboard Doors
In a child's bedroom, the room's door or the closet door can become a surface for creative expression. Owners can install a custom-cut chalkboard into the door panel or coat a specific section of the door with chalkboard paint. If buyers prefer to purchase the door, they can get it ready-made from a manufacturer. Some families may enjoy the chalkboard door idea so much that they use it for their kitchen, pantry, bathroom, or mud room as well.
Buying Interior Doors on eBay
Searching for interior doors is easy with eBay's simple process and buyer-friendly features. One such feature is the "save a search" option, which allows you to save a search and receive notices from eBay whenever a seller puts up a new listing for an interior door. Another of eBay's enjoyable features is the eBay Stores area, which caters to users who prefer a more relaxed shopping experience. Search results in this part of the website display as shop links, leading to sellers' online retail spaces. Whether you search on eBay's main website or in eBay Stores, you can browse at your leisure and select products from sellers that you trust, such as eBay's Top-rated sellers. Watch the listings for eBay Deals and free shipping offers.
Conclusion
The right door can enhance the look of a room. Some owners may want it to blend into the wall seamlessly, creating a continuous flow for the space. Other like their interior doors to provide a glimpse of the next room through glass, making the room look more spacious. Still others enjoy featuring antique doors in rich woods that are pieces of art in their own right. The door needs to blend with the decor that buyers have planned for the room, creating a unified look.
Whatever type of door buyers may be hunting, they are sure to find a broad selection and competitive pricing on eBay. With a high-quality interior door for each room, buyers can proceed with the selection of other supplies for their home project.
interior door|wooden door|sliding door|French door|Dutch door