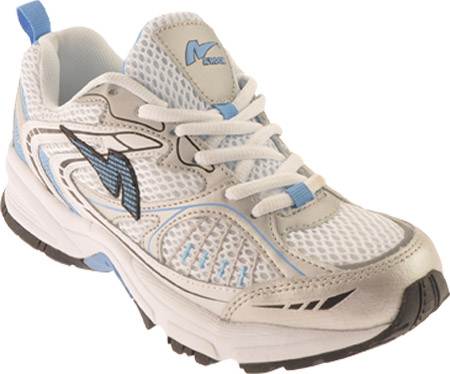 The physical demands that running places on athletes necessitates the best possible shoes. As running places such large amounts of strain on the body, athletes need shoes that can offer maximum support and cushioning without causing too much loss of sensitivity with the ground beneath.
Running shoes vary greatly in quality and performance capabilities between different manufacturers. Athletes who run competitively must never skimp on the most well constructed runners that are right for their foot and stride. Those who run for their own personal fitness and pleasure may get away with a mid-range quality, but they still need the correct support and fitment. Athletes should not choose their shoes solely on quality, but also on which kinds facilitate optimum functionality to their body type.
Types of Running Shoes
A thletic shoes are made for a variety of physical endeavours that require different performance characteristics. Running shoes are built primarily to absorb impact, and in turn, offer the wearer exceptional shock absorption, as well as stability and support. The degree to which a customer can expect these three provisions to be found in any given pair of running shoes often depends on the level of design customisation and workmanship.
Runners for the Road
Road running shoes are built to minimise repetitive strain on hard and even surfaces. These shoes are light and flexible with a good deal of cushioning and shock absorption capabilities. The fit should include good heel control for the stability of the foot inside the shoe. Although designed for hard surface roads, some also provide good stability on surfaces with mild unevenness such as dirt tracks or unsealed paths.
Runners for the Trail
Trail running shoes are designed similarly to road running shoes. The main difference is in the reinforced outer soles that have chunkier tread for extra traction. The design of the outsoles offers greater stability over rough or uneven surfaces, and its extra strength shields the feet against sharp protruding objects. There may also be additional support and padding around the top of the shoe.
Best Running Shoes
The following outlines several different types of running shoes that have received the highest review ratings. This list is not, however, necessarily the best for every runner. Individuals who purchase athletic shoes should have a personal assessment done by a trained sports shoe fitter.
1. Mizuno Wave Rider 16
The Mizuno Wave Rider 16 is the flagship running shoe for Mizuno. Dynamotion fit technology provides cushioning panels to protect the feet from friction build-up, and smoothride functionality offers the ultimate shock absorption for wearers. The highly responsive midsole gives great support to the foot from heel impact to toe lift.
2. Saucony Virrata
The Saucony Virrata is a slimmed down running shoe that averages only 184 grams. This shoe promotes a very natural running style, so it has no drop between heel and toe, with padding only where essential. Nevertheless, the mesh upper protects the top of the foot and is very comfortable.
3. Asics Gel Kayano 19
The Asics Gel Kayano 19 is designed for those who experience inward pronation in their running step. They are made with Asics fluid axis technology which allows both lateral and vertical movement of the ankle joint. This technology facilitates a more natural running style and still offers a great deal of support.
4. Adidas Boost
The Adidas Boost is made with a soft and highly responsive foam sole, that supposedly enables runners greater speed over longer distances due to better energy return. Compared with standard ethylene vinyl acetate (EVA) soles, the Adidas Boost has a temperature resistance of up to three times as high. The shoe upper is made from a breathable and stretchy mesh fabric that fits like a sock, giving a snug feel that offers superb comfort.
5. Puma Mobium
The Puma Mobium is patterned after the mechanics of the foot. The mid and outsoles expand and contract to conform to the foot when in mid-stride. During the running motion, the Puma bioband contours the outsole in a figure of eight that gives elastic energy return to the runner. The degree of return is in proportion to how much pressure the athlete exerts with each step.
6. Nike FlyKnit Lunar 1+
The Nike FlyKnit Lunar 1+ is a shoe made with a woven flyknit technology upper in place of the usual panelled type. This results in a particularly lightweight shoe that is comparatively straightforward to make and therefore less expensive to produce. The soles are made with Nike's lunarlon cushioning system that is more responsive and lightweight than those made with EVA.
7. Saucony Triumph 10
The Saucony Triumph 10 is a lightweight and solid shoe noted for its luminous colours to make runners more visible in low-light conditions. The unique sole has a highly responsive crash-pad design that gives a cushioned landing and smooth push-off transition, achieved through three separate layers that respond independently on ground impact. The mesh upper is an open weave and is highly breathable.
In Summary
The above shoes all perform to exceptionally high standards. Each manufacturer devises new and unique selling points to help their brand stand out. The below chart makes some comparisons between brand models to help athletes of all levels determine a type that may be most suited to them.
| | | |
| --- | --- | --- |
| Shoe type | Design characteristics | Best applications |
| Mizuno Wave Rider 16 | Foot protection, shoe durability; traditional 12 mm heel to toe drop | Road running; neutral stride motion |
| Saucony Virrata | Flat profile with zero heel to toe drop; facilitates natural motion; dual layer mesh upper; exceptionally lightweight | Road running; minimalist natural stride runners |
| Asics Gel 19 | Flexible; enhances performance of runners with pronation issues; structural technology to allow for ankle joint movement | Road running; recommended for those who need less support |
| Adidas Boost | Energy return; excellent responsiveness; comfort, form fitting | Road running; dry weather running only |
| Puma Mobium | Foot adapting technology; impact absorbing pods give elastic energy return | Road running; hard surface offroad running; ideal training shoe for midfoot and forefoot strikers |
| Nike FlyKnit Lunar 1+ | Revolutionary and exceptionally comfortable flyknit upper; soft heel; lightweight | Road running; marathon running; recommended for warm and dry conditions; suitable for neutral stride athletes who need less support |
| Saucony Triumph 10 | Mid range heel to toe drop; crash-pad soles for impact dissipation; open weave upper | Road running; neutral stride athletes |
Testing running shoe performance among individuals is highly subjective as so much depends on each anatomy type, gait, biomechanics, and personal preference. Customers should try on a pair to get a feel for the best fit before choosing their shoes.
How to Buy Running Shoes on eBay
If you wish to purchase running shoes on eBay, only do so after you determine your size in a given brand and shoe model. Look for your desired shoe type by making specific search requests, such as "Asics Gel Kayano 19", or a general search to get an overview if you are unsure of the type you want. Always find several listings of the same item so that you can compare listing details, terms of sale, price, and postage options.
Ensure that you feel confident in your designated seller before you make a purchase decision. Check that they have a good selling reputation by noting their customer feedback score and see if they have a top rated seller certificate.
Conclusion
High tech inclusions of some kind now find their way into every type of high end athletic shoe. This is because the running shoe market itself reflects the diversity of the runners, who each have different personal requirements and preferences. It can be a case of trial and error for the athlete to ascertain the best running shoes for them, because sometimes it is nothing short of experience with a variety of shoes that enable runners to know with any certainty which type they are most suited to.
eBay is the logical place to look for running shoes as well as other athletic gear, and eBay deals is another option within eBay that a customer may strike a particularly noteworthy saving.
shoe|athletic shoe|running shoe|road running|cross trainer