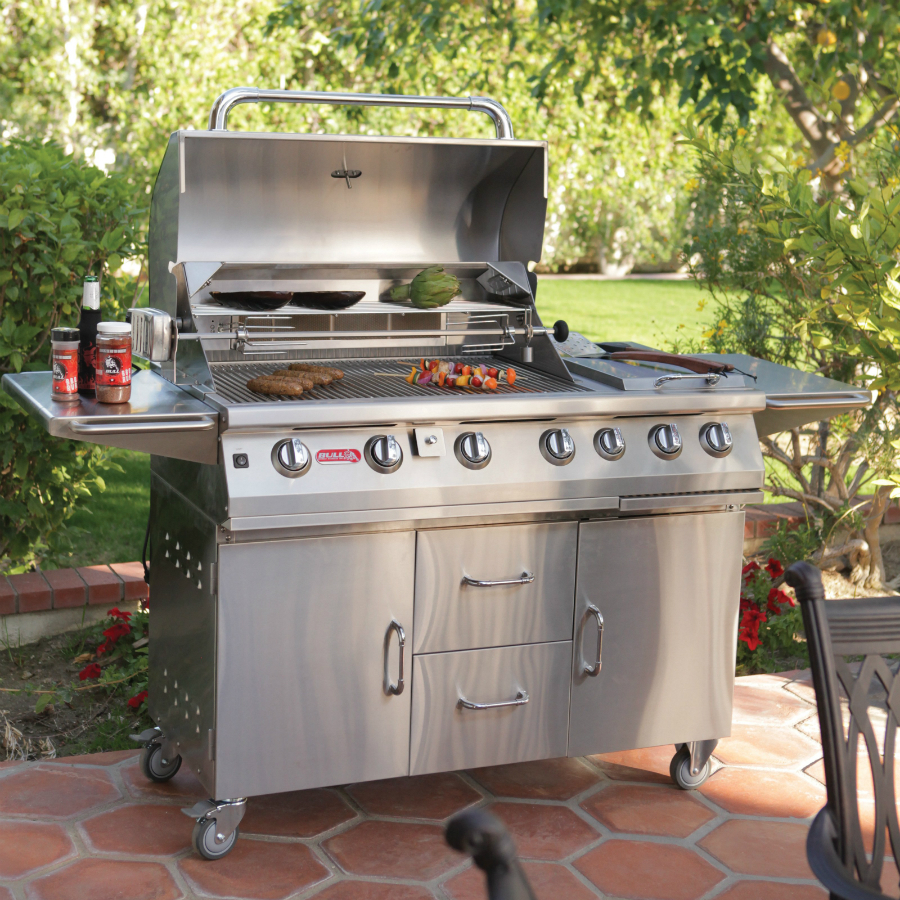 Cooking food on a BBQ is always one of the easiest ways to prepare amazing meals, and the smell of searing meat with marinade and rub is always inviting. With so many brands, variations, and great deals for BBQs out there, those who are looking for the right BBQ fit for grill masters can find it quite overwhelming.
As a rule of thumb, a gas grill cooks food in no time, but buyers who want to maintain the original flavour of the meat and want a low-maintenance grill can benefit from a charcoal grill or a wood pellet grill. But then there is also the question of which brand to choose. Learning about the top BBQs fit for grill masters helps buyers take the guesswork out of finding the best one for their needs.
1. Weber Family Q300
Weber is a prominent brand in the grilling world, and it has created BBQs that astound both home users and chefs, and a Weber variety that comes on top is the Weber Family Q300. The Q300 is the highest-rated grill on ProductReview.com.au. The gas grill system consists of a robust cast-aluminium body, a lid with a glass-reinforced nylon frame, and polyethylene side tables that can hold tool hooks and condiments. The Q300 has a total cooking area of 0.25 square metres, complete with cast-iron cooking grates with porcelain enamelling.
With the two stainless-steel burners, the Weber BBQ can cook meat at a combined 21,700 BTU per hour. It offers an adjustable heat output and built-in thermometer for accurate temperature measurements. The grill, with its lid closed, measures of 1.1 by 0.9 by 0.6 m. It offers an easy way to make great-tasting food.
2. Ziegler and Brown Twin Grill
The Ziegler and Brown Twin Grill is a stunning red and black grill with a rust-free aluminium body. The website that hosts the Australian International Design Awards describes this BBQ as a grill that "fulfils the need for cooking power and versatility". The stainless steel burners come equipped with dual controls, and the twin grills are made of matt vitreous enamelled cast iron. Like a BBQ fit for grill masters, this twin grill sports a large dome-shaped lid for roasting purposes. The flame throw ignition of this grill lights at first spark, and users have the option to use only one burner to save gas.
The Ziegler and Brown grill offers minimal holes for easy access to hard to reach areas as well as iron grills that are interchangeable and fit right in the dishwasher. Buyers only need to look at the built-in thermometer on the dome-shaped lid to make accurate measurements. This grill, when equipped accessories, can be a multifunctional cooking equipment that is able to roast, bake, sizzle, and even stir-fry.
3. Weber One-Touch Silver
The Weber One-Touch Silver is what people have usually seen on Weber TV ads for many years, and the design of the grill still remains faithful to the first release. Derrick Riches, a grilling expert since 1997 believes that the One-Touch Silver is the best charcoal grill out there. The circular shape of the grill allows for a convection type of grilling. Also, the large cooking area and great ventilation makes it an ideal smoker. The One-Touch Silver features aluminium vents and ash catcher that do not rust, porcelain enamelled bowl and lid, a 57-cm diameter cooking area, glass reinforced nylon handles, and a Weber cookbook to boot. For a versatile BBQ grill that can last for decades, the Weber One-Touch Silver is a top choice.
4. Everdure Neo Buddy
The Everdure Neo Buddy has a lightweight cold roll steel body and cast aluminium ends, a rotary piezo ignition, non-stick cooking surface with a flat plate, and temperature gauge on the hood. The side handles of this BBQ grill allow for portability, and they can even double as a rack for grilling tools. The Neo Buddy has a spacious cooking area and comes complete with a 9.5-ml stainless steel ring burner that facilitates excellent gas-powered cooking. Its non-stick aluminium plate, on the other hand, also serves not only as a flat plate but also as a griddle cooking area.
5. Weber Compact Kettle
Another excellent design from Weber is its Compact Kettle, featuring stay-cool handles made of weather-resistant thermoplastic. This BBQ kettle has a 57-cm diameter. It is black and sports the Rapidfire Charcoal V Grate and charcoal baskets so firelighters can stick directly under the charcoal. Not only that but this Weber grill has two aluminium drip trays for catching roast drippings, which are essential ingredients for gravy or sauce. Users can even detach the legs from the bowl for easy transport. The grill also comes with a "Complete Australian Barbeque Kettle Cookbook".
6. Sunbeam Innovo Thermo-Twin
The Sunbeam Innovo Thermo-Twin features the three-tier cooking system that allows even heat distribution when cooking. This thermo twin grill sports two 10MJ thermo-jet stainless steel burners, including independent burner controls to save gas. It also has a stainless steel flame tamer, piezo ignition, cast iron grill plate, and reversible cast iron flat plate. Its die-cast aluminium roasting hood comes complete with a temperature gauge and stainless steel wrap. Buyers also get side shelves, a gas bottle holder, and removable two-wheel trolley.
7. Char-Griller Grillin' Pro 3001
For price-conscious buyers, the Char-Griller Grillin' Pro 3001 is one of the best grills out there. This highly-recommended grill by a popular review site for cost-effective products offers 0.41 square metres of cooking area, which includes a warming rack. It also features three burners with separate controls to save gas and two smoke stacks for even cooking. Buyers can enjoy its cooking power of 40,800 BTUs. The budget-friendly Char-Grillin' Pro 3001 has durable parts and a powerful mechanism for cooking food evenly.
8. Brinkmann Grill King
Another best BBQ grill that is budget-friendly is the Brinkmann Grill King, a grill well-received by About.com experts. This propane gas-powered grill offers a total cooking area of 0.41 square metres, complete with four burners powered by 40,000 BTUs, a side burner with 12,000 BTUs, and a warming rack. It also features a flip-out rack for accessories and two wheels for portability. The Brinkmann Grill King is a robust BBQ grill that gives great value for its price.
Buying BBQs on eBay
BBQs come in a wide variety on eBay, and buyers can choose from so many brands, styles, and sizes. Buyers only need to type in keywords, such as "Weber BBQ", into the search field to see the available listings. The category system on the site helps buyers to locate different types of BBQs, and the filter system allows them to see only listings with preferred features, brand, condition, among other things.
Know the Seller
Buyers must determine the seller's credibility by checking their feedback scores as well as comments from previous customers. The most credible sellers on the sites are top-rated sellers, either individuals or companies within the site, who have very high positive feedback scores. Buying on eBay can be all worthwhile if buyers choose the product and seller well.
Conclusion
Whether a gas, charcoal, or wood pellet grill, a BBQ is a great cooking equipment for those who enjoy grilled food. It can be quite confusing to choose the right one, so knowing the top BBQ fit for grill masters help buyers choose the best one for their needs.
The best BBQ fit for grill masters are those which shape allows convection, as well as those that are truly multifunctional, providing users the option to bake, roast, sizzle, and even stir-fry. These top brands offer a state-of-the-art body and lid, and has ergonomically designed parts for flexibility and portability. Buyers who are looking for the best BBQ on eBay must find great deals that are either offered by the website or credible sellers within the site. BBQs, just like cooking stoves, are a necessary item in the home for those who cannot live without amazing grilled food.
BBQ|BBQ Grill|Grill|Gas Grill|Charcoal Grill|