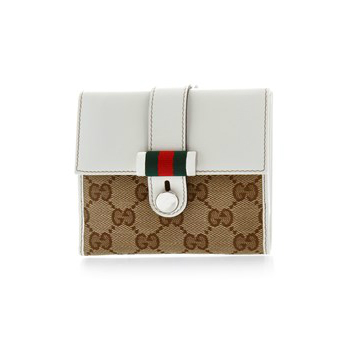 A wallet is a personal item that is used to keep and organise one's essentials, from cash and coins to credit cards and identification. For women, wallets can be an important accessory in the wardrobe. Wallets hold the important and valuable items that women take with them, and since one uses a wallet in public locations to pay for items, it is important that the wallet has an attractive appearance in addition to functionality.
Much like a woman's choice in purses and handbags, it is important that the wallet be up to the task of representing her personality. Designer wallets meet these requirements by using high-end materials and refined designs to create a sense of luxury and sophistication. There are different types and styles of designer wallets to choose from, and one can purchase them at leading department stores or boutiques. However, women can also access a wide selection from many of the top brands online at eBay.
About Designer Wallets
Wallets found their first use in Ancient Greece as a means to carry personal items and provisions during travel. These first wallets were much like survival packs used to hold essential items for the owner. Later, as money was developed in the shape of coins, wallets were used to hold them. Eventually, wallets became an article that held all manner of personal items needed for daily living. Today, wallets continue to be a functional tool used in everyday life, but they have also assumed the role of fashion accessory. Because of this, many high-end designers have created their own styles and types of designer wallets that women can purchase to add flair to the practical nature of the wallet.
Materials Used in Designer Wallets
Leather is a very popular material used to produce many types of designer wallets, because of its durable nature and aesthetic beauty. The difference between the designer wallets and lower-cost wallets is in the quality of the material that is used in their production.
| | |
| --- | --- |
| Material | Description |
| Leather | Leather comes in different levels of quality; full-grain and top-grain leather are very popular in designer wallets; offers beauty and durability; can be real or faux leather |
| Suede | Combines the classic look of leather with softness of cotton; durable and practical |
| Canvas | Heavy-duty fabric derived from cotton or linen; tightly woven canvas fibres create strong and supple designer wallets |
| Exotic | Exotic skins, such as snake or alligator skin, are used in high-end wallets; the limited availability of these skins make these wallets very expensive |
| Polyester | Easy to manipulate into various designs and configurations; durable and less expensive than other materials |
| Nylon | Synthetic version of silk; can be very soft and pliable |
Designer wallets use high-calibre materials because the wallets must conform to the reputation for quality and beauty that the designer has attained from his or her clothing lines. The designs and accents that make up each wallet are vital to its ability to command a higher price than a standard wallet made from similar materials.
Top Brands in Designer Wallets
The following brands represent some of the top designer wallets available in the market. Each of these brands has a reputation for a distinct look, although personal preference is the final judge of which wallet is best suited to an individual. However, a woman cannot go wrong when choosing a wallet from one of these designers.
1. Gucci
Gucci is an Italian brand that produces several variations of wallets mostly in high-end leather or canvas. Gucci is known for its precious metal hardware and Micro Guccissima leather, which is extra plush and supple.
2. Fendi
Fendi is an Italian luxury merchandise producer that is well known for producing high-end luxury goods from fur and leather. Fendi makes use of leather, polyester, and canvas to produce unique wallet designs with the characteristic Fendi logo on many of them.
3. Prada
Prada is a high-end Italian fashion label that makes use of supple Nappa leather to produce many of its wallets. Many of Prada's wallets are designed with precious metals for hardware, and some also feature fine gemstones.
4. Burberry
Burberry is a British fashion house that produces women's wallets from its famous London leather as well as many different exotic skins. Burberry utilises both lizard and python skin in the production of some of its wallets. Many wallets incorporate metal studs that help create a unique appearance. Burberry wallets are very formal in appearance and have an old-world appeal mixed with contemporary styling.
5. Dolce & Gabbana
Dolce & Gabbana is an Italian fashion house that specialises in high-quality luxury clothing and accessories. Dolce wallets are created mainly with leather and saffiano, which is a version of leather that features tiny cross patterns that help to increase durability.
6. Marc Jacobs
Marc Jacobs is an American designer with an extensive line of popular luxury clothing and accessories for men and women. Marc Jacobs wallets are constructed from cow and lamb leather and feature unique colours and shapes that give them a fun and warm feel.
7. Saint Laurent
Saint Laurent is high-end French fashion house that produces luxury clothing and accessories. Saint Laurent makes use of different types of leather and exotic animal skins to produce wallets. The brand's wallets are some of the more expensive wallets available in the market.
8. Salvatore Ferragamo
Salvatore Ferragamo is an Italian luxury goods company that specialises in shoes, leather goods, and high-quality fashion accessories. Ferragamo wallets are designed almost exclusively from calfskin leather, but the brand also has a few python skin offerings. Salvatore Ferragamo wallets are both elegant and simple in appearance and are a wonderful accessory that is its own fashion statement.
How to Buy Designer Wallets on eBay
Buying a designer wallet is an investment in high fashion, so you should take your time and explore the various offerings available. A designer wallet is something that you should be happy with for years to come. Unlike clothing, wallets are easy to shop for online, because size does not come into consideration, and only the appeal of the wallet is important. With its large network of sellers, eBay makes available a large number of designer wallets at different price points, based on whether you are buying new or preowned.
You can find your designer wallet by starting at the eBay home page and entering a keyword such as "women's designer wallet" into the search box. A list of available wallets is displayed for you to browse through. You can also enter a specific designer's name along with the keyword "wallet", and eBay displays only the wallets that relate to that designer.
Conclusion
A designer wallet is a beautifully-crafted item that represents the reputation of the designer who made it. It is the one fashion accessory that has the designer's name right on it for everyone to see. For this reason, designer wallets usually incorporate beautiful details and use only fine materials and accent hardware in their construction.
Designer wallets say as much about the individual as they do about the designer. Individuals who invest in accessories produced by renowned designers want to convey a specific sense of style. Finding and buying that ideal designer wallet can be a time-consuming endeavour, if one is going from store to store. However, shoppers who utilise the advanced shopping and search tools available on eBay can reduce the time needed to find and purchase designer wallets. The website brings many vendors together in a marketplace that makes products easy to find and competitively priced.
Wallet|Designer wallet|Gucci|leather|Fendi