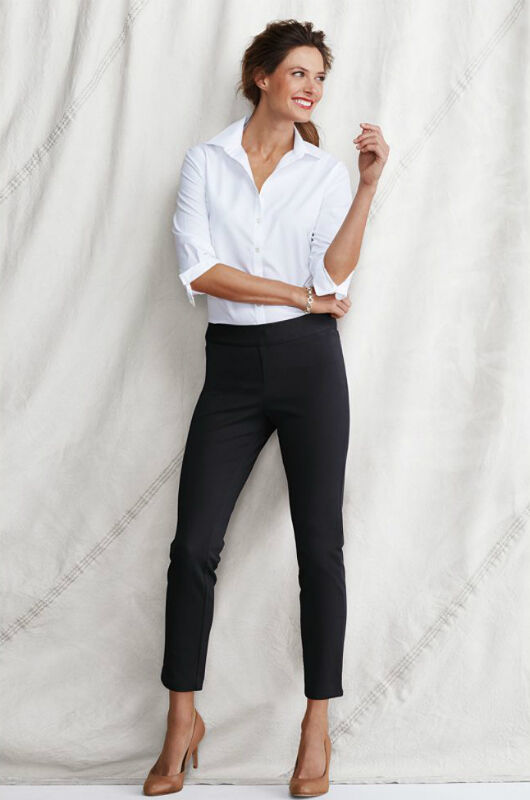 Because they are designed for average height women, most women's pants have an inseam of 76 to 86 centimetres (or 30 to 34 inches). Some clothing companies also make pants with a shorter inseam, of 71 to 76 centimetres (28 to 30 inches) while others make pants with a longer inseam of up to 97 centimetres (38 inches) for tall women. While the standard sizes are very common, pants for tall women can sometimes be difficult to find, especially if there is not a large demand in the area. Unfortunately, this often means that most pants sold in stores are too short for taller women. Knowing the top pants styles and brands for tall women according to popular websites, such as oprah.com, can help buyers make a decision. Women with longer legs can look on eBay, or in shops that sell any of these brands, to find pants that fit.
1. Michael Kors
Michael Kors make pants with longer inseams, 33 inches (84 cm) and longer, simply because his models often wear the pants slightly bunched around their ankles. Kors is a high-end designer and usually his clothing is priced accordingly but sometimes cheaper on eBay. The length of the inseam may or may not be listed on the pants' label, so it may be necessary to measure them or try them on before purchase. If buying online, shoppers should read the description to see if the seller has listed the inseam, and if not, contact the seller. Importantly, some pants are supposed to fit longer or shorter depending on the style.
2. Garnet Hill
Garnet Hill produces a fashion line including pants for tall women. The Garnet Hill Lucy line has more relaxed yoga pants, which are a mainstay of the collection along with long chino pants and five-pocket jeans. While Garnet Hill is not extremely popular in Australia, it is always possible to find the pants at online stores like eBay.
3. St. Johns Bay
St. Johns Bay is a budget line originally introduced by J.C. Penny in the United States. The brand features a variety of inseams including petite and long lengths. Their Bi-Stretch Pants line comes with a 35-inch (89 cm) inseam option, and their Bedford Cord Pant line comes with an inseam of 35 to 37 inches (89 to 94 cm). The Bi-Stretch are available as pants and as trousers, with plus sizes and a range of colours. It is important to consider that St. Johns Bay, like other brands, frequently moves their line, so these exact pants might not be available, but similar styles are sure to be for sale. It is also possible to look on eBay in case the pants are difficult to find.
4. Gap
Gap is a very popular brand worldwide and has a large line of clothing for tall women, which typically includes at least 30 styles of pants. Gap also carries long jeans, which can be purchased as a more casual alternative to pants. Most Gap pants are work appropriate and, although styles tend to be quite similar, they have a range of fashionable colours, ranging from beige to orange and red. Prices on Gap pants do vary but most of them tend to be quite affordable.
5. Express
Express pants typically have an inseam choice of 32 or 35 inches (81 or 89 cm), which, while not long enough for many women, is a longer style of pants. Their Editor and Columnist styles are both very popular and both come with a 35-inch inseam. It is important to check to ensure that the pants have the right inseam, especially for anyone who is buying online, where it is not possible to try on the pants. The Editor is a classic fit while the Columnist is a skinny fit.
6. Anthropologie
Anthropologie is a very popular British fashion company that sells a range of styles including pants for tall women. Anthropologie was actually recommended by oprah.com as a good option for taller women. The brand sells a range of styles including denim and classic pants. Anyone purchasing the pants online should be sure to check the inseam as Anthropologie also sells short and regular inseam pants, but the exact lengths do vary according to the model.
7. Alvin Valley
Alvin Valley is a designer brand that often runs very long in the inseam. Most of the models used by Alvin Valley are 1.78 m or taller, and the pants often go past the ankles. Alvin Valley also sells a full range of unhemmed pants so that the buyers can hem to their own preferred length. It is important to check the length on the pants' model before purchase, or check the inseam length, as Alvin Valley also produces a range of cropped pants.
8. Alice + Olivia
Alicia + Olivia is another brand that comes highly recommended by oprah.com. The brand specialises in designer chic and retro designs. Their pants vary in inseam length but usually range from 27 to 37 inches (69 to 94 cm), depending on the style of the pants. When purchasing online, buyers should remember to check the description and to pay attention to the length.
Sizes
The given length of the inseam can vary depending on the manufacturer of the pants. While many Australian brands do use centimetres for their inseam measurements, most international brands use inches instead. While one inch translates into 2.54 centimetres, it is usually handy to be able to quickly check to make sure that the inseam length fits in inches for anyone who is not familiar with the measurement.
| | |
| --- | --- |
| Inseam in Inches | Inseam in Centimetres |
| 34 | 86.36 |
| 35 | 88.00 |
| 36 | 91.40 |
| 37 | 93.90 |
| 38 | 96.50 |
| 39 | 99.00 |
Some jeans are available with inseam lengths of 100 centimetres or more but they are not common. Some international brands might also round the centimetre measurement to the nearest whole or half centimetre rather than stating the exact length.
Measuring for Pants
Buyers should measure the inseam before shopping for pants. Because there are multiple options to choose from, it is important to know the measurements that fit the wearer best. The inseam measurement runs from the floor to the top of the inner thigh. Most people recommend wearing a tight fitting pair of pants, shorts, or underwear and then have a friend take the measurement. It is also possible to add centimetres based on the heel height of the shoe one intends to wear with the pants.
Buying Long Inseam Pants on eBay
eBay is a great place to purchase long inseam pants because not only can you find and purchase the eight options on this list, but you can find a large range of other styles with a longer inseam. Sellers on eBay list everything from high end designer to budget brands, so you can also find long pants that fit into your budget requirements. While styles range from the expensive to the affordable, it is usually possible to find a deal on women's pants via eBay Deals as well.
Checking the Inseam
Remember that while women's pants might be listed as 'long' or 'tall', this can vary greatly depending on the brand. 'Long' pants are usually anywhere from 86 to 99 centimetres in length, so it is always important to check the description to see what the inseam is. If it is not listed, you can always message the seller to ask them to measure the pants before you commit to a purchase.
Conclusion
Purchasing women's pants requires that the buyer pay attention to the inseam because some pants are made for short women, most for average sized women, and some for tall women. Taller women might find that they have the least amount of styles and options available because they cannot extend a pant that does not fit. Fortunately, there are many brands that sell longer pants with inseams ranging from 90 to 99 centimetres, and sometimes longer if designed specifically for a very tall woman. Typically, an 89 centimetre inseam is about right for a 1.73 m tall woman, with a taller woman needing a few centimetres up, and so on.
Many brands offer 'long' styles of pants, although these do not typically go longer than 89 centimetres. Some brands offer very long lengths, which can be 94 or even 97 centimetres. Finally, some brands offer pant styles that are meant to drag the floor, which can be a great option for tall women who would like a regular fit. Sites like eBay often have a wider range of options so anyone who is looking for more than one style of pants can check there first.
Tall Women's Pants|Long Pants|Long Inseam Pants|Gap Pants|Women's Pants