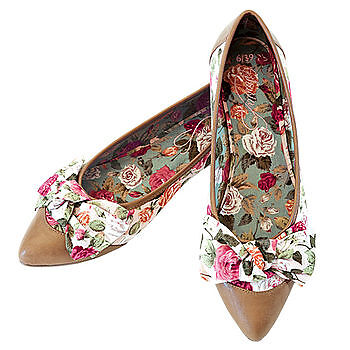 A pair of flats are a staple in many wardrobes. As comfortable and versatile shoes, flats can go from the office to the weekend, and just as easily step out at night. They come in a range of styles, from understated leather ballet flats to fancy pointed pairs in faux animal skin or sequins. While many may primarily associate high heels with dress-up occasions, flats are equally capable of fitting the bill, as long as one takes a few things into account. The main challenge with flats is that they do not create the same long line as heels do. However, there are plenty of other ways to add elegance and style when the situation calls for a more formal look. With a little attention to detail, it is easy to dress up flats for a charming, elegant style.
Style 1: Look for Flats with Dressy Details
While even simple ballet flats can work with fancier outfits, fancy flats give women a leg-up when it comes to looking dressy. There are countless ways to add flair with flats. One is to look for styles with decorative accents, such a bows, studs, jewels, ribbons laced through, buckles, straps, beading, or sequins. Alternatively, shoppers can choose an interesting material or texture. The choices are seemingly endless: buyers can opt for glossy patent leather, faux animal skin, metallic fabric, polka dots, and bright accent colours such as red, robin's egg blue, yellow, and more.
Avoid flats with chunky soles or sporty styles, as they are likely to appear overly casual. Delicate details and a slim silhouette are important in keeping things formal.
Style 2: Flats with a Low Vamp Add Length
One of the challenges with dressing up flats is that their flat profile does not lengthen the overall look the way that high heels do. This can be particularly vexing for more petite figures, or those with shorter legs. One way of dealing with this issue is to choose flats that have a low vamp. This reveals the top of the foot, creating a longer line overall. If toes are partly visible because of the low vamp, this is no cause for concern. Women who are especially concerned about elongation may also want to look for flats that are a near-match to their skin tone, and wear them sockless or with nude-colour stockings. Pointed toes also elongate, although they may not be a comfortable choice for those with wider feet.
Style 3: Opt for High-Waisted Garments
In general, garments with a high, defined waist have a more formal feeling than low-waisted designs. Moreover, this is a flattering look for many figures, creating a long, lean silhouette through the legs, and drawing the eye towards the slimmest part of the torso. If pairing flats with trousers, shorts, or a skirt, high-waisted styles give the ensemble a more tailored appearance, and the long line they create compensates for the shoes' flatness. For example, high-waisted, wide-legged trousers with trouser socks and a ballet wrap or tucked-in blouse creates an effortlessly classic look reminiscent of Katherine Hepburn's iconic style.
Style 4: Coordinate Colours
Colour is highly important to an outfit. It can draw attention or subtly disguise, create contrast or blend with its neighbours. One technique for working flats into a dressier ensemble is to make them an integral element through colour coordination. For example, one style expert suggests that women look for flats in a colour similar to their hair. This attracts the eye to along the length of the outfit for a longer overall line.
Another choice is to match the flats to the dominant colour in the outfit. For example, one could pair red flats with a red dress, green flats with a green blouse, or yellow flats with yellow trousers.
Style 5: Choose Hosiery Wisely
For any fancy outfit, do not overlook the importance of legwear. A delicate pair of stockings can do much to dress up flats and a miniskirt. Micro fishnet stockings work well with knee-length skirts, and a pair of micro fishnet trouser socks are a perfect accent underneath structured trousers. According to general recommendations, hosiery should match the colour of the shoes to maximise length. However, this may not apply when, for example, matching a pair of statement flats to a bold-coloured garment: if wearing red flats and a red dress, opt for neutral hosiery.
Style 6: Accessorise Selectively
Accessories can sometimes tip the scales when it comes to looking dressed-up. A beautiful clutch purse, for example, is one of the hallmark accessories of a formal attire. Likewise, the soft, feminine shape of a delicate silk scarf can transform an ordinary outfit into a thoughtful and stylish ensemble. One added benefit of a few well-selected accessories can be that they draw focus elsewhere in the outfit, which may be desirable in those cases where one wants to direct attention away from the legs. The following chart outlines a few suggestions for successfully accessorising with flats.
| | |
| --- | --- |
| Accessory | Suggestions |
| | Bold, unique pieces of jewellery that attract the eye and reflect the wearer's personal style; wear just one or two pieces for maximum impact without looking too busy |
| | Whether wide or narrow, they should coordinate with or approximately match the colour of the flats; add definition to waist or hips with dresses, skirts, blouses, and jumpers |
| | Coordinating gloves in leather, suede, faux leather, or cashmere adds a finished touch to an outfit when the weather is chilly |
| | Delicate scarves in silk, chiffon, or fine woven wool can tie an outfit together, indoors and out |
| | Elegant, structured satchels work for professional wear, while clutches and scaled-down clutches and evening bags are perfect for evening wear |
The key to successful accessorising is measure. One or two accent pieces is sufficient, whereas combining more than a few results in an overloaded look that lacks focus.
Style 7: Pair Flats with a Cocktail Dress
The cocktail dress, usually a knee-length, semi-formal piece, pairs perfectly with flats for a charming, modern, confident look that works at weddings, dressy dinners, and more. The colour of the flats should be of a similar hue as the dress, and the style of the shoe should complement that of the dress.
Style 8: Pair Pointy-Toe Flats with Dress Trousers
Wearing flats for business-formal occasions is easy: simply pair a set of pointy-toe shoes with high-waisted, tailored trousers for an effortlessly stylish appearance. Pointed toes match long trousers better than rounded toes by continuing the long line created with the high waist.
How to Buy Flats on eBay
eBay has an expansive selection of flats, and thanks to the broad user base, you can find great deals on all women's footwear, with new listings every day. Start shopping on the eBay home page by entering keywords into the search bar, such as "red leather flats", or "pointed toe flats". Once you have your search results, you can narrow them according to factors like size, manufacturer, and price range.
Before finalising your purchase, read the full listing carefully to verify details on materials, condition (new or used), and Australian sizing. If you have questions about the shoes, you can contact the seller through eBay. It is also a good idea to check the seller's credentials by looking at their feedback score and browsing comments from past buyers.
Conclusion
While many women may consider high heels to be the ultimate dress-up shoe, there are plenty of ways to make flats look equally elegant. And because they are so versatile, and often more comfortable, it is an advantage to opt for flats on formal occasions. Perhaps the largest challenge in dressing flats up is achieving a long, elegant line. There are several ways to enhance the vertical effect. Low vamps, matching skin tones, and pointed toes all create a longer line at the foot, and high-waisted garments lengthen the leg line. Selected accessories tie the outfit together and can draw attention upwards, and hosiery is an opportunity to add a dressy touch. Flats pair perfectly with many clothes, especially formal favourites like cocktail dresses and long trousers.
flats|ballet flats|pointy flats|cocktail dress|hosiery