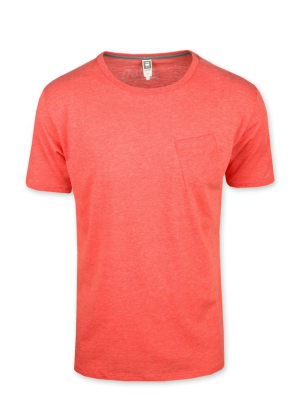 The T-shirt is a staple in countless wardrobes of various styles. Comfortable, functional, and stylish, they are garments that get a lot of wear. When they are a bit worn out, however, there are plenty of ways to extend their life. With do-it-yourself projects ranging in skill level from basic to more involved, crafters can transform their old favourites into a stylish new creation. Reusing old T-shirts is both economical and ecologically-friendly, and keeps beautiful prints and soft fabrics in circulation longer. The possibilities are virtually endless, ranging from fashion items like scarves, skirts, tote bags, and bracelets, to house decor and household supplies. Crafters can research different projects to find the perfect one for their skill level and personal style.
1. Make T-shirt Yarn
T-shirt yarn, made from narrow strips of T-shirt material, is the basis for numerous upcycling projects. As EcoSalon notes, users can crochet, knit, and knot from this soft crafting staple, which makes it a particularly good way to reuse T-shirts that are no longer wearable.
Making T-shirt yarn involves a simple process of cutting strips into the body of the T-shirt with a hobby knife, and then using scissors to cut through the centre of the loops so that they form one continuous strip. A final step of stretching the strand causes it to curl at the edges.
2. Accessorise with Old T-shirts
T-shirts that have lost their shape or no longer look their best can gain new life as stylish accessories. BuzzFeed notes numerous ways to transform old shirts into original creations, often with a minimum of sewing and required skill. The chart below outlines different accessories that are easy to make from old T-shirts. Several of them require making T-shirt yarn first, which is described above.
| | |
| --- | --- |
| Accessory | Description |
| Headband | Wind T-shirt yarn around a plastic headband and glue, or sew several strands together at the base and add a few nautical knots to hold them in place |
| Bangle Bracelets | Wrap T-shirt yarn around old bangle bracelets for a colourful, unique new look; stack several bangles of different colours to draw attention to wrists |
| Bow | Construct bows large and small from old T-shirts; can attach to other shirts, work as a hair accessory, or be pinned to a coat or jumper |
| Scarf | Possibilities include infinity scarves, long scarves from one piece of fabric, or scarves made from several pieces sewn together |
| Fabric Flower | Cut out flower patterns from T-shirt material, fold, stack, and glue or sew together for a lovely brooch |
| iPod Holder | Sew old T-shirt material into a tube with a diameter to fit the upper arm; fold half the tube upwards to form a pocket to hold an iPod during workouts |
These accessories are colourful, unique, and have the familiar softness of a favourite T-shirt. Sometimes a single shirt can yield multiple accessories, so crafters should save scraps, just in case.
3. Make Dog or Cat Toys
It is easy to transform an old T-shirt into a new toy for a furry friend. For a dog toy, tear two old shirts into strips of approximately equal width. Gather the strips together and tie off and one end. Then, divide the strips into thirds, braid, and tie off at the other end. Using contrasting colours or patterns creates an especially charming toy. BarkPosts claims that these toys are perfect for games of tug-of-war, or simply for a bit of chewing, to help keep dogs out of mischief. For cat toys, use narrower and shorter strips of material, gather into small groups, and knot in the centre.
4. Make an Apron
Aprons are a good way to show off favourite prints when a T-shirt itself is past its prime. Popular craft blogs outline a simple method for making these fun and useful accessories. The front half of the shirt serves as the apron, while the back, once cut into strips that are then sewn together, works as the tie. The design can even feature pockets stitched in for a few wooden spoons.
5. Sew a Skirt
Many crafting websites and blogs feature designs for making a skirt out of an old T-shirt. One model, for example, constructs side pockets from the sleeves and uses all of the shirt material. As EcoSalon notes, this is an excellent way to make one's own comfortable summer skirt, or a dressier version with some decorative buttons up the front.
6. Tote Bags from Old T-Shirts
One very fast project involves turning an old T-shirt into a tote bag. BuzzFeed notes that this is an excellent way to repurpose shirts with interesting prints or designs. By cutting out the sleeves and neckline and sewing a seam along the bottom hemline, crafters can turn their old shirt into a new bag that is lightweight, portable, and uniquely theirs. Additionally, these tote bags are an excellent replacement for plastic bags, and fit easily in a purse for spontaneous shopping or trips to the market.
7. Home Decor with Old T-Shirts
Using T-shirt yarn, crafters can make numerous items for around the home. BuzzFeed lists several of them, including bowls, braided rugs, latch-hook rugs, knit dish towels, placemats, and more. These items can also make perfect gifts and creative holiday decorations. Or, create quilts and pillows from several sentimental favourites, for soft, cosy accents. Combine colours, patterns, and designs for a customised look.
8. Practical Household Uses for Old T-Shirts
The Huffington Post reminds readers that there are plenty of other ways to reuse T-shirt material when it is too stained or ragged for stylish crafts. T-shirts cut into squares are excellent rags for cleaning, dusting, and polishing, particularly where delicate surfaces and materials are concerned. Mop heads made from old T-shirts are gentle on all floor surfaces, and are a washable, eco-friendly substitute for disposable mopping cloths. Other ideas include saving T-shirts for protective layers when packing boxes, or cutting individual handkerchiefs from old, soft tees. In general, T-shirt material, because it is soft, absorbent, and washable, can be very useful around the house in place of disposable products.
How to Buy a T-Shirt on eBay
eBay has great deals every day on women's clothing, and can be an excellent place to shop the next time you are looking for a T-shirt, or any supplies to transform an old one, for that matter. Searching on eBay is as easy as entering keywords into the search bar located on the website home page. For example, you can type in "organic cotton T-shirt", or "green v-neck T-shirt". Once you have your search results, you can further refine them by selecting your preferences for price, seller location, and other limiting factors.
Be sure to read the full listing before completing your purchase. Check for details about size, materials, and condition, and what the terms of payment and postage are. It is also a good idea to check the seller's feedback score and look at comments left by past buyers.
Conclusion
T-shirts are a staple item in numerous wardrobes. Soft, comfortable, and versatile, this garment gets a lot of use. Over time, all that wear can take a toll on favourite T-shirts, but they need not be thrown out. There are many inventive, fun, and easy ways to transform an older T-shirt into something useful. Through various crafting projects, many of which are suitable for beginner-level crafters, T-shirts can find new life in the form of fashion accessories, house decor items, and handy practical supplies. Skirts, aprons, and tote bags are perfect ways to show off unique prints and designs. Making T-shirt yarn opens a world of possibilities, such as bowls, rugs, placemats, and more. Pillows and quilts made from favourite tees can be fashionable, unique accents with striking colours and prints. Reusing old T-shirts is not only economical and ecologically sound, but it can also result in beautiful, inspired creations.
reuse T-shirt|T-shirt yarn|cat toy|apron|skirt