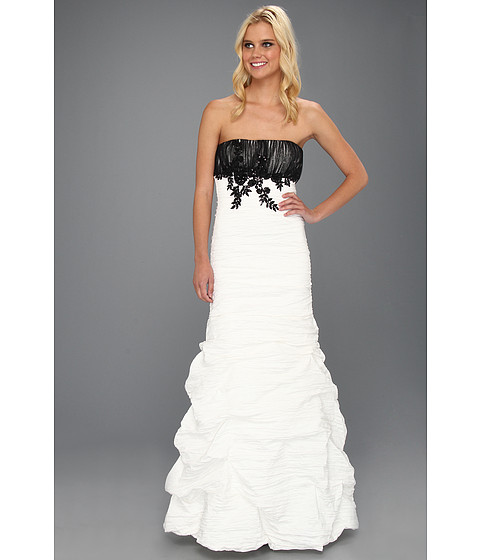 Many women enjoy planning for their wedding day. They think about the type of cake they want, the venue they prefer, the menu for the reception, and the colours and decorations. One of the most important decisions that women make for their wedding is the choice of a dress. Brides rightfully want to look their best from head to toe on their special day, and the right dress can turn their ideal vision of themselves into a reality.
First, however, women need to have a thorough understanding of their own body shape. They also need to be familiar with the top eight figure-flattering wedding dresses, so that they can select a dress shape and style that shows off their figure to the best advantage.
Identifying Body Shapes
Before shopping for a wedding dress, the bride-to-be must take an honest look at herself and identify the common body shape that most closely fits her figure. The chart below shows the common classification that fashion blogs and magazines use for describing body types.
| | |
| --- | --- |
| Body Shape | Description |
| Pear | Narrow shoulders and bust, larger hips and thighs |
| Apple | Wide torso, waist, and hips |
| Banana | Straight body with slight curves |
| Hourglass | Wide hips and bustline, narrow waist |
| Inverted Triangle | Wide shoulders, narrow hips |
Some women may find themselves more closely aligned with certain body shapes at different points in their lives. Others may be able to change their body shape by dieting or working a particular set of muscles in preparation for the wedding. No matter what shape a woman's body is, there are many beautiful wedding dresses to flatter her figure on her wedding day, according to popular fashion magazines.
1. A-Line Wedding Dress
An A-line wedding dress looks beautiful on nearly any figure. The bodice is typically snug-fitting, and the skirt flares outward gradually from the waist. An A-line gown works well for brides with a classic hourglass figure. Its smooth flare can also conceal unwanted curves for pear-shaped brides. Women with a slim figure could try an A-line wedding dress that hugs the hips and then flares outward into a dramatic A-line. Petite women often choose an A-line rather than a ball-gown style, since it provides sweeping fullness without the abundance of material that might overwhelm a tiny figure.
Apple-shaped women who want to try an A-line dress should choose one that cinches inward at the waist or includes waist detail that visually narrows the waist. A basque waist is particularly effective. It includes a V in the front that creates a slimming effect.
2. Strapless Wedding Dress
Strapless wedding gowns are extremely popular. They reveal the shoulders, collar bones, and décolletage to full advantage. Women with full figures often choose strapless wedding dresses to draw attention to their upper body rather than to the curves of the waist and hips. However, strapless dresses are equally popular with tall brides, short brides, and slender brides.
3. V-Neck Wedding Dress
Some women with large breasts may be uncomfortable with a strapless dress, fearing a wardrobe malfunction on their special day. Instead, they may want some support and substantial coverage to secure the bust. A V-neck wedding gown is ideal for this purpose. Wide straps provide support and security, while the V-neck allows the bride to show off some cleavage. The diagonal or triangular effect of the neckline makes the bosom appear a bit smaller, balancing the overall proportions of the wearer. Ideally, a V-neck wedding dress for a busty bride should also include boning or internal support within the bodice.
4. Sheath Wedding Dress
A long, slimming sheath dress is perfect for tall brides. It accentuates their height and gives brides a classic, statuesque look. A shorter sheath wedding dress works well for petite brides, especially if they choose a dress with a high waist. The higher waist elongates the wearer's legs, giving short brides the appearance of additional height. Whether they are tall or petite, brides should keep the design of the sheath dress simple. Clean, beautiful lines and minimal detailing on the bodice focus attention on the bride's face.
5. Diagonal or Asymmetrical Wedding Dress
When incorporated into a dress design, diagonal lines provide a slimming effect. Plus-sized or pear-shaped brides may want to look at wedding dresses that include diagonal style elements, such as diagonal draping or a sweeping one-shoulder design. Asymmetrical lines, bands, or folds at the waist and hips create the illusion of movement, entrancing the eye and making the bride look more slender. Plus-sized brides should ensure that the asymmetry or diagonal draping is truly effective and creates the correct angles. If the angle is too close to horizontal, the draping could add bulk rather than making the bride look more slender.
6. Ruched-Bodice Wedding Dress
Some women have a small bust or a nearly flat chest. On their wedding day, they may want to enhance their bustline somewhat and create the appearance of a fuller figure. Ruching on the bodice of the wedding dress adds fullness, drawing the eye to the bustline and enhancing the curves of the figure. Heavy embroidery, bows, or detailing can serve the same purpose if brides do not like ruching.
7. Mermaid Wedding Dress
Slim women with straight or flat figures may want to simulate some additional curves for their wedding day. A mermaid-style wedding dress fits snugly around the hips and thighs. Below the knees, it flares outward for a dramatic effect. A mermaid wedding dress can create the desired hourglass effect even on women with a slim or square body. Brides should be aware that a mermaid wedding gown can be a little difficult to walk in. They should ensure that they have enough space at the narrowest part of the skirt so that they can move comfortably. They may also want a second dress with a fuller skirt if they plan to dance after their wedding.
8. Grecian Wedding Dress
A Grecian wedding dress is especially flattering for tall women. It gives slim brides a goddess-like look. With a little side draping, a Grecian style wedding gown can look beautiful on a pear-shaped bride as well, as it skims curves without exaggerating them. Buyers should look for Grecian wedding dresses with light, floating material and some unobtrusive bodice detail. However, brides should choose their accessories and hairstyle carefully to avoid overdoing the Greek goddess nuances of the ensemble. With the right stylist, the bride can look stunning and regal without appearing to be in costume.
Buying a Wedding Dress on eBay
Before you start your search on eBay, you may want to check eBay Deals for special offers and low prices on lovely wedding dresses that flatter your figure. Or you can start on the home page of eBay and type in a search term such as 'mermaid wedding dress' or 'A-line wedding dress'. Once your search results appear, you can filter them according to your preferences for price, designer or brand, seller, location, and other options. If you want free shipping, you can refine your search results for that particular shipping option.
If you want to keep track of the available wedding gowns of a particular style, save your eBay search and eBay notifies you every time sellers post a new listing for the wedding dress style you want. You can also check eBay Stores, another area of eBay's website, for more listings.
Conclusion
On the wedding day, the bride and groom are the focus of the ceremony and the celebration. Nearly every bride makes her appearance a priority on that day, taking care to select the best make-up, hairstyle, and accessories for her ensemble. Of course, the most important item in her outfit is the wedding dress. A dress that is ill-suited to the bride's body type can ruin her look. Women need to take a careful look at their figure, decide what they want to highlight or minimise, and select a wedding dress that has the right cut and details to achieve their ideal wedding-day look. While buyers can find wedding dresses at local boutiques and shops, they usually find better pricing and a more varied selection on eBay.
Wedding Dress|A-Line Wedding Dress|V-Neck Wedding Dress|Strapless Wedding Dress|Sheath Wedding Dress