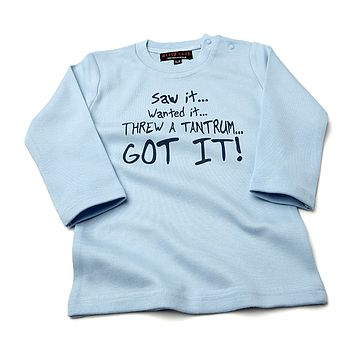 If buyers are looking for an inexpensive souvenir for a friend or an affordable gift for a family member, they should consider a funny T-shirt. Funny T-shirts for women are compact and lightweight, easy to tuck into a suitcase. They provide women with additional wardrobe options for evenings or weekends. More importantly, they serve as a source of smiles and laughter, not only for the wearer but also for others. In a fast-paced, stressful world, a humorous T-shirt gives those who see it a welcome moment of relief and pleasure. Funny T-shirts for women are widely available in clothing stores, souvenir shops, and stores that specialise in novelty apparel. Buyers can also find them on eBay, usually at prices much lower than retail cost.
1: Wedding T-Shirts
Women with a good sense of humour may want a funny wedding T-shirt in their wardrobe. One popular wedding T-shirt features a black background with the stylized figure of a bride and a groom inside a white rectangle. Underneath are the words 'Game Over'. This shirt lends a little extra gaiety to the period preceding the wedding, lightening the mood in spite of the hassle of the preparations and planning. Another favourite wedding T-shirt for women depicts a cartoonish bride with one hand upraised and the other gripping the collar of a man, whom she is half-dragging. The speech balloon reads 'I got one'.
2: Pregnancy T-Shirts
Pregnant women often suffer from swollen feet, painful hips, an aching back, surging hormones, and many other uncomfortable symptoms. With their body working overtime to create a human being, pregnant women could use a little humour via a funny pregnancy T-shirt. Women who are pregnant during Halloween or enjoy dark humour can opt for a black T-shirt with a half-curled baby skeleton depicted on the belly. Another shirt has the imprint of tiny hands and feet, as if the baby is pressing its feet and hands against the mother's belly and they are showing through. Tech-savvy expectant moms appreciate the 'Loading... please wait' T-shirt, which features a loading bar that is partially full. Yet another shirt includes the saying 'I create my own minions. What's your superpower?'
3: T-Shirts with Sarcasm
Some women enjoy wry or sarcastic humour. One sarcastic T-shirt reads 'I knit so I don't kill people'. Another says 'I love animals...with ketchup'. Other women may enjoy a T-shirt that says 'Sarcasm...just another service I offer' or 'I'm not so good with the advice...can I interest you in a sarcastic comment?' Another T-shirt showcases the wearer's wry perspective on humanity with the statement, 'The more people I meet, the more I like my dog'. Along the same lines, one shirt bears the question, 'Do I look like a people person?'
4: T-Shirts about Technology and Science
Some T-shirts appeal to women who are skilled computer techs in their own right. These women appropriate the term 'nerd' or 'geek' as a badge of honour reflecting their love of science fiction, fantasy, computers, technology, and games of all kinds. One much-loved humorous T-shirt among female nerds reads, 'No, I will not fix your computer'. Yet another shirt appeals to the scientifically-minded woman, picturing the periodic table with the words, 'I wear this shirt periodically'. 'Have you tried turning it off and turning it on again?' is another favourite of tech-savvy buyers.
5: T-shirts Inspired from TV Shows and Movies
Popular culture is the source of inspiration for many of the top funny T-shirts for women. Women who enjoy science fiction should be able to find plenty of T-shirts based on characters, events, and quotations from Star Wars, Star Trek, Dr Who, Stargate, Battlestar Galactica, and a myriad of other shows and movies. Comedies are also popular sources of content for funny T-shirts. Glee, the Big Bang Theory, The Office, Keeping Up Appearances, and many other shows yield quirky sayings and delightful bits of humour that are perfect for women's funny T-shirts.
6: T-Shirts Based on Games
Contrary to a past stereotype, men are not the only ones who enjoy playing video games. Women like the excitement and mental stimulation of video games as well. One humorous gaming shirt for women reads, 'Crit happens', a gamer's twist on a well-known phrase. Another T-shirt uses a popular phrase from the end credits song for the game Portal. The shirt bears the lyrics 'Look at me still talking when there's science to do', as sung by the artificial intelligence GLaDOS, a major character in the game. T-shirts like the '20+ Shirt of Smiting', the Minecraft periodic table T-shirt, or the T-shirt that reads 'Video games don't cause violence...lag does' all resonate with female gamers.
7: T-Shirts About Drinking
Women who frequently enjoy a cold beer or a glass of wine may want to flaunt their drinking habits with a quirky, fun T-shirt. One such shirt reads, 'Sometimes I drink a glass of water just to surprise my liver'. Another claims, 'You had me at Merlot' and bears the image of a partially filled wine glass. Other similar T-shirts include slogans such as 'Shh. This is my hangover T-shirt' and 'Drinks well with others'.
8: T-shirts About Zombies
Zombies are a cultural phenomenon, making appearances in comic books, TV shows, novels, and movies. Girls and women who are fascinated with the concept of zombies and the zombie apocalypse find a plethora of humorous T-shirts featuring the topic. One states, 'Zombies only love you for your brain'. Another T-shirt reflects the lore of the popular video games Left 4 Dead and Left 4 Dead 2, with the statement, 'If I turn during a zombie apocalypse, I'm going to be a witch'. Zombie Search and Rescue' T-shirts, 'Zombie Dance Crew' T-shirts, and 'Homeland Zombie Security' T-shirts all feature wry humour and zombie-related imagery. Another funny and mildly offensive zombie-themed T-shirt reads, 'The zombies are after brains. Don't worry. You're safe'.
9: T-Shirts for Australians
Some Australian women may want to flaunt their heritage and nationality with a bold, funny Australian T-shirt. One such T-shirt reads, 'Does this shirt make me look Australian?' Another says, 'If you don't love kangaroos, you're an idiot'. Yet another depicts a sheepdog and a flock with the words, 'I herd, therefore I am'. Owners of an Australian cattle dog may opt for a shirt that reads, 'If my Australian cattle dog doesn't like you, neither will I'. Wombat zone and platypus crossing T-shirts are also popular.
Buying Funny T-Shirts for Women on eBay
eBay makes shopping easy, whether you are a first-time buyer or a long-time fan of the website. You can run a quick search for 'funny T-shirts for women', or enter the slogan of a specific T-shirt that you want to own. Within a few seconds, your search results should populate. If there are too many, use eBay's search filters to tailor the listings to your needs. You may want to give priority to listings from eBay's Top-rated sellers. These individuals have strong feedback scores and a reputation for swift delivery and excellent service. To ask about a seller's policies, such as free shipping or special deals listed in the eBay Deals section, click on the 'Ask a Question' link located on each listing page, or click 'Contact Member' on the seller's profile page.
Conclusion
Funny T-shirts give women the opportunity to show off their sense of humour, express their opinions, and reveal something about their likes and preferences. In addition to being humorous, funny T-shirts for women should also be comfortable. Buyers should try to find the T-shirts in women's sizes rather than the generic unisex sizes. The cut of a woman's T-shirt allows it to fit better and flatter the figure more than a unisex shirt could.
Buyers should also familiarise themselves with the common price range for funny T-shirts so that they can identify a good deal when they see it. eBay usually boasts a varied array of products at prices well below retail, making it the ideal shopping destination for bargain-savvy shoppers.
Funny Women's T-Shirt|TV Show T-Shirt|Funny Wedding T-shirt|Pregnancy T-Shirt|Zombie T-Shirt