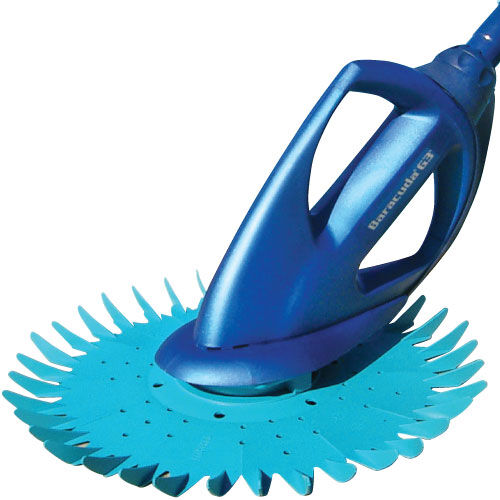 It's important for pool owners to keep their swimming pool clean and free from dirt, as not doing so can increase harmful bacteria and make the pool unsafe to swim in. There are a number of different products specifically made for this task, and pool owners should spend some time becoming familiar with them.
This guide will examine the top 9 products that can keep the pool safe and clean, and will explain how to find these products on eBay. The site has an unbeatable selection of new and used pool cleaning products, which are at prices much lower than those found in DIY stores or on specialist sites.
Pool Cleaning Products
Pool cleaning products range from inexpensive surface cleaners, like leaf nets, to chemical products that made to maintain the pH level of the pool. Products greatly vary in price, and how much is spent on an item should be influenced by how often the pool is used. Buyers that use their pools on a daily or weekly basis should see these products as an investment, and it's advised to make a budget plan of how much can be spent before beginning a search. If the pool is used monthly or seasonally, then it's ok to buy less costly products.
1 – Chlorine
Chlorine is the number one product used to keep swimming pools clean, and it is a necessity for all buyers to use this chemical on a regular basis. Chlorine kills dangerous bacteria and algae and helps maintain the water's pH levels. Chlorine is available to buy in liquid, tablet and granular form, and buyers are advised to purchase it in liquid form if possible, as this works the quickest. Buyers need to test the chlorine level one or twice a week, and should make sure that the water is at a safe level before entering.
2 – Super Clarifier
This is used to remove the dirt, dust, pollen and dead algae that cause pool water to turn cloudy. It comes in a liquid form and buyers need to use the amount recommended for the size of the pool. This information is found on the label, and after the clarifier has cleaned the water, buyers should immediately backwash it to remove the pollen, etc from the filter. Super clarifier is reasonably priced and bottles can be bought for as low as $10. Never pour the super clarifier into the pool when it is in use, as it can cause skin and eye irritation.
3 – Shock
Shocking is also known as super chlorinating and is a way to keep the pool clean and free from harmful bacteria by raising the level of chlorine. Shocking is an important part of swimming pool maintenance, and should be done on a regular basis when the pool is in use, preferably in the early morning.

There are a number of companies that make pool shock products, and the best of these are available in liquid form. Again it's important to make sure the appropriate amount is used, and always test the water's chlorine level before re-entering. Shock cleaning products vary in price, depending on the amount sold, but it's a good idea to buy in bulk.
4 – Algaecides
A build-up of algae in a swimming pool can cause serious problems, so buyers are advised to add an algaecide at least once a week when the pool is in use. Algaecides control the containments that are released as a result of algae growth, and will keep the pool safe and clean. Buyers should add the algaecide after a shock treatment in the morning, and doing so will neutralise the shock hypochlorous acid by-product.
5 – Leaf Nets
Leaf nets are used to keep the surface of the water free from leaves, insects and other floating debris. These products consist of a deep mesh net that is attached to a wide opening on a pole, and buyers with larger pools should look for nets with telescopic poles. Leaf nets can also be used to remove debris from the floor of the pool, and are an inexpensive way to keep the pool clean.
6 – Pool Brushes
These are similar in design to the leaf nets, but instead of a large net there is a thick and tough brush. Swimming pool brushes are used to clean grime and dirt from the walls and floor of the pool, and as with the nets, buyers should look for models with telescopic poles. Wider head brushes will be more expensive but offer a great cleaning radius, and those with nylon bristles are most effective at cleaning. Buyers should consider buying a brush with a vacuum slot in the head, as these are more effective to clean with.
7 – Tile Cleaners
Tile cleaners are used to keep the walls clean, and will remove the tougher stains and grime that remain even after being scrubbed by a swimming pool brush. These products are meant for use above the waterline, and to clean simply add a small amount to a cloth and rub on the affected area.
8 – Vacuums
Swimming pool vacuums are used to clean away debris that has sunk to the floor of the pool. Vacuums work by use of the pool's filter system, and buyers need to check that the model they wish to buy is compatible with their particular pool. Buyers may also be interested in buying accessories for their vacuum, such as brushes, liner heads and extendable hoses.
9 – Suction Cleaners
Suction cleaners are similar in concept to the swimming pool vacuums, but are used to clean the surface of the pool as opposed to the floor. Suction cleaners are available in two forms, and inertia driven models clean in a random pattern, while geared driven models clean in a preset pattern. Geared driven models tend to be more expensive and generally do a better job.
Buying Pool Cleaning Products on eBay
eBay has a large selection of pool cleaning products for sale at low prices, and to find relative items buyers should first head to the eBay homepage. Once there, click on the Home & Garden tab, followed by the Outdoor Living title located towards the bottom of the page. On the next page, buyers should click on the Pool, Spa, Beach title. Depending on what is needed, buyers can then use the 'Categories' table to list various products, such as Chlorinators or Pool Cleaners.
Buyers looking for specific products or manufactures should enter as much information about the product as possible into the search bar and press enter. Buyers interested in searching for used products are advised to check the Description' box on the item page for information about condition, etc.
It's also a good idea to search for pool cleaning products on 'eBay Deals', as this portion of the site has items for sale on special offer. Simply click on the Deals link at the top of the page, and then the Backyard title in the Outdoor & Travel drop down menu. Pool products can be found at the bottom of the page.
Conclusion
Keeping a pool clean is an important part of maintenance and should be done on a regular basis when the pool is in use. Cleaning the swimming pool is done more so for health and safety reasons, as a build-up of bacteria or algae can have harmful effects on the user's health.
There are a number of products that can be used to counteract this, and these range from chemical necessities like chlorine to debris cleaners, like leaf nets. Buyers should make a budget of what can be spent before beginning a search, and list the products by necessity.