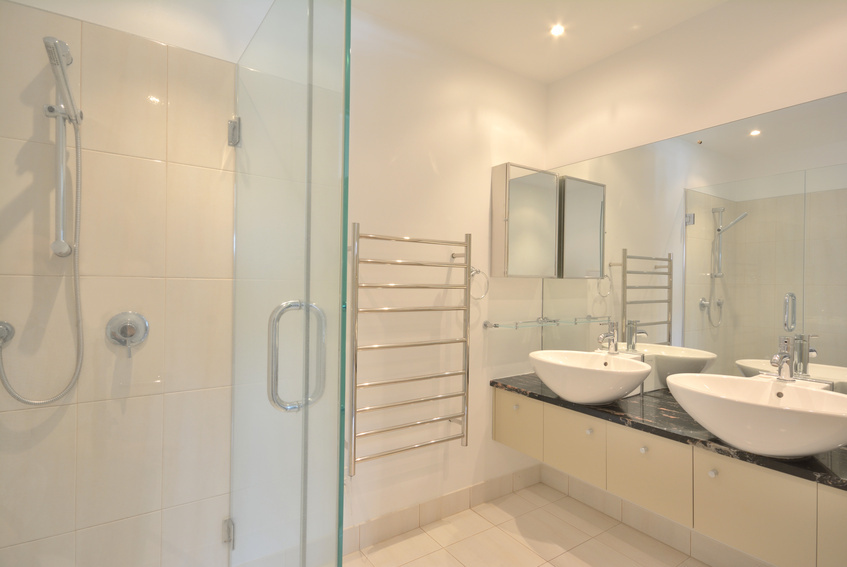 Renovating a bathroom can be a fun yet challenging experience, especially for consumers who are tackling it for the first time. From selecting the desired type of flooring to putting together a colour scheme that matches one's personality and personal desires, knowing helpful tips along the way makes the process a bit more manageable. Many consumers want a bathroom that will hold up well for years to come while staying within a designated budget.
Simple is better
For modern consumers, the amount of material goods in many home goods stores can be dizzying. There are larger items, including countertops and shower stalls, along with smaller components like towel racks or holders and a large array of elegant fixtures available as well. With so many products to choose from, consumers may feel compelled to load up the new bathroom with several different items. However, keeping the new space simple is ideal, in terms of both style and budget.
Space
Using available space for storage adds to a bathroom's simplicity while negating the demand for additional storage units, which only add bulk and cut down on useable space in a bathroom. For example, instead of purchasing a large storage rack for shampoo, conditioner, and other bathroom essentials, consumers can simply add in recessed niches. Another option is to use as much vertical space as possible, ensuring that there is still plenty of room to navigate in the bathroom without tripping over objects.
An uncluttered layout is pristine and inviting, making homeowners and guests feel at ease in the new space. Some ways in which consumers can maximise space in their new bathroom include:
Using a streamlined wall-hung toilet suite, positioned below the vanity
Vanity with space-saving storage solutions, including wire racks mounted inside the doors, tilt-out drawers, and rubbish bins
Opting for a wall-mounted basin in place of a vanity for small bathrooms
Vanities with storage options for larger items, including hairdryers and hair products
A sliding door rather than a typical hinged door to maximise floor space in a small bathroom
Choose durable flooring
Although it's more fun to splurge on fancy fixtures and stylish accessories for the new bathroom, consumers should set aside some money for durable flooring. Most bathrooms endure quite a bit of use and abuse, making it essential to have flooring that can withstand such demands. Examples of sturdy and stylish options for durable flooring include ceramic, marble, and stone tiles.
These strong surfaces are also water-resistant, making them a prime choice for a bathroom. Homeowners who want to add an extra element of luxury can opt to install subfloor heating coils to help heat up the floor surfaces.
Make separate lists for essentials and desires
Knowing how and where to draw the line when it comes to bathroom essentials and desires can help consumers figure out what is most important and what can wait. In addition, making separate lists enables better control over the total cost of the project. Consumers should start with the essentials; only adding desired items when every necessity has been paid for and put in place.
Essentials
There are a few essentials every bathroom needs, regardless of size or budget. These items include a toilet and sink, and a shower or bathtub for a full-sized bathroom. A mirror and some amount of storage space, such as a cabinet or medicine cabinet, are other essentials. For bathrooms with a shower or bathtub, it is useful to have a mat or rug to prevent slipping and accidents as well as a form of ventilation, whether it includes a ceiling fan, window, or both.
Desires
A heated towel rack, bathroom heater, or heated coils to help warm the floor in the winter are lovely but they are not essentials. The same is true for other bathroom luxuries, such as a large rain shower fixture, or expensive accessories. Consumers on a budget should narrow down the list to products they do not need right away, perhaps treating themselves to the extra luxuries at a later time.
How to buy bathroom items on eBay
Starting the bathroom renovation process can seem intimidating, but keeping certain tips in mind can help make the process a bit easier. When you start the search process, it's acceptable to begin with a broader search category but you will want to narrow down the selections to find specific items. For example, start by using general search terms such as "bathroom mat" or "bathroom flooring", followed by more specific terms, including "ceramic floor tile" or "shower base". Authorised sellers on eBay offer a vast selection of bathroom items.