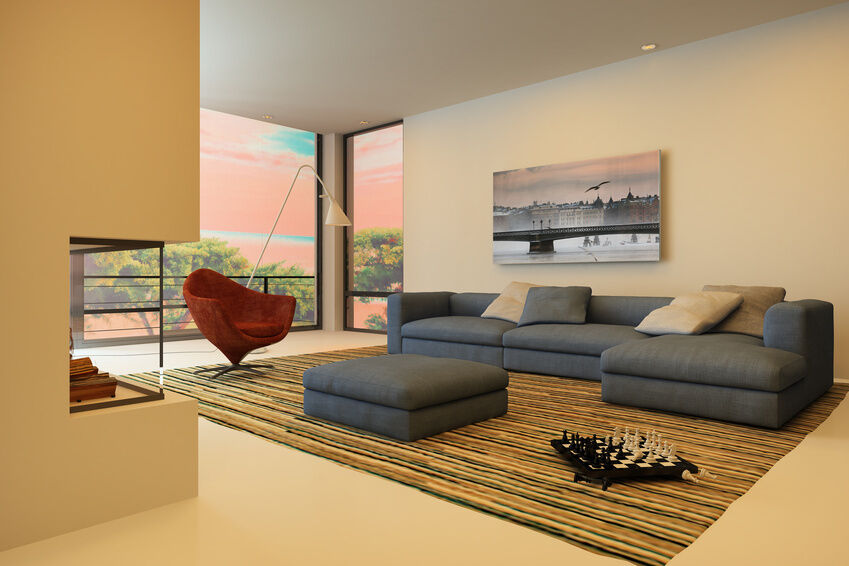 A peaceful home can have a positive effect on its occupants' moods. As home décor can have a big effect on the atmosphere inside a home, it's important to make the right decorating choices. The tips below can help homeowners to make their environment as peaceful as possible.
Choose Relaxing Colours
Colour can have a huge effect on a person's mood. Relaxing colours that can help to create a peaceful home include pastels, such as pale blue, as well as neutral colours such as beige, soft gray, or cream. Brighter colours, such as red or hot pink, are more mentally stimulating and should be avoided when trying to create a peaceful home.
Consider Lighting
Lighting is extremely important in any home. During the day, natural lighting is often the most peaceful option. Filtering the natural light through sheer curtains is a good way to reduce its harshness and create the impression of living in a private sanctuary. In the evening, dimmable lights allow household members to adjust the light levels to suit their mood. Lamps are another good way of creating a cosy atmosphere. When making lighting choices, homeowners should look for bulbs that produce a yellow light, which is more relaxing than blue-tinted light.
Reduce Noise
Noise is the enemy of peace, which is why it's important to insulate the home against noise as much as possible when trying to create a peaceful environment. In general, carpets are better at absorbing noise than wood or tile floors. Shutters or thick drapes can reduce the amount of noise that enters the home from outside.
Make it Personal
Most people find it easier to relax in a space that is highly personalised. On the other hand, bare walls create a clinical environment where few people feel at home. Canvas prints of family photos can bring the personal touch to a home, as can framed prints of favourite artworks.
Clear Away Clutter
It is difficult to feel calm in an untidy home. Clutter draws the eye in many directions, which can cause feelings of overstimulation and an inability to relax. One can reduce clutter in the home by investing in effective storage solutions, such as stacking storage baskets, which can hide away items that are not in use.
Consider Minimalism
Minimalism goes beyond just reducing clutter and embraces simplicity in all aspects of a design. Minimalist furniture has clean lines and block colours, which can help to create a look that is elegant and peaceful.
Conclusion
People who crave peace need to consider light, sound, and colour when decorating their homes, as well as seeking to reduce clutter as much as possible. By following these peaceful design tips, homeowners can create their own quiet sanctuary in their home.