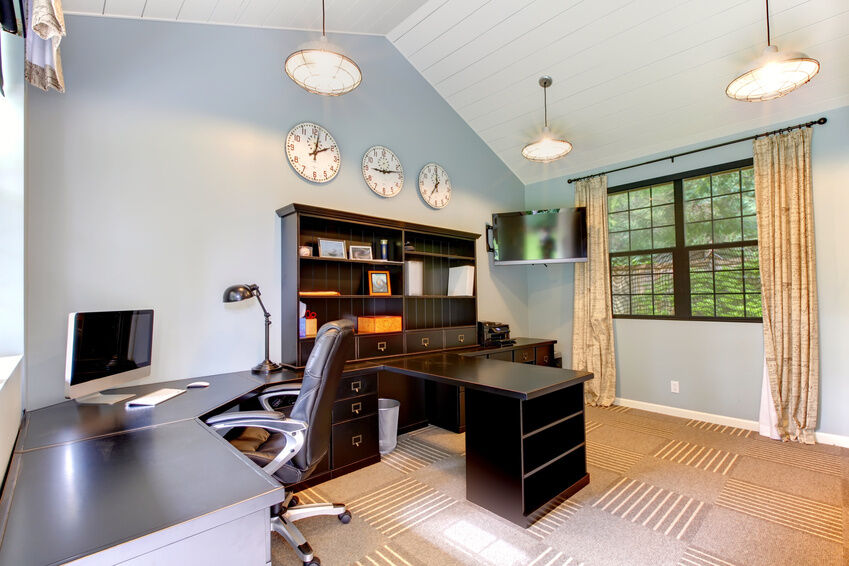 Decorating a home office involves creating a space that not only looks good, but is also practical for working. A home office must have adequate light and comfortable office furniture, as well as stylish décor and useful accessories.
Make Sure There Is Plenty of Light
Good lighting is essential for a home office. As well as overhead lights, a home office needs lamps, which provide focused light in the workspace. Natural light can also be very pleasant, but it's a good idea to check that the light will not be reflecting off the computer screen when choosing where to locate a desk.
Choose Comfortable, Stylish Office Furniture
A desk is the key piece of furniture in most home offices, so it's essential to choose one that is both practical and stylish. A dark wood desk can look very elegant, particularly when contrasted against white or cream walls. This kind of desk can be combined with a leather office chair to create a sophisticated style.
Stay Organised
No matter how beautifully a home office is decorated, it is likely to look messy if there are papers strewn everywhere. That's why every home office needs some kind of paper filing solution. Many home workers like to have a short-term storage solution, such as a set of trays or drawers, on the desk, as well as a traditional filing cabinet for longer-term storage.
Install a Noticeboard
A large noticeboard is a convenient storage place for notes, letters and other important documents. A cork noticeboard with multi-coloured pins is a fun choice for a contemporary office, whereas a magnetic noticeboard can be a more elegant choice for those who are cultivating the professional look.
Use Wall Decorations to Inspire
Working in a home office that has completely blank walls can be boring and depressing. Wall hangings can quickly bring some visual interest to the walls of a home office. Bright, colourful wall hangings are an ideal addition to a space where the home décor is contemporary and bold. On the other hand, black and white canvas prints can create a more professional atmosphere. For those home workers who have trouble with motivation, framed motivational posters can provide encouragement during a long or stressful day.
Keep an Eye on the Clock
Essential for keeping track of time, a clock can be a central part of the design of a home office. A good choice is a clock that is easy to read, although unusual designs can make the office a more interesting place to work.
Conclusion
These home office decorating tips can transform a drab home office into an inspiring working environment. The first step is to decide on a style for the office, such as contemporary, minimalist or traditional, and then choose suitable items from each category listed above.