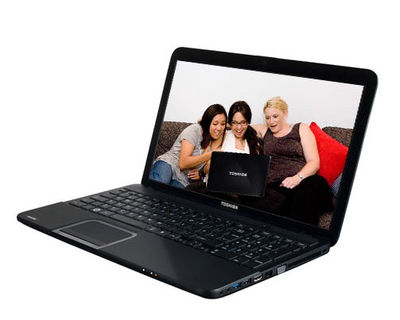 Whether choosing the Toshiba Satellite Pro C850 for its business-grade features or simply for its built-in number pad (making it a gem for regular number crunchers), it is prudent to have a thorough understanding of all the technical specifications, usability factors and special features of the C850 range on hand before making a purchase. This guide will take a systematic look at each of these aspects of theToshiba Satellite Pro C850 range.
Technical Specifications

Whilst the Toshiba Satellite Pro C850 is available in several models, all of which will differ slightly in terms of technical specifications, the table below outlines the general specifications that make up the Toshiba Satellite Pro C850 laptop range:

Feature

Configuration(s) available

Notes

Processor

Intel Celeron; Intel Pentium; 2nd or 3rd Gen Intel Core i3 or i5

Intel Turbo Boost Technology 2.0 available with some models.

Operating System

Windows 8 64-bit; Windows 7 Professional 64-bit with Windows 8 Pro 64-bit on DVD

The Windows 7 Professional package comes pre-installed.

Graphics

Intel HD Graphics; Intel HD Graphics 3000; Intel HD Graphics 4000

Memory (RAM)

2,048MB DDR3 RAM at 1,600 MHz; 4,096MB DDR3 RAM at 1,600 MHz; 4,096MB DDR3 RAM at 1,333 MHz.

Hard Drive

320GB or 500GB

Optical Drive

DVD Super Multi Drive

Display and Screen Format

15.6" non-reflective HD High Brightness display with 16:9 aspect ratio and LED backlighting

Connectivity

Two USB 2.0 ports, one USB 3.0 port; HDMI; VGA; Gigabit Ethernet with 802.11BGN wireless connectivity; RJ-45; Multi-Card Reader (SD, mini/micro SD, SDHC, SDXC, MultiMedia card)

USB 3.0 is the fastest USB standard, offering 10x faster transfer rates than USB 2.0

Battery and Power

Lithium-ion battery lasts up to 5.5hrs

Warranty

1 Year European warranty

Options are available to upgrade warranty

Usability and Other Features

Having explored the technical specifications that make up the Toshiba C850 series, the following table will now look at the remaining factors built into the laptops which may affect the user experience:

Feature

Description

Design

Thin, textured matte-black finish with black keyboard. Finish helps to minimise fingerprints.

Weight

Starting at 2.3kg (5lbs)

Dimensions

38cm W x 24.2cm D x 3.4cm H

Keyboard

Conventional keyboard with integrated numeric keypad. Smooth, flat surfaces across the keyboard, with keys yielding with each keystroke.

Trackpad

Multi-touch capable trackpad (or touchpad) separated from the wrist rest with glossy plastic ring. Trackpad and two mouse keys have same surface texture as palm rest.

Webcam

Integrated 1.0MP HD webcam with built-in microphone (1280x800)

Speakers and Headphones

SRS Premium Sound HD Stereo speakers located above keyboard, underneath plastic covering with small holes. Headphones and external speakers can also be used.

Microphone

External microphone

Notable Features

· Multi-touch capable touchpad conceived by Synaptics allows for natural gestures to pinch, drag, scroll, rotate, flip and zoom. Each of the multi-touch gestures can be turned off individually using the configuration menu.

· Whilst the numeric pad eases regular number use, the large 15.6" screen is helpful for spreadsheet-based work.

· Shortcuts including volume control, Wi-Fi toggle media forward, back, play and pause keys, key to turn off touchpad, screen brightness adjusting, key for switching to external display.

· Skype, Microsoft Office Starter, Google Chrome, Internet Explorer, McAfee Internet Security and Nero BackItUp are all typically pre-installed (this may differ depending on the eBay seller).

How to Buy the Toshiba Satellite Pro C850 on eBay

The Toshiba Satellite Pro C850 range is perfect for a business professional buying for personal use or to equip an entire office. Use following steps to buy the laptop on eBay:

· Type in 'Toshiba Satellite Pro C850' into the search bar at the top of the screen and browse the listings. It may be useful to narrow down results using the categories on the left-most panel.

· To search by category, use the left-most panel to find Electronics, thenComputers & Tablets and finally Laptops & Notebooks.

· From there, either type in 'Toshiba Satellite Pro C850' or a related term or use the left-most panel to narrow down search results to the required specifications.

· Sub-categories include: 'Format', 'Screen Size', 'Processor Brand', 'Memory (RAM)', 'Hard Drive Capacity', 'Processor Type', 'Processor Speed', 'Toshiba Series', Condition' and 'Price'.

· The Toshiba Satellite Pro C850 range may be available in eBay's recommended dealssection. Simply click on the link at the top of the page, next to the eBay logo and go toElectronics and thenComputers. Scroll down to the Laptops section to browse the deals.

· Ensure the purchasing process goes safely by prioritising eBay's top-rated sellers who have a consistently excellent customer service and have been proved to be more reliable. Read the product description carefully to ensure the laptop is to individual preference before purchase.

Conclusion

It is important to understand the basic technical specifications and configurations of theToshiba Satellite Pro C850 range, including the user experience it is likely to provide and any special features included in the laptop, before making a purchase. Whilst theToshiba C850 range has been developed specifically for business users, following the steps outlined on this guide will make browsing for and purchasing these laptops on eBay faster, safer and more efficient.