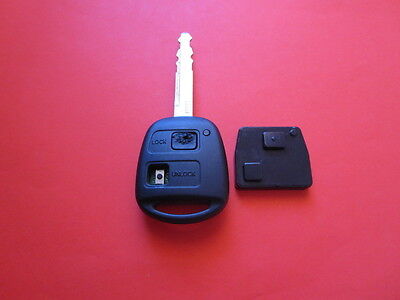 Add a caption
Silicone pad to suit 2 Buttoned Toyota Avensis remote key
Polmex_buttons on ebay are the largest suppliers of various remote key button replacements to fit many different car makes and models. In this guide we are showing you how to replace worn remote key buttons in Toyota Avensis, Yaris, Verso, Corolla and more..
Please visit our ebay store to find solution to your worn remote key buttons
100% Australian product from design thru tooling to manufacture
Polmex_buttons on ebay, are designers and manufacturers of silicone car key buttons.
Established and registered in Australia since 1999 supplying truly 100% Australian products and trading on line since 2008.
We save you money.

Instead of replacing your whole remote key at great expense, you can simply replace worn buttons. Our button replacements deliver the best cost effective solution to repair remote controls with worn key buttons. Cost of our Silicone buttons and pads are only a tiny fraction of the final price of a new remote and programming.

Our product is 100% Australian Made from the point of inventing through to designing, toolmaking and manufacturing process.
Our products are made from High Quality Silicone, which offers excellent flexibility and weather resistance. Silicone we use out performs other non flexible, age and weather deteriorating elastomers used in automotive industry, in particular in key pads of remote controls.

Superior properties of Polmex_buttons Silicone Buttons/Pads, in comparison with buttons made from other elastomers used in automotive industry:

• High- and low-temperature stability and compression resistance
• Flexibility
• Returns to original shape
• Tear strength and Long-term tensile strength
• Chemical resistant
• Weathering and aging resistance
• Ozone and oxidation resistance

We provide each customer with real time solution. We constantly improve our data and information and make it easy for our customers to deal with us.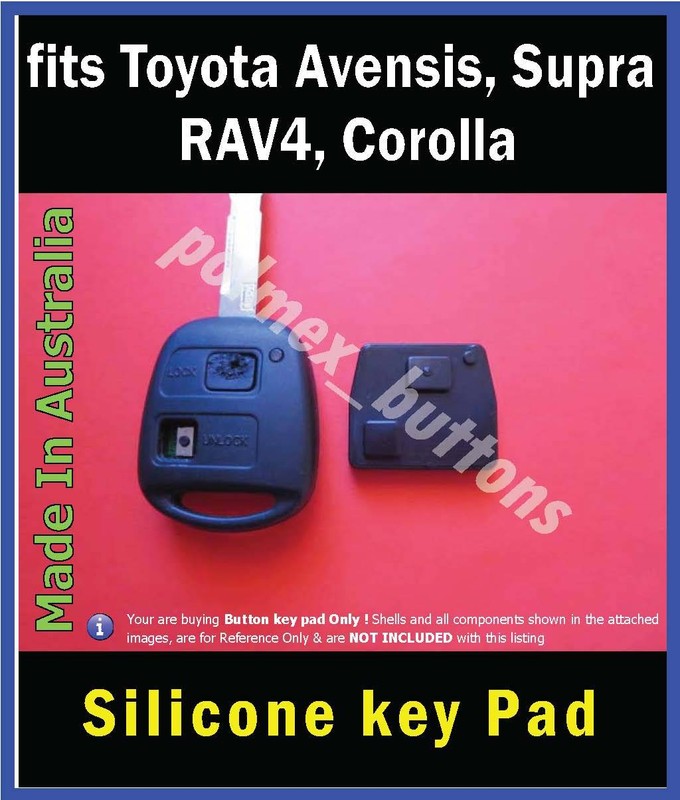 Replacement procedure for fitting in Silicone Repair Pad in Toyota Avensis remote key
Unscrew small screw at the back of remote to end up with 2 parts: One consisting of hard shell and second one with electronic component and key button pad.

•Remove internal components and separate old rubber pad from electronic board. Next you will be dismantling electronic component.

•Separate black lid from the back of the component using blade of the Stanley knife. Be careful not to cut electronic board. Next separate part with battery by gently lifting it with use of Stanley knife ( do not remove battery ).

•Lift up electronic board from plastic shell with in built key buttons. Old clear shell will NOT be used again. It will be replaced by new Silicone pad.

•Since you will be swapping all internals from old plastic case to new silicone case, you have to detach transponder chip. Transponder chip is located in the corner of the key button part of plastic case. You have to gently lift it up using Stanley knife.

•Move transponder to your new Silicone pad. Position Silicone shell in plastic cover with buttons corresponding with cut outs.

•Next position electronic board inside plastic button pad, followed by electronic board.

•Once electronic board is in, cover it with part with battery followed by black plastic cover.

•To close whole remote place back part of the shell over wholly assembled key and screw it using Phillips screwdriver.

•Once button replacement is finished, remote will work straight away with no need for re-programming.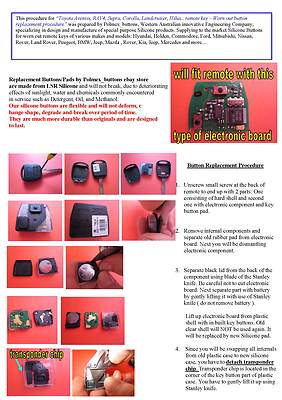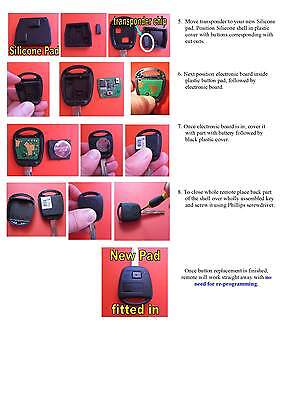 Add a caption
Pictorial guide for fitting in Silicone pad in Toyota Avensis, Yaris, Verso, Prius and more