Toyota Prius remote key button replacements for 2 or 3 button remote from Polmex_buttons are the most economical way to repair worn key .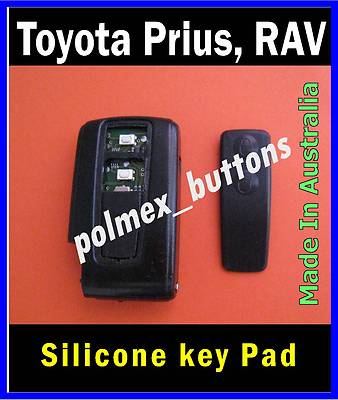 We supply Silicone butt
on pad made from top quality Silicone. Furthermore buttons from polmex store are Designed and Made in Australia.
Button Replacing using our Silicone Pad is a very simple press fit installation done form outside of your remote.
NO NEED to *open your remote
NO NEED to *swap internals
NO NEED to *cut new key
NO NEED to * reprogram your remote.
Our button pads will suit your remote as long as your remote looks like the on in the picture .
Our buttons are designed to fit tightly in the remote grooves. Since Silicone does not shrink and deteriorate our pad will be firmly attached to your remote key. Original buttons and some replacement buttons are made from elastomers that break down as they age. The oily substance that is released over period of time clogs up switches in remotes and makes it difficult to use. Buttons we sell are made from German medical grade LSR that does not degrade over time.













You can be sure it is Silicone (not rubber)
Button as on touch with very hot object it does not melt.
Button Replacement is the fastest and
Most Economical
way of fixing your remote.
Before you buy our buttons, You must make sure that your electronic components work before fitting new buttons in. Our buttons do not fix broken remotes they only replace broken buttons.
If your remote is working and your buttons simply disintergated over period of time then our buttons offer ,
very cheap solution
to fix your remote. Button Replacing is very easy with a simple press fit installation. No glueing.
No need fo
r re pogramming
. Just follow our installation included with all listing.
Check our Feedback
for total customers satisfaction comments. We use the best quality Silicone in manufacturing and you can be assured that you will be getting top quality product.