Designed and Made in Australia.
SILICONE repair buttons to fix worn Toyota remotes models: RAV4, Hilux, Corolla, Camry, Prius, Solara, Yaris and more. If your remote looks like the one on the picture below than this set of 4 buttons will fit.
Pleas note that this remote key may have 2 or 3 active buttons (open, lock ) or (open, lock, alarm). When top button skin rubber is removed both keys will show the same number of 4 cut outs. You will need full set of 4 buttons to fit them in empty cut outs slots.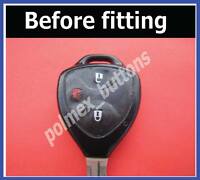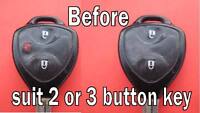 Original buttons and some replacementt buttons are made from elastomers that break down as they age. The oily substance that is released over period of time clogs up switches in remotes and makes it difficult to use. Buttons we sell are made from German medical grade LSR that does not degrade over time.
You can be sure it is Silicone (not rubber) Buton as on touch with very hot object it does not melt.

Button Replacement is the fastest and
Most Economical
way of fixing your remote.
You must make sure that your electroninc components work before fitting neew buttons in. Our buttons do not fix broken remotes they only replace broken buttons.
If your remote is working and your buttons simply disintergated over period of time,
We have very cheap solution.
Follow very simple replacement procedure please visit our store.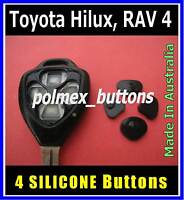 1 Using flat screwdriver gently lift up and shave off worn rubber layer consisting of key buttons.
You can use atanley knife to cut it smooth around edges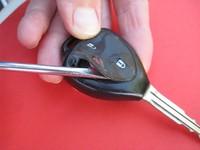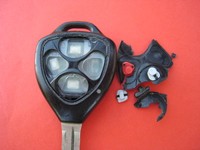 2.Press fit silicone buttons in from outside matching buttons per function and cut out shape. This button set consists of 4 separate buttons. lock, unlock, blank ans alarm button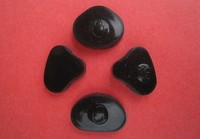 3. No programming is need it. You will end up with brand new looking remote.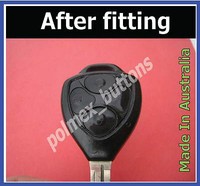 Thank you for visiting our page.