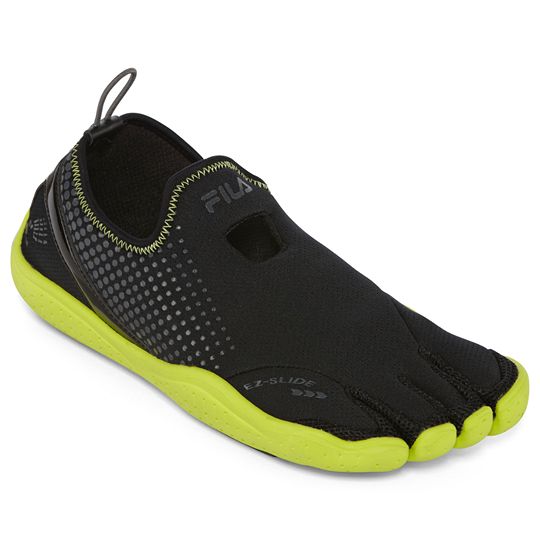 Comparing
skele-toe athletic shoes
to
sneakers
is sort of like comparing
gloves
to
mittens
. Both clothing items cover the body appendage they were designed for, but they do so in a slightly different manner. Skele-Toes are a popular footwear option that offers some advantages over traditional sneakers. However, the radical design of skele-toes is not for everyone. Depending on the activity the wearer is participating in, conventional sneakers may be a more appropriate shoe option.
Skele-Toes are available in both men's and women's
sizes with an assortment of styles and colors. Traditional sneakers offer hundreds of design options for men and women, with many styles configured to specific activities or sports. Both sneakers and Skele-Toes are available at retail outlets that carry athletic shoes. Sellers on
eBay
offer a large selection of traditional sneakers as well as Skele-Toes and similar articulated-toe shoes.
Features in Skele-Toes
Skele-Toes is a trademark of
Fila
, the international sportswear company that was founded in Italy in the early 1900s. Fila makes a number of styles of athletic footwear, including traditional sneakers. The company also produces
sports clothing
and accessories with a focus on basketball and tennis. Fila's Skele-Toes were introduced in 2011, and, since then, they have become a popular choice in the glove shoe market segment.
Toe Configuration
The individual-toed shoes,
Vibram Five Fingers
, are credited with starting the glove shoe craze; but Fila Skele-Toes offer a different take on the toe configuration. Skele-Toes have four toe pockets, instead of five, where the two smaller toes are housed in the same finger of the shoe. The extra support provided to the pinky toe helps prevent the outside digit from becoming jammed and injured. Fila calls the two-toe pocket EZ-Slide and claims the design makes the shoes easier to slip on the wearer's feet. Skele-Toes provide a more natural barefoot feel to the wearer than traditional sneakers do.
Skele-Toe Soles
Fila's marketing approach is to call Skele-Toes a casual shoe instead of an athletic shoe. While
casual sport shoes
are often lumped together with athletic shoes on store shelves, the tread on the sole of a casual shoe is far different from traditional sneakers. Such is the case with Skele-Toes, which feature little tread in the conventional sense. Fila Skele-Toes have a somewhat stiffer sole than the Vibram Five Fingers and also include a moderate arch support. The stiffer sole detracts somewhat from the barefoot feel, but on rugged or rocky paths, the added stiffness is a positive feature. Runners often find the construction of the Skele-Toe sole to be more to their liking.
Skele-Toe Uppers
The upper, or the part of the shoe that surrounds the top of the wearer's foot, is a critical construction feature in traditional sneakers. Much of the support derived from sneakers comes from the material used and the design of the shoes' uppers, with
leather
being a popular choice for many athletic shoes. Skele-Toe uppers vary by style but are constructed from synthetic materials like nylon with Velcro straps, laces, or stretchy slip-on designs. Certain styles of the Skele-Toe shoes have lace-up micro-mesh uppers that are very similar to traditional sneakers that use lightweight mesh on
running shoes
or
cross trainers
.
Shoe Designs Similar to Skele-Toes
While the four-toed design of the Fila Skele-Toes is unique to the brand, there are several shoe manufacturers that incorporate the glove shoe style into their product lines. The following chart provides a list of shoe brands that offer an individual-toe pocket shoe.
| | | |
| --- | --- | --- |
| Shoe Brand | Model | Features |
| Vibram | Five Fingers | Five-toed, multiple styles for different activities, men's, women's, and kid's sizes. |
| Adidas | Adipure | Bootie-style five-toed training shoe with slip-on sock design. |
| Body Glove | 3T Barefoot | Three-toed shoes designed specifically for water wear, wearable on land as well. |
The characteristics of each of the shoe brands listed vary. Vibram offers a large selection of styles and colors. While the Body Glove 3T Barefoot is designed for water enthusiasts, the shoe has a more conventional tread design that is similar to traditional sneakers.
Potential Disadvantages of Skele-Toe Shoes
There are some particulars of Skele-Toe shoes that do not appeal to all buyers. Because of the individual toes, wearers have to adapt to certain characteristics that are indicative to the shoe design. Buyers need to consider the characteristics that could pose disadvantages when wearing Skele-Toes.
Socks
Shoe buyers who prefer to wear socks with shoes need to invest in
socks with toes
to wear with Skele-Toe shoes. Conventional socks work well with traditional sneakers but do not work for the Skele-Toes. Typically, Skele-Toe buyers wear the shoes without socks to better simulate the feel of going barefoot.
Arch Support
Fila's Skele-Toes have some arch support but not to the extent found in traditional sneakers. Buyers who rely on arch support for comfort may find the flatter arches in Skele-Toes do not provide the proper foundation for their feet. Generally, if going barefoot is uncomfortable for the consumer, the design of Skele-Toes and similar footwear is likely to feel uncomfortable as well; in this case, traditional casual athletic shoes are the better choice.
Foot and Ankle Support
The construction of the uppers on the Skele-Toes is minimalistic to enhance the barefoot feel of the shoes. Some runners prefer the lightweight feel of mesh uppers and can navigate a running course with a minimum amount of foot or ankle support. Some consumers who are used to wearing leather uppers find the extra freedom of movement too loose for aggressive footfalls. Skele-Toes do not perform as well as traditional sneakers in sporting activities that require frequent stops and starts or side-to-side movements.
Buying Skele-Toes or Traditional Sneakers on eBay
Regardless of the type of athletic shoe you are considering purchasing, eBay offers the convenience of online shopping with the availability of a large selection of products at competitive prices. Buyers of traditional sneakers can search for a particular type of shoe by entering a relevant description, such as "
basketball shoe
", into the eBay search bar. Shoppers can also narrow the search results by using specific
keywords
, such as "
Nike basketball shoes
", to see only the listings that match the Nike brand or any other brand in question.
Buyers of Skele-Toes can search for the Fila brand or enter a search term, such as "five finger shoes", into the search bar to see models of these shoes. Also, be sure to check the
eBay Deals
page and look under an applicable category such as
Health and Fitness
to find bargains on men's and women's athletic shoes.
Conclusion
The athletic shoe market is a huge industry that generates billions of dollars in revenue. Athletic shoe designers are constantly striving to come up with unique designs that appeal to the public. The Skele-Toes and similar styles of individual-toe shoes are an example of how innovative design can fuel the market engine and produce impressive sales numbers. Buyers who are considering the purchase of Skele-Toe shoes instead of traditional sneakers can benefit from understanding the advantages and potential disadvantages of the individual-toe shoe design. The choice of a Skele-Toe shoe instead of a conventional full-toed sneaker should be influenced by selecting the footwear that provides the level of comfort and functionality the buyer is seeking as opposed to marketing influences.
Being an informed buyer is one way to make sure that consumers get the most value for the money they spend on any type of shoes. The numerous functionalities that eBay offers makes the process of buying Skele-Toes or traditional sneakers easy and convenient.