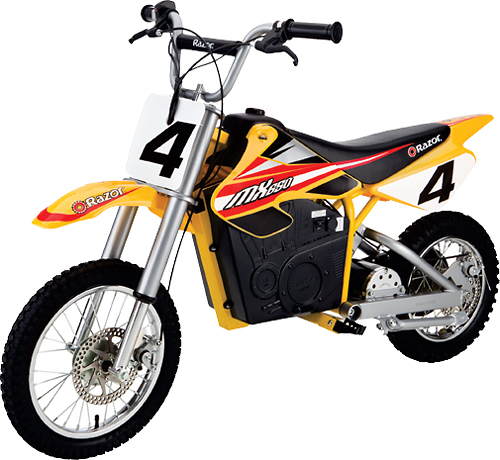 Motorbikes are not only practical, because they allow one to pass easily through traffic jams, but they also represent a certain freedom in terms of lifestyle. Bike are great for recreational purposes and racing as well. Trail bikes are light motorbikes designed for use on rough terrain. However, these are dual-purpose bikes, meaning that they can be used on roads as well as off-road. Such bikes are ideal for keen enthusiasts who do not compete, but who still wish to experience the freedom of off-road riding combined with the convenience of riding a bike on the road. Motorbikes are available from various retailers, and can also be conveniently purchased online, on sites such as eBay.
Trail Bike 400 Components
When buying a trail bike, it is essential to know its parts. The components that make up the trail bike have an effect on the bike's overall performance. The parts that should be considered include the engine, wheels, tyres, frame, and legal equipment.
Trail Bike 400 Engine
Trail bikes can have either two-stroke or four-stroke engines. The number of strokes is a matter of how many are required in order to complete a full cycle. In a two-stroke engine, the first stroke admits and compresses the air-fuel mixture, and the second one ignites the fuel and removes burnt gases from the cylinder. In a four-stroke engine, the first stroke draws in the air-fuel mixture, the second compresses the mixture, the third ignites the fuel, and the fourth removes burnt gases from the cylinder. A four-stroke engine does, with several strokes, the same tasks that a two-stroke engine does with one stroke. An oil and gas mixture is used in a two-stroke engine, while in a four-stroke, these substances are in separate tanks. Two-stroke engines are more powerful, but also noisier.
The number "400" refers to the capacity of the engine, measured in cubic centimetres. Thus, a trail bike 400 has an engine with the capacity of 400 cubic centimetres. This is quite a powerful engine and is best for experienced riders. It is best not use such bikes in very difficult off-road conditions, as they are quite heavy.
Trail Bike 400 Wheels and Tyres
The wheels on a trail bike can be forged, spoked, or custom cut. Forged wheels consist of one piece of metal, which is heated at a high temperature and then moulded into shape. Spoked wheels contain a centre hub and wire rods, or spokes, that connect to it. The spokes can be arranged in several ways. For example, they may interlace to form a pattern. Custom cut wheels, made according to specific designs, are the most expensive because of their uniqueness. The rubber tyres attached to the metal wheels have different patterns and widths. They should be chosen according to the trails on which the rider intends to use them. The general types of surfaces and tyres are designated "mainly sand roads" and "mainly tar".
Summary
It is important that consumers consider which wheels are best for their specific needs when purchasing a trail bike. Each set of wheels has its own benefits to the rider.
Type of Trail Bike Wheel

Benefits

Strong and reliable tyres

Made from a single piece of metal

Wheel made from cast magnesium

Spoked Wheel

Spokes made from steel

Spokes connect to centre hub

Very strong and decorative

Custom Cut Wheel

Unique wheels

Made according to the customers design

Made from aluminum
By using the chart above it is possible to choose the best trail bike for the consumers needs.
Trail Bike 400 Frame
The frame structure of the trail bike determines how easily the bike moves forward. The frame can be painted in order to add a certain touch of style. Depending on the structure, there may be compartments in which to carry things when riding the bike.
Trail Bike 400 Legal Equipment
Trail bikes belong to the "dual-sport" type, as they are for both on-road and off-road use. For the first purpose, certain equipment must be in place for use on a public road. Mirrors, indicators, and signals are thus essential parts of such bikes.
Things to Consider When Buying a Trail Bike 400
Once the right type of motorbike has been found in terms of wheels, tyres, frame, and other parts, there are still some other aspects to consider. These include the price and the condition of the trail bike.
Trail Bike 400 Price
Generally, a truly high-quality trail bike that can last for years is likely to be more expensive than a lower-quality model. Before buying any bike, it is wise to do some market research in order to compare the average values of several different trail bike models. Bargains are great, but in any case one should ask why one or another bike is on sale. Prices go down if the bike is older, and buying an older model can actually be wise, because bikes do not change much in only a couple of years. An older model in working order can often be a better deal than a newer one that requires more repairs.
Trail Bike 400 Condition
The parts of new trail bikes should all be in working order, as well as free from any scratches or rust. Shoppers should check used bikes thoroughly before making a purchase. Things to check include the paintwork on the frame, the firmness of the brakes, the condition of the engine, and the transmission and clutch smoothness, among other things. The radiator should be firmly in place, not rattling, because replacing this part can cost a large amount of money. The cooling fans should be intact as well. If at all possible, one should take the trail bike for a test ride before purchasing.
How to Buy a Trail Bike 400 on eBay
When looking for a trail bike on eBay, you can easily sort the search results by price or desired model, or only choose to look at bikes offered by top-rated sellers, who have received positive feedback from previous buyers. Before you close the deal, study the listing closely and pay attention to the bike's condition by browsing the photos. The engine type, whether two-stroke or four-stroke, frame paintwork, wheel type, tyre pattern, and legal equipment should all be checked. In case of a used trail bike, such a check-up becomes truly important. If the photos in the listing do not provide you with enough information, feel free to contact the seller. In addition, be sure to check for deals on motorbikes and accessories.