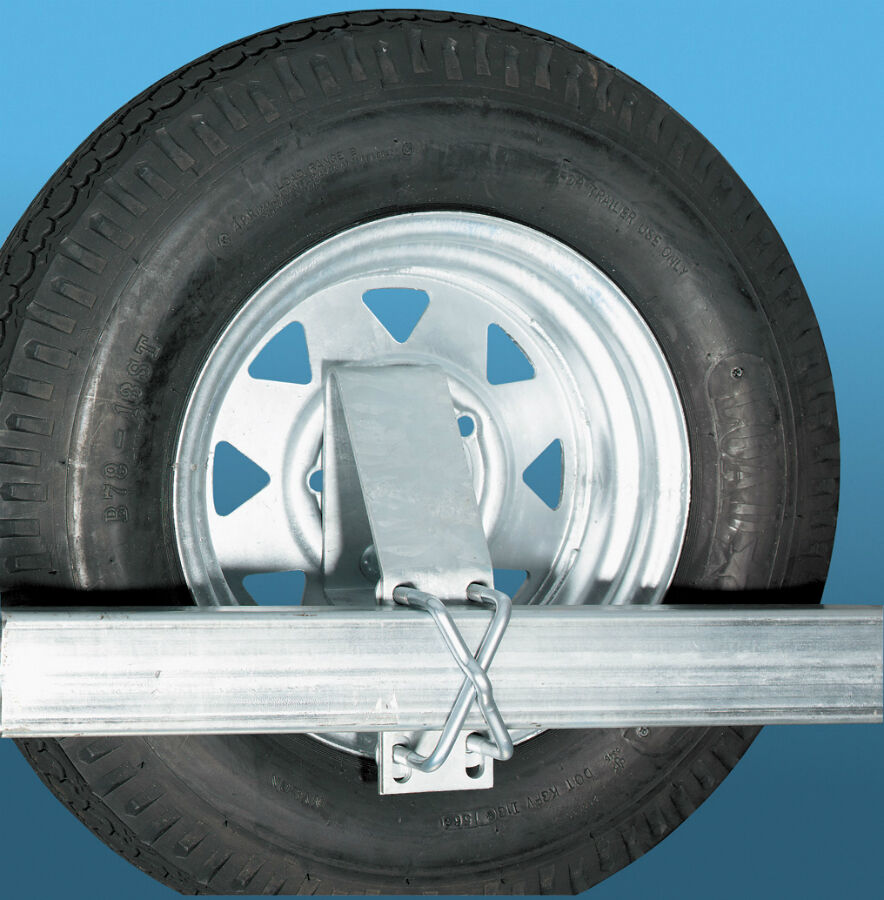 The surest way for a driver to find themselves stuck on the side of the road is for them to carry neither spare tyre or jack, or carry one but not the other. All vehicle owners know the importance of being properly equipped in the event of a flat, puncture, or tyre blow out, but such preparation is just as important for the trailer. Towing heavy loads can put huge stress on trailer tyres. Owners should look for signs of wear as they check the air pressure.
Those who need to replace a spare tyre for their trailer should consider their options. They can either maintain consistency with their existing tyres or purchase a new, higher quality set.
eBay
is the ideal place to begin a search.
Spare Tyre Replacement
Those seeking to replace their trailer tyre should check and understand the information marked on the walls of their fitted tyres. This information is to inform them of the type of replacement tyre needed in order to match the others. It should include information pertaining to tyre size profile and air pressure per square inch (PSI).
Trailer Tyre Specifics
Trailer tyres
are made for trailers and should never be used for other anything else. They are designed to support direct weight bearing loads, but do not have the technology that goes into producing car tyres. Traction is one of the big differences between car and trailer tyres. Car tyres are designed to give good traction for both longitudinal and lateral movement and at the same time offer a smooth ride. Trailer tyres are made simply for road stability whilst carrying heavy loads over long distances.
Cars, vans, trucks, and other vehicles used to tow trailers, are leaders. They require tyres that focus on traction. Acceleration, cornering and braking are all dynamics that car tyre manufacturers test to provide tyres that handle this with the greatest efficiency. Trailers are followers, so they are not manufactured to offer comfort, but rather, stability. Car tyres, in order to provide passenger comfort, allow a moderate degree of outward tyre flex. Contrastingly, trailer tyres are made with stiff sidewalls that allow for minimal flex movement, to greater or lesser degree according to tyre type. This characteristic in trailer tyre construction eliminates or reduces sway that can occur when carrying loads, especially those with a high centre of gravity.
Durability
The lifespan of trailer and car tyres also display marked differences.
Trailer tyres
outlive car tyres because of their thick and stiff sidewalls, but also because they contain hard rubber compounds that reduces roll resistance. That is good for fuel economy but does little for traction, which is incumbent upon the leading vehicle.
Types of Trailer Tyres
There are two main types of tyres made for trailers; radial (or radial-ply) and bias-ply. Car tyres employ the radial variety, but trailers may have trailer tyres with either radial or bias-ply construction. Bias-ply tyres were once the standard tyre for all automobiles, but the advent of radial tyres has seen nearly all cars fitted with radials because of their superior handling, traction and comfort performance. However, the bias-ply is still a perfectly valid and sometimes preferred option for trailers. The differences between these two types is most evident in the underlying belt design.
Radial Trailer Tyres
Radial tyres
are constructed with fine steel belts running at 90 degrees of the centre tread line. Radial tyres run cooler, have a wider footprint, offer higher traction with longer lasting tread. These tyres allow for some flexibility and tyre deformation when in contact with the road.
Bias-Ply Trailer Tyres
Bias-ply tyres
have nylon belts that run at an angle of between 30 and 45 degrees of the centre tread line, creating a crosshatch configuration which strengthens the side walls. These stronger sidewalls improve load stability, are less susceptible to damage and tyre blowout, and are usually less expensive. However, their inflexibility comes at a cost to traction and handling as there is less tyre in contact with the road.
Choosing the Right Spare Tyre
When someone needs to replace their spare trailer tyre, they are faced with a choice. Do they choose a spare to match the two already fitted, or do they upgrade all three? The latter is certainly the best option if the two fitted tyres are not identical or are of poor quality. All tyres should be replaced if they are odd, worn, damaged or of a low standard. However, the more usual scenario is that a buyer notes the details on their tyres to gauge the exact type and size, and replaces the spare with the same.
Having tyres that match is the critical factor, and more important than type. If a customer wants to start with a new set, but is unsure whether to choose the radial or bias-ply variety, they should ascertain the best type for them by assessing their own towing habits. Radial tyres are the best choice for those who carry medium weight trailer loads on frequent long trips. Bias-ply tyres are likely the best option for those who use their trailer less often, accumulating a low mileage, but who sometimes carry tall and heavy loads.
The following chart illustrates some of the advantages and disadvantages of radial and bias-ply trailer tyres. This may help buyers ascertain more easily the right type of tyre for them.
Tyre type

Advantages

Disadvantages

Radial
Has some flexibility to mould to the road
Runs cooler
Longer lasting tread
Steel belted design adds overall strength
May be too flexible for heavy, tall loads that can lead to sway
More expensive
Bias-Ply
Low flex performance improves stability for heavy and tall loads
Less risk of tyre blow-outs
Tough rubber compounds add strength to side walls
Less expensive
Less forgiving on rough roads
Tread wears more quickly
Not as suitable for long trips because of heat build-up
Poorer road traction
Customers should note that the radial and bias-ply tyres in question are those for trailer use only and not passenger vehicles. Tyres for passenger vehicles are in a different performance league. Customers should also factor in the type of trailer they have when choosing new tyres or a replacement spare.
How to Buy Spare Trailer Tyres on eBay
You can potentially save yourself considerable money when shopping for tyres on
eBay
. Conduct a broad search for "
trailer tyres
" and use the filters to narrow down your search. Also check
eBay deals
where you might find an even better offer. After locating a few possible listings, save them and compare details carefully. Ensure that all specifications correspond with the tyres on your trailer if only replacing the spare. Before making a decision on a tyre, make certain of the returns policy.
You should also check the selling credentials of your designated seller. Consult their customer feedback score and only choose those with a score above 98 or 99 per cent. Read some feedback left by previous customers so you can gauge the type of service you can expect.
Conclusion
For many people, tyres perform a simple practical function and do not otherwise receive a great deal of thought. Thus, as they are generally taken for granted, how much more so spare trailer tyres, which may only get periodic use? Nevertheless, when towing a boat, caravan, or a load of furniture from one place to another, the tyres on both vehicle and trailer are of critical importance. They both pose a serious roadworthy issue that can result in heavy penalties if found to be in excessively poor condition.
eBay
provides a good alternative to the potentially high costs associated with replacing a tyre of choice. The listings keep growing and options keep expanding on this item of seemingly small significance, but in reality, is very important.