Most Rubies that you see for sale now on eBay are Natural Stones that have been treated – that's a simple fact.
In fact I've read many reports that expand on this & say that most Rubies generally for sale (eBay or not) are treated.
But these are still natural stones !!!
Untreated Natural Rubies at high quality are very expensive and while it would be possible to find some they're becoming increasing sought after and hard to get.
Most rubies coming from Thailand (where the large majority of Rubies pass through these days) are treated one way or another.
The most common treatment you'll see at this point in time is Heating with Lead Glass Infusion. This treatment involves taking a lower quality Ruby such as the one in the picture below: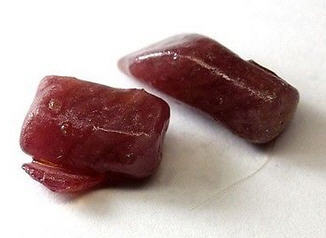 The stone is then heated and mixed with a mixture of primarily Lead and Silica fusing into glass & penetrating the stone to fill any irregularities in the stone and also make this stone appear much clearer than the original was. The final stone looking something like: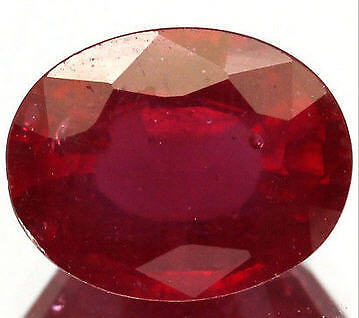 This is the type of stone we're selling at NRS here on eBay (as many others are too)
The durability of the stone can vary greatly from being fragile if the original stone had major faults to quite durable if the glass infusion was used to cover only minor surface blemishing.
Some regular 'main street' jewelers will tell customers that Rubies treated in this way cannot have the rings that they are set in repaired or altered in any way, but don't they have a vested interest in keeping the jewellery buying experience an elite (and therefore costly) experience – don't they ?
Personally I wasn't convinced & so did some real testing and noted the following:
Resizings that we have had undertaken shows that these stones resist regular stem cleaning, setting, retipping of prongs, ultrasonic cleaning with no problems.
Heating the stones to temperatures resembling that of the melting point of glass (600 degrees Celsius (1100 degrees Fahrenheit) plus) can cause the glass to melt and a very detrimental effect to be observed.
The Glass can also be damaged (etched) by corrosive agents, such as caustic soda which can have a major effect on these treated Rubies. Smaller effects were noted when the stones were exposed to other more 'regular' household cleaners such as oven cleaner, ammonia & bleach.
Our findings and opinions would be:
1) While it is possible for glass infused stones to crack during resizing we've only had this happen once; & this was from a jeweller who appears to have deliberately heated the stone well above the 600 degrees celcius in order to deliberately damage the stone, make the customer distressed, put the customer off eBay & attempt to sell them something of their own. I can say this because we've had dozens of Lead Glass Treated stones resized with no ill ecffects. If it does happen again (and I'm not sure it ever will) please contact us and we will happily replace your stone with one of at least equal quality and size.
2) I recommended avoiding corrosive agents, this is definitely a problem for Treated Rubies – but then I make the same recommendation for any piece of jewellery anyway
We have a range of items at NRS-Diamonds & are constantly updating our stocks (http://stores.ebay.com.au/NRS-GEMS-and-DIAMONDS)

And just in case you're not happy with your purchase we offer refunds as detailed in our eBay advertising & we're always happy to provide advise.

We want happy customers who think so much of us that they come back time & time again!


If you found this guide helpful please let us know by clicking on 'yes' below