The following details the types of Treatments that Natural Sapphire Stones are Commonly Undertaken:
Single Pass Heating
This is considered 'Common Normal Practise' as natural clear unheated Sapphire is so rare & expensive.
The heating process does not change the Sapphire Chemically apart from removal or conversion of the rutile (TiO2) & other contaminant bonds.
The process is simple & permanent & it should be assumed that any Sapphire you buy has at least had his treatment unless otherwise stated.
Multi Pass Heat Treatment
When the amount of included material is too great to be removed by Single Pass Heating a system of multiple heat treatments was developed usually in the presence of fluxing agents. The result being clearer or brighter colour in the Sapphire.
Most of Sapphires at NRS-Diamonds that are not 100% completely clear have been treated in this way.
Beryllium Treatment
Beryllium Treatment is a variation on the Multi Heat Treatment but conducted in the presence of Beryllium to penetrate the stone.
Beryllium treatment typically produces the following colours:
--- Yellow
--- Orange
--- Yellow Gold
--- Apricot
Stones with this treatment can have excellent appearance & the penetration of the colour into the stone can be deep.
The 14K Solitaire Yellow, Orange, Apricot and Yellow Gold Sapphires we sell here at NRS-Diamonds of very clean & clear appearance have been treated in this manner.
Beryllium Treated Yellow Sapphire - note perfectly clear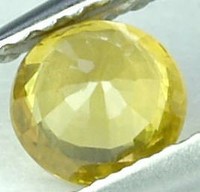 Titanium Treatment
Titanium Treatment is a similar process to Beryllium but for Green & Blue Sapphires.
The depth of penetration of the colour is much less for the Titanium Treatment than for the Beryllium Treatment.
Beryllium Diffused Blue Sapphire
When heating stones under reducing atmosphere 5% of them deepened the colour, which were later Beryllium diffusion treated to lighten the colour. Some of others were also Beryllium diffused to improve their clarity and then they may be re-heated under reducing atmosphere. This process was developed by small number of heat treatment professionals in Chanthaburi, and its detail is speculated but has at the time of writing this article never been revealed to other treaters.
The 14K Solitaire Blue Sapphires we sell here at NRS-Diamonds of very clean & clear appearance have been treated in this manner, as are the few Padparadscha Sapphires we have for sale on our eBay Store

Beryllium Treated Blue Sapphire - note close to perfectly clear
We have a range of items at NRS-Diamonds & are constantly updating our stocks (http://stores.ebay.com.au/NRS-GEMS-and-DIAMONDS)
And just in case you're not happy with your purchase we offer refunds as detailed in our eBay advertising & we're always happy to provide advise.
We want happy customers who think so much of us that they come back time & time again!
If you found this guide helpful please let us know by clicking on 'yes' below