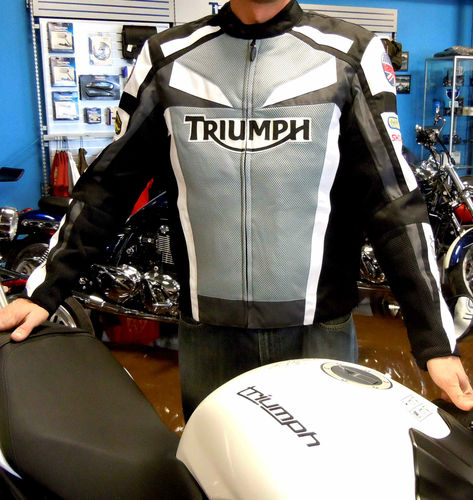 Triumph clothing is inspired by the same British Heritage and styling that has made the company's motorcycle line so popular amongst motorbike enthusiasts. Manufactured from quality materials and designed in uniquely British fashion, Triumph jackets exude the look and appeal of the Triumph brand, perhaps more than any other line of Triumph clothing. The Triumph jacket, whether manufactured from synthetic materials or genuine leather, remains an iconic article of clothing that delivers great style and genuine comfort. Triumph jackets are at home riding on a motorcycle or just having a cup of coffee at a local cafe.
Triumph's Unique Style
The Triumph brand began when the first motorcycles rolled off the line in Coventry in 1902. The company survived two wars to produce uniquely British motorcycles that even people not interested in motorcycles can easily identify. Purchased out of receivership in 1983, Triumph began a remake of itself, including a clothing line to reflect and honour the lineage of the company's storied history. Triumph jackets, especially lines manufactured from leather, reflect the vintage marque of Triumph and deliver the rustic appeal that celebrities associated with the brand, such as Elvis Presley, James Dean, Steve McQueen, and Marlon Brando, have fostered.
Materials for Triumph Jackets
Triumph makes use of different types of materials to manufacture its jacket lines. While leather is one of the more popular materials for traditionalists, polyester jackets labelled with the Triumph marque are popular even with non-bikers. The following chart details the types of fabrics used in Triumph jackets and their qualities.
| | |
| --- | --- |
| Material | Description |
| | Developed from free-range Brazilian livestock raised in natural surroundings, away from barb wire; utilise different washes and finishes, depending on type of jacket; sports leather jackets utilise Monaco or Carbon leather for more grain texture; classic leather jackets use dyed or washed leather for classic appeal |
| Cordura | DuPont-developed, created weaving fibres of Invista; known for durability and resistance to abrasions and tears; scuff resistance equates to 1.3 mm of competition-grade leather; popular outer shell fabric for sporting and adventure jackets |
| Bristex | Modified nylon-based material known for high levels of abrasion resistance and durability; fabric is soft to touch yet maintains high performance characteristics |
| Superfabric | Manufacturing process uses small ceramic plates infused into base fabric; offers high level of abrasion resistance, but is lightweight and flexible; ideal for use in motorcycle jackets |
| Cotton | Used mainly as lining in adventure and sporting jackets |
The broad range of jackets available from Triumph dictates the use of different high-quality materials. Triumph jackets need to stand up against the abuse that comes with riding a motorcycle, while the user still looks great doing it. The high-tech and sturdy fabrics allow that to happen.
Triumph Jackets
The consumer can choose from several types of Triumph jackets, which can meet the demands of different preferences. There are Triumph jackets specifically designed as high-performance clothing for riding motorcycles or pursuing an active lifestyle and other versions that look great but offer function as well. Triumph jackets come in various styles manufactured with synthetic materials or natural leather, and some versions feature waterproofing.
Triumph Synthetic Jackets
Triumph jacket styles, such as the Kalahari, Garrett, and Adventure Mesh jackets, utilise advanced synthetic fabrics. These jackets are lightweight, durable, and breathable, making them ideal companions on long motorcycle road trips. Many Triumph synthetic jackets feature CE-approved Knox protectors in both the elbow and shoulder areas, which offer an additional level of protection to the rider against injury.
Triumph Leather Jackets
Triumph leather jackets styles, such as theUnion, Whitfield, and Ace Cafe jackets, are synonymous with the Triumph marque and represent the heritage of the company's history. Leather jackets offer a great appearance and protection from the elements and abrasions. The vintage appearance that leather provides is appealing to riders who admire the lineage of Triumph motorcycles and the signature styling of the jackets make them unique to the brand. Some Triumph leather jackets also offer CE-approved Knox protectors strategically placed to provide protection to the rider.
Ergonomics
Triumph has developed a reputation for giving riders well-fitting and comfortable jackets. Riders can choose from one of three types of fitting styles, including close-fitting, straight-fitting, and comfort-fitting. Close-fitting jackets hug the body of the rider and feature flex zones and stretch material built into the fabric to assist movement. Straight-fitting jackets hang straight on the rider's body and offer a mix of closer fit with extended room for movement. Comfort-fit jackets have a broader shoulder area and allow for increased arm movement, which is ideal for motorcycle cruising.
Waterproof Technology
Triumph makes use of Sympatex, a micro-fabric membrane material laminated to other material to produce a moisture barrier. Sympatex absorbs moisture from the body and turns it into vapour in one direction while preventing external moisture from entering from the other direction. This creates a breathable and comfortable jacket for easy wear in and out of wet weather.
How to Buy a Triumph Jacket on eBay
For a motorcycle rider who is in the market for a high-performance riding jacket that offers great looks and durable construction, a Triumph jacket should be at the top of the list. To find the right jacket at a great price, buyers can take advantage of the powerful search tools available oneBay to find the right product. Buyers can enter a keyword, such as " Triumph jacket", into the search box on any eBay page and search through a list of available products from various sellers. Buyers can compare prices and even ask sellers questions about a jacket or request additional photographs to make sure it is the one that they are looking for.