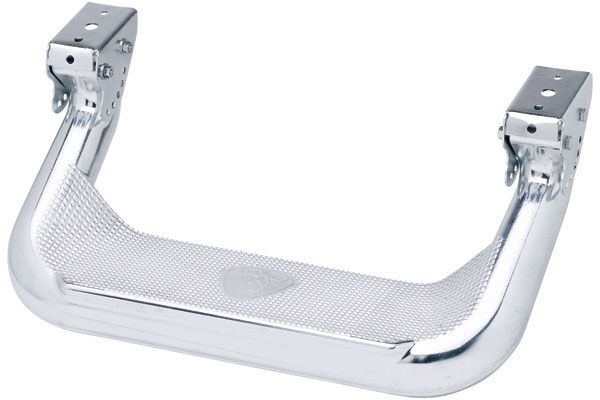 Truck side steps are necessary accessories for many truck owners. They bring functionality to vehicles while also adding a stylish touch that can really complement the exteriors of trucks. First and foremost, a side step makes it easier to get in and out of even the tallest truck, and this opens up the market for these large trucks to consumers who would otherwise not be tall enough to climb inside them. With the variety of styles that are available, buyers can add almost any visual accents they want to their trucks.
Before shopping for these truck accessories, it may be a good idea for consumers to learn something about the different types of side steps that are available. For consumers who want to explore their retail options, they can check with local automotive vendors, or they can look online at sites like eBay to enhance the buying experience.
Types of Truck Side Steps
There are three main types of truck side steps. Their respective names are often used interchangeably, and many people are not aware that there are some distinct differences between these options. Understanding the differences can make shopping for these accessories much easier.
Side Steps
Side steps, sometimes referred to as cab steps, are small steps that are about the size of a large foot. They are typically made from steel or aluminium, and they often have textured tops so that feet do not slip on them in wet weather. Side steps can be flat panels that extend out from the body of the vehicle, or they can be narrow, U-shaped bars that provide just enough width for the average foot. These traditional side steps are installed underneath the cab doors on the driver and passenger side of the truck. Popular finishes include flat black and chrome.
Side steps can also come in kick-out varieties that allow the consumer to lower and raise the step as needed with a foot. Automated side steps rotate out automatically when a driver or passenger opens a door.
Nerf Bars and Running Boards
Nerf bars and running boards are very easy to confuse as one category, but there are actually some differences between these two solutions. Both serve the same function on a truck. In contrast to a traditional side step, they provide a long platform step along the entire side of a truck. The differences between the two relate to their exact structures. A traditional running board fits flush against the body of the truck. In fact, a running board can look like a seamless part of the truck's body design. A nerf bar, on the other hand, has a structure that is independent of the truck and extends out slightly from the body of the truck.
Nerf bars can be platforms, or they can be more bar-like, while a running board provides a flat platform space. Nerf bars are popular additions on off-road and sporting vehicles, while running boards are more commonly seen on street trucks. There is also some variety within the marketplace for running boards. Understanding these various distinctions can help consumers narrow in on the best choices for their needs.
Standard Running Boards
A standard running board often comes as an OEM part from the manufacturer. It is designed with the overall look and style of the truck in mind. A standard running board can be accessorised and detailed with custom paint or even lights.
Moulded Running Boards
Moulded running boards have an aluminium base typically with a moulded plastic top where the driver or passenger steps to climb into the truck. In quality moulded running boards, this plastic is a UV-resistant polymer that can stand up well to weather and sun damage.
Stainless Steel Running Boards
Most stainless steel running boards are an aftermarket choice that can give an entirely new look to a truck. These bright and bold running boards are made of buffed steel, and they create a strong contrast with a paint job and make for an impressive trim accent. Consumers who trim their trucks with stainless steel running boards often match them with other stainless steel trim accessories, including hitch steps, ladders, and front grille rails.
Electric Running Boards
An electric running board is an automated step that lowers on command when a passenger or driver needs to enter a truck. Once a passenger is inside, the running board retreats back into its original position. This option makes a running board a very unobtrusive choice. Many consumers also covet electric running boards if they have physical ailments that make climbing into tall trucks difficult.
Choosing the Right Truck Side Steps
There are a few factors that consumers should consider when selecting the right side steps for their trucks. When making a decision about a traditional side step, consumers usually only have to consider the aesthetics. However, if a consumer has an unusually large foot, he or she may also need to determine if the small platform provided by a traditional step can suffice.
For consumers who are interested in running boards, they should consider whether or not they want cab-sized running boards or wheel-to-wheel boards. A cab-sized running board only runs under the door frame of the truck's cab, while a wheel-to-wheel running board extends back past the cab to provide a step up and side access to a truck's bed. Consumers should also consider the aesthetics of a nerf bar or running board and how well each one integrates into the overall look.
Selecting a Side Step Based on Make and Model
Many consumers may need very specific side step choices, especially consumers with vintage vehicles. Buying a side step that was specially designed for a particular make and model is another approach consumers can take. Taking this approach ensures that collectors maintain consistency and integrity during truck restorations. For others, a simple OEM choice can provide the comfort of an ensured fit that works well with the design of a truck.
Buying Truck Side Steps on eBay
The online aggregator site eBay is a good retail option for consumers to leverage during their searches since it brings together multiple vendors to create a large catalogue of choices. To begin looking through this catalogue, you can run a keyword search using the search bar found on any page on eBay. Use a term that aptly describes the item you have in mind, such as 'chrome running board', and then start reviewing the listings. You can also use a more general term to get a broader look at what's available on the site or try browsing through special automotive deals.
Evaluating Sellers on eBay
As you begin to zero in on listings that hold appeal, you should also take time to get to know the sellers on those listings. Evaluating a seller can be just as valuable as evaluating the product itself. By clicking on the seller's name and visiting the seller's page, you can review past listings and feedback that can help you make a buying decision.
Conclusion
Purchasing and installing side steps on a truck is a great way to add value, style, and functionality to the vehicle. Consumers who are looking for subtle options might want to look into electric steps and running boards that retract automatically or traditional side steps with small form factors. Others who want to add strong trim accents to their trucks might prefer chrome nerf bars or running boards. By learning about all of these options before beginning the purchasing process, consumers can start shopping with confidence. By utilising the wide-ranging catalogue on eBay and taking advantage of the site's user-friendly interface, consumers who do not want to search locally can find and install the ideal side steps for their trucks in no time.
truck side step|running board|nerf bar|cab step|truck step